Meet Decks Unique - The Finest Deck Builders Serving Bethpage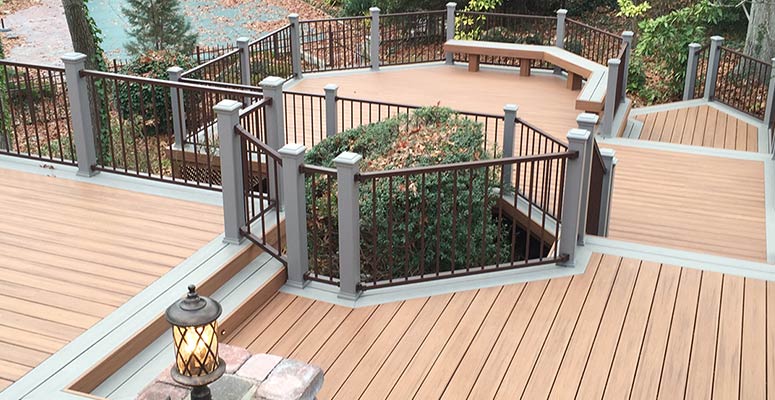 For over 20 years, Decks Unique has been a family-owned and operated company, specializing in custom deck design and construction, serving the people of Long Island and nearby areas, such as Bethpage. Driven by our passion for design and a strong commitment to professionalism, honesty, and innovation, we have become the leading producer of top-quality decks in Long Island, setting the standards for our industry. Our proficiency extends to designing and building custom decks, porches, gazebos, pergolas, wood awnings, and other outdoor fixtures that enrich the value, elegance, and usefulness of your dwelling on Long Island.
Specialized and Experienced Deck Building Providers in Bethpage
At Decks Unique, we know that a well-executed deck design proves to be a great investment when pondering home enhancements. Decks Unique's highly trained team of deck builders pledges to deliver the highest quality, keep up with effective production timeframes, and guarantee that our warranties possess genuine lasting value. Our unwavering dedication to outstanding results has produced countless satisfied clients and striking decks they can be proud of for years.
All major composite decking products, such as Trex, TimberTech, and Azek, can be installed by our experienced Long Island deck construction teams. Take advantage of our free home consultations and computer-assisted decking designs to help you imagine your project before it's built. Let your backyard be the canvas for our next masterpiece!
Raise Your Home's Value by Installing a Bespoke Deck
Besides improving the exterior living area of your Bethpage residence, an exceptional deck can also drive up property value. At Decks Unique, our team is committed to conceiving and constructing custom decks that match the individual requirements and predilections of every client. Whether you are looking for a cozy space to entertain friends and family or a luxurious outdoor oasis to enjoy the beautiful weather, our team will work closely with you to bring your vision to life.
We appreciate that every homeowner has distinct preferences and needs for their outdoor environments. Consequently, we offer a broad assortment of materials, designs, and aspects to construct the perfect deck that matches your residence and your living habits. From standard wood options like pressure-treated lumber, cedar, and redwood to the easy upkeep of composite and PVC decking, we provide the right answer to accommodate every budget and personal taste.
Unmatched Dedication to Excellence and Client Contentment
Decks Unique aims to excel in workmanship quality and customer satisfaction. Utilizing premium materials and employing accomplished builders allows us to uphold the highest standards in every project we handle.
To us, seamless communication is the backbone of successful projects, and we work diligently to ensure our clients are always in the know. Throughout the entire journey, from the initial consultation and design to construction and the final inspection, our team is committed to being there to assuage any doubts, allay concerns, and ascertain your utmost satisfaction with your new deck.
Allow Decks Unique to turn your Bethpage backyard into an outdoor living area you'll adore. Contact us immediately to set up a complimentary consultation and feel the Decks Unique superiority.
Extensive Deck Construction Services in Bethpage
A vast array of personalized decking services are available at Decks Unique, aimed at fulfilling the requirements of our clients in Bethpage. We specialize in a variety of custom deck services, including designing and building decks, as well as providing repairs, maintenance and refinishing. Besides our standard services, Decks Unique provides an assortment of unique features and add-ons to elevate your outdoor living experience. We invite you to explore our extensive selection of services more closely.
Custom Deck Design: Creating the Perfect Dream Deck for You
Our professional deck designers will work closely with you to create a custom deck that reflects your personal style, complements your home, and meets the unique requirements of your property. In order to assist you in making knowledgeable choices, our specialists will walk you through the process of selecting materials, guaranteeing lasting attractiveness and resilience.
Exceptional Deck Creation: Superior Quality in Craftsmanship for an Eye-Catching Outside Space
As the foremost deck builder, we are devoted to employing first-rate materials and maintaining secure, productive workmanship. Our accomplished crew members are qualified installers of renowned composite deck materials, such as Trex, TimberTech, and Azek. With thorough attention to detail and a concentration on sound construction, we ascertain that your deck is not only eye-catching but also resilient throughout the years.
Repairing and Maintaining Decks: Retaining the Value of Your Investment
Routine maintenance is necessary for preserving the attractiveness and usefulness of your deck. Whether it's a wood or composite deck, our specialized team offers comprehensive repair and upkeep services. From detailed assessments to detect possible problems, to expert damage repairs due to weather or wear, we're the one-stop-shop for all of your deck maintenance requirements. Equipped with our scheduled maintenance programs, you can rest easy knowing that your deck will be kept in pristine condition all year long.
Deck Refinishing and Restoration: Breathe New Life Into Your Outdoor Space
In the course of time, even the most superior decks can reveal signs of wear or call for refinishing to uphold their appearance. Our knowledgeable team can recuperate your deck's attractiveness by utilizing expert cleaning, staining, weatherproofing, and sealing techniques. Furthermore, we can carry out structural upgrades to make sure your deck stays secure and operational in the long term.
Custom Features and Add-ons: Enhance Your Deck Experience
In order to uplift your outdoor living space, we extend a series of personalized features and additional components aimed at boosting your deck. The available options consist of energy-efficient illumination on decks, embedded seating, exterior kitchens, and fire amenities. Incorporating these aspects into the deck design, we generate a welcoming and snug habitat for you and your acquaintances to revel in Bethpage.
Expertise in delivering prime decking services to clients and surrounding locations sets Decks Unique apart. Over our 20 years in the business, we've carved out a reputation for professionalism, dependability, and innovation. Should you need assistance in designing a new deck or improving a current one, our competent team has your back. Arrange a no-obligation consultation with us today, and learn how we can help turn your outside area into an amazing, functional hideaway.
Explore the Perfect Deck Material for Your Needs: Wood and Composite Alternatives
Assisting you in creating the ultimate outdoor getaway for your home is our commitment at Decks Unique. That's the advantage of our extensive choice of decking materials, including both wood composite variants. All materials have exclusive benefits that let you settle on the best choice based on your specific desires and favorites.
Wooden Decks Showcase Timeless Sophistication
With a classic, versatile nature, wood gives an organic warmth and stylish appeal to open-air spaces. Explore our broad selection of wood deck options created to suit diverse styles and budgets.
Treated Timber: Low-cost and Sturdy
Many homeowners prefer pressure-treated lumber because it is cost-effective and long-lasting. The decking material benefits from a specific treatment, safeguarding it from rot and insects. Pressure-treated decks last a long time and necessitate minimal care due to this treatment.
Elegance and Resilience: Cedar and Redwood's Natural Qualities
If you're interested in a more sophisticated solution, we also have cedar and redwood decking available. With their inherent resistance to decay and insects, these exquisite and high-end woods offer a deck that endures and ages gracefully. Sporting vivid tones and extraordinary grain textures, cedar and redwood decks serve as a remarkable addition to any dwelling.
Exotic Hardwoods: Sophisticated and Long-lived
If you desire a truly rare and refined option, think of using exotic hardwoods like Ipe, Tigerwood, or Cumaru. These woods, with their incredible density and toughness, are recognized for their lasting quality and remarkable aesthetics. Accentuating any outdoor area, exotic hardwood decks offer eye-catching colors and ornate patterns as a stunning centerpiece.
Pursue a Low-Maintenance Lifestyle with Composite and PVC Decking Options
For those seeking a low-maintenance and eco-friendly alternative, consider composite and PVC decking. These inventive materials amalgamate the natural beauty of wood with the durability of synthetic compounds, bestowing homeowners with a virtually maintenance-free outside setting.
Composite Decking: Benefits and Advantages
Composite decking, which combines recycled wood fibers and plastic, is a sturdy and green choice. This decking option can withstand warping, cracking, and fading, leading to a beautiful and resilient deck that requires little care. Cleaning composite decks is hassle-free, as they just need the occasional washing to ensure that the outdoor area stays spotless.
Key Players in the Composite Materials Market
Decks Unique is proud of their association with top composite decking brands like Trex, TimberTech, and Azek. Being authorized installers of these extraordinary products allows us to give Bethpage homeowners access to the highest quality materials for a gorgeous and long-lasting outdoor living space.
Create a Distinctive Deck with Color and Texture Selections
The wide variety of customization possibilities is a major plus for composite decking. A range of color and texture selections allows you to craft an outdoor space that complements your home's appearance. There is a composite decking option to match your preference for either the appearance of natural wood or a sleeker, more modern aesthetic.
Optimize Your Deck's Design with Railing and Baluster Options
The perfect deck isn't complete without the right railing and baluster system. At Decks Unique, we provide numerous choices to augment your deck design and maintain the security and practicality of your outdoor living space.
Timber Railing Designs: Conventional and Unchanging
Opt for a wood railing system if you desire a timeless and sophisticated feel. For a look that complements both wood and composite decking, a wood railing system is an excellent choice, delivering a congruous and refined design. Ensure a striking end result by customizing the finish of your wood railing system to match your deck or Bethpage home exterior.
Metal and Glass Railing Systems: Modern and Sleek
Should you fancy a contemporary and streamlined look, think about opting for metal or glass railing systems. Providing a fresh, up-to-date feel, these options can also boost the visuals enjoyed from your deck, appealing to homeowners who are surrounded by idyllic landscapes.
Composite Railing Systems: Simple Maintenance and Sophisticated
For a low-maintenance, stylish, and elegant solution, composite railing systems are the perfect fit. By combining these sturdy and attractive railings with composite decking, you can achieve a harmonious look and establish a stunning outdoor environment with minimal maintenance.
No matter your style preferences, Decks Unique is prepared to support you in determining the perfect decking materials for your domicile. Reach out to our team today to discuss your vision and begin shaping the outdoor area you've always imagined.
Take Your Outdoor Living Space to the Next Level with Our Added Services in Bethpage
Decks Unique strives to change your outdoor living space into a lavish and efficient extension of your home. We don't just provide exemplary deck building services; we also have a variety of extra services like wood awnings, cabanas, gazebos, pergolas, and porch construction. Our proficient specialists in Bethpage closely cooperate with you to materialize your vision, ensuring high quality and long-lasting durability.
Wood Awnings: Add Shade and Style to Your Outdoor Space
Wood awnings are an outstanding means of providing both shade and sophistication to your outdoor setting. At Decks Unique, our adept team will support you in selecting the correct design and materials to build a stunning and effective wood awning that complements your home's appearance. These installations not only safeguard you from harsh weather but also contribute to the overall appreciation of your property's value.
Cabanas: Develop a Posh Hideaway in Your Bethpage Outdoor Area
Cabanas boast a unique mix of lavishness, relaxation, and privacy, making them an attractive addition to any outside environment. Collaborating with our expert team, you'll be able to design and build a cabana customized to your precise needs and tastes. No matter if you're seeking a snug haven for relaxation or a stylish area for hosting gatherings, we can design a cabana that is the ideal outdoor escape.
Gazebos: An Elegant Inclusion in Your Garden or Patio
A lasting gazebo makes any garden or patio more appealing, presenting an attractive central feature and a shaded retreat for outdoor recreation. Our expert team assists you in selecting the perfect design, materials, and placement for your gazebo, guaranteeing a smooth blend with your current outdoor environment. Our top-notch craftsmanship ensures an impressive gazebo that enriches your outdoor area and brings joy for numerous years.
Pergolas: Amplify Your Outdoor Setting's Distinction and Practicality with Architectural Elements
A great way to boost architectural allure and functionality in your outdoor living area is by installing a pergola. The interplay of sun and shade that pergolas provide makes them a great choice for garden pathways, outdoor terrace spaces, or al fresco dining venues. The proficient staff at Decks Unique can develop and assemble a custom-designed pergola to harmonize with your tastes and augment your home's value.
Patio Construction: Raise Your Home's Curb Appeal and Outdoor Living Space
A proficiently designed porch not only increases your home's curb appeal but also presents a comfortable open-air living space for you and your family to take pleasure in. Our adept squad will come together with you to formulate a distinctive porch that integrates with your home's architectural layout and meets your functional preferences. With our conscientious scrutiny of detail and allegiance to first-rate quality, you can be relaxed knowing that your porch building mission is in expert hands.
Reach out to Decks Unique to transform your Bethpage outdoor living space
At Decks Unique, providing superior, custom-made outdoor living options for our clients in Bethpage and the adjacent areas is our mission. To enhance your outdoor area with a wood awning, cabana, gazebo, pergola, or porch, rely on our team of experienced professionals for help. Give us a call today to discuss your vision, and we'll show you how we can upgrade your outdoor living area into a deluxe and useful extension of your home.
Bethpage's Expert Deck Design and Consultation
Delivering personalized consultations and tailor-made deck designs that satisfy every client's specific needs is what sets Decks Unique apart. Our seasoned deck designers, with over 20 years in the field, will partner with you to develop a deck that improves both your home's appearance and functionality. Utilizing innovative 3D modeling and visualization approaches, we'll make your dream deck a reality, confirming that the finished result meets your standards.
Outstanding Decking Materials for Long-lasting Resilience
On Long Island, Decks Unique is the top deck builder and authorized installer for leading composite deck products such as Trex, TimberTech, and Azek. We also propose a diverse set of wood decking choices to meet your specific preferences, such as pressure-treated building materials, cedar, redwood, and upscale hardwoods. Our resolve to employ only high-quality materials ensures a long-lasting, easy-to-maintain deck for your property.
Outstanding Deck Building Services in Bethpage
The competent deck construction crew at Decks Unique is committed to providing first-rate craftsmanship and efficiency across the entire building process. Leveraging our deep expertise in building codes, norms, and permits, you can entrust us with the full project from beginning to end, yielding an eye-catching and practical outdoor environment.
Defend and Resurrect Your Deck's Splendor
The Decks Unique team acknowledges the importance of ongoing maintenance to conserve the appearance and structural reliability of your deck. Our skilled team can examine and detect any problems or potential concerns, offering required fixes to maintain your deck in excellent shape. We extend deck restoration and refinishing assistance, comprising cleaning, staining, weather protection, and sealing measures to secure and amplify your deck's appearance.
Upgrade Your Outdoor Area with Custom Features and Add-ons
To design your deck into a distinctive open-air living space, Decks Unique proposes a wide selection of made-to-order facets and additions, such as lighting specifically for decks, seating integrated within the deck's design, kitchen areas meant for outdoor use, and fire-involved features. These optimizations not only broaden the functional aspects but also forge an amicable and snug setting for you and your invitees to relish.
Exhaustive Deck Installation and Additional Features
In addition to our proficiency in deck design and building, Decks Unique also provides expertise in constructing supplementary outdoor structures like wooden awnings, cabanas, gazebos, pergolas, and porches. These extra structures will considerably enrich your Long Island home's outdoor area, providing the perfect space for both relaxation and entertainment.
Turn to Decks Unique for addressing all your decking needs in Bethpage. Observe the effect of our commitment to outstanding quality, professionalism, and customer satisfaction on your outdoor living space. Message us today to plan a free meetup, and let us make your backyard into a stunning display.
Eager to accommodate the residents of Bethpage, West Islip, Syosset, Shirley, Rocky Point, Old Bethpage, North Bellmore, and other Long Island territories.
Offering Long Island Quality Deck Designs and Services: