Experience Decks Unique - The Premier Deck Building Service in Stony Brook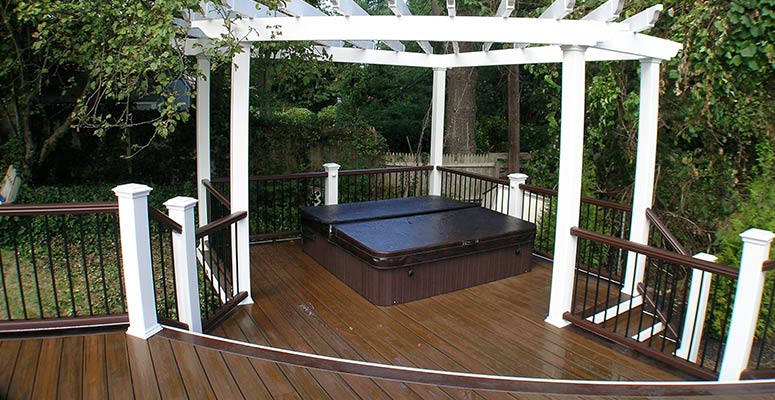 Decks Unique, a family-run business specializing in custom deck design and construction, has been serving the Long Island community and surrounding regions, including Stony Brook, for more than two decades. Our enthusiasm for design, coupled with our dedication to professionalism, honesty, and innovation, has established us as the premier producer of top-notch decks throughout Long Island, and we've set industry benchmarks. We specialize in designing and building custom decks, porches, gazebos, pergolas, wood awnings, and other outdoor structures that add value, beauty, and functionality to your Long Island home.
Comprehensive and Experienced Deck Building Services in Stony Brook
Decks Unique advocates that a meticulously designed deck is a sound investment when evaluating home improvement options. Our adept squad of professional deck builders aims to achieve exceptional quality, maintain productivity in schedules, and assure our warranties come with true durable value. This resolute commitment to maintaining excellence has garnered numerous fulfilled clients and stunning decks they are thrilled to exhibit for years to come.
All major composite decking products, such as Trex, TimberTech, and Azek, can be installed by our experienced Long Island deck construction teams. We present free home evaluations and computerized decking layouts to enable you to picture your project before it becomes reality. Allow us to transform your backyard into our upcoming venture!
A superior deck not only augments the external living space of your Stony Brook home but also bolsters its property value. We, at Decks Unique, focus on the development and creation of bespoke decks that address the specific requirements and tastes of each client. Be it a homely location for entertaining your friends and family or a luxurious outdoor idyll to luxuriate in attractive weather, our team will join forces with you to make your ideal haven a reality.
In regards to outdoor areas, we understand that each homeowner has unique tastes and requirements. We supply a wide scope of materials, styles, and facets to build the superb deck that goes well with your dwelling and lifestyle. Starting from conventional wood materials like pressure-treated lumber, cedar, and redwood, through to the low-maintenance compound and PVC decking options, we cater to every budget and predilection.
Unequaled Focus on Superior Standards and Customer Gratification
Delivering outstanding workmanship and ensuring client contentment are of utmost importance at Decks Unique. Every project we tackle meets the highest criteria, thanks to our commitment to using first-rate materials and working with proficient, seasoned builders.
We're firm believers that strong communication is a major factor in a project's success, and we go above and beyond to maintain clear lines of communication with our clients. From the start, with the initial consultation and design aspects, all through the construction phase and the final inspection, our ever-present team is here to address questions, eliminate concerns, and confirm that you are absolutely thrilled with your new deck.
Let Decks Unique enhance your Stony Brook backyard with an outdoor living space you'll be proud of. Reach out to us now to organize a free consultation and understand the Decks Unique difference on your own.
Comprehensive Decking Services in Stony Brook
In Stony Brook, Decks Unique boasts a comprehensive variety of decking services, all geared towards satisfying the unique demands of our clients. From custom deck design and construction to maintenance and refinishing, our expertise encompasses every aspect of deck services. Additionally, we provide a variety of unique features and add-ons to enhance your outdoor living experience. Let's take a closer look at the services we offer.
Custom Deck Design: Creating the Perfect Dream Deck for You
Our expert deck designers will work hand-in-hand with you to produce a tailored deck that mirrors your personal flair, complements your residence, and addresses the exclusive demands of your property. Our masters will help you make discerning selections by providing guidance on material options, ensuring that your deck possesses long-lasting allure and hardiness.
Expert Deck Building: Excellent Workmanship for an Impressive Exterior Area
As an elite deck builder, we are resolved to use only high-quality materials and employ safe, efficient craftsmanship. Our skilled personnel are licensed installers of prominent composite deck products, like Trex, TimberTech, and Azek. By paying attention to every detail and maintaining a focus on structural reliability, we secure that your deck not only looks remarkable but also endures the test of time.
Deck Repair & Maintenance: Safeguarding Your Investment
To keep your deck beautiful and functional, regular maintenance is essential. For wood and composite decks, our diligent team offers complete maintenance and repair solutions. Offering complete inspections to uncover potential issues and expert repair services for damages due to the elements or wear, we are your ultimate destination for all things related to deck maintenance. Our scheduled maintenance programs provide peace of mind, knowing that your deck will remain in excellent condition year-round.
Deck Refinishing and Restoration: Revive Your Outdoor Living Area
With the passage of time, even first-rate decks might show evidence of wear or need refinishing in order to continue looking great. Our expert team can restore the beauty of your deck through professional cleaning, staining, weatherproofing, and sealing. Plus, we can undertake structural alterations, confirming that your deck stays safe and usable for an extended period.
Distinctive Details and Expanded Options: Intensify Your Deck Gratification
In order to uplift your outdoor living space, we extend a series of personalized features and additional components aimed at boosting your deck. These options consist of energy-wise deck lights, fixed seating, kitchens intended for open-air use, and fire configurations. We merge these features into your deck's overall structure, creating an inviting and pleasant ambiance for you to cherish with family and friends in Stony Brook.
At Decks Unique, our expertise lies in providing exceptional decking services to clients and neighboring regions. With two decades of industry experience, we have cultivated a reputation for professionalism, genuineness, and forward thinking. Whether designing a novel deck or enhancing a current one, our proficient team is available for assistance. Connect with us today to set up a no-charge consultation and learn how your outdoor space can become a gorgeous, practical escape.
Decide on the Optimal Deck Material for Your Lifestyle: Wood and Composite Variants
Decks Unique is all about empowering you to create an amazing outdoor utopia within your home. This is the reason we provide an extensive array of decking materials, encompassing wood and composite selections. Each of the materials has its own merits, helping you to decide on the top option that matches your distinct demands and inclinations.
Wood Decking Exudes an Everlasting Grace
Offering unparalleled warmth and charm, wood is an eternal and versatile choice for outdoor environments. A variety of wood decking options are offered to match each person's style and monetary constraints.
Pressure-Maintained Lumber: Reasonably Priced and Rugged
Pressure-treated wood is a sought-after choice among many homeowners owing to its reasonably priced and enduring characteristics. This decking material receives a distinctive treatment, making it resistant to rotting and insect infestations. This makes pressure-treated decks not only durable but also low-maintenance.
High-End and Resilient Cedar and Redwood: A Natural Concoction
If you're in the market for a high-end solution, consider our cedar and redwood decking options. These beautiful and high-end woods are naturally resistant to decay and insects, ensuring a long-lasting deck that ages gracefully. Cedar and redwood decks, featuring deep colors and one-of-a-kind grain patterns, add a striking touch to any household.
Exotic Hardwoods: Beautiful and Durable
If you're on the hunt for a genuinely distinct and sophisticated alternative, consider utilizing exotic hardwoods like Ipe, Tigerwood, or Cumaru. Internationally appreciated for their exceptional endurance and dramatic looks, these woods are notably dense and durable. The stunning shades and complex configurations of exotic hardwood decks act as a captivating centerpiece in every outdoor space.
Discover the Ease of Low-Maintenance Living by Choosing Composite and PVC Decking
For anyone interested in an eco-friendly and easy-to-maintain alternative, explore composite and PVC decking. These pioneering materials blend the allure of wood with the toughness of man-made substances, affording homeowners a near maintenance-free al fresco space.
Advantageous Features and Benefits of Composite Decking
Composite decking, which combines recycled wood fibers and plastic, is a sturdy and green choice. This decking option can withstand warping, cracking, and fading, leading to a beautiful and resilient deck that requires little care. Cleaning composite decks is a breeze, as they only require periodic washing to maintain a spotless and inviting outdoor space.
Leading Brands in the Field of Composite Materials
Decks Unique takes great pride in working hand-in-hand with elite composite decking brands, including Trex, TimberTech, and Azek. Being authorized installers of these extraordinary products allows us to give Stony Brook homeowners access to the highest quality materials for a gorgeous and long-lasting outdoor living space.
Personalize Your Deck by Exploring Various Color and Texture Options
A significant advantage of composite decking is the vast array of personalization possibilities. With numerous color and texture options, you can design a unique outdoor area tailored to your home's style. Regardless of your preference for natural wood's appearance or modern designs, composite decking provides a suitable option.
Amplify Your Deck's Look with Railing and Baluster Additions
An ideal deck requires the appropriate railing and baluster system to be complete. With Decks Unique, you have access to a variety of options that enhance your deck design while guaranteeing safety and functionality in your outdoor area.
Wood Railing Systems: Traditional and Timeless
When aiming for a classic and perpetual style, a wood railing system might be the perfect choice. Wood and composite decks alike can benefit from the addition of a wood railing system, providing a seamless integration and consistent style. For a striking finale, customize your wood railing system by painting or staining it to match your deck or the exterior of your Stony Brook home.
Metal and Glass Railing Systems: Chic and Smooth
When a refined and modern vibe is what you're after, metal or glass railing systems may be perfect for you. Metal and glass railing systems not only embody a fresh and modern charm, but they also heighten the visual experience from your deck - a popular choice for those blessed with stunning environments.
Composite Railing Systems: Easy-Care and Elegant
For those seeking a low-maintenance option that still offers style and elegance, composite railing systems are a perfect choice. Not only are these railings durable and visually appealing, but they also create a unified appearance when combined with composite decking, resulting in an impressive outdoor area that demands minimal tending.
No matter your inclinations, Decks Unique is at your service to aid you in picking the perfect decking supplies for your home. Contact our team today to share your needs and initiate the planning process for your dream outdoor living space.
Enhance Your Outdoor Living Space with Our Additional Services in Stony Brook
Our mission at Decks Unique is to convert your outdoor living area into a deluxe and practical extension of your abode. In addition to top-notch deck building services, we also offer various other services, such as installing wood awnings, cabanas, gazebos, pergolas, and constructing porches. In Stony Brook, our experienced professionals collaborate closely with you to turn your dreams into reality while maintaining exceptional quality and durable construction.
Wooden Awnings: Increase Shade and Style for Your Outdoor Space
Wooden awnings present an ideal solution for incorporating both shade and sophistication to your outdoor space. Our proficient crew at Decks Unique will offer guidance in determining the perfect design and materials for a visually appealing and practical wood awning that goes well with your home's decor. The wood awnings not only ensure protection from extreme weather conditions but also improve your property's overall worth.
Cabanas: Set up a Deluxe Oasis in Your Stony Brook Backyard
Cabanas strike a perfect balance between luxury, comfort, and privacy, making them a great fit for any outdoor space. Our skilled professionals will partner with you in designing and constructing a personalized cabana that fulfills your unique necessities and preferences. Whether you're looking for a comfortable nook to unwind or a sophisticated space to entertain visitors, we can fashion a cabana that becomes your ultimate al fresco getaway.
Gazebos: A Picturesque Addition for Your Backyard Garden or Patio
Incorporating a gazebo in a garden or patio lends perpetual elegance, offering an alluring centerpiece and a cool alcove for outdoor unwinding. Our expert team assists you in selecting the perfect design, materials, and placement for your gazebo, guaranteeing a smooth blend with your current outdoor environment. Through our outstanding craftsmanship, we create a captivating gazebo that augments the splendor of your outdoor area for many years ahead.
Pergolas: Elevate Your Outdoor Living Space's Interest and Utility through Architecture
Pergolas provide a superb means of incorporating architectural charm and practicality to your outdoor space. Pergolas offer a balance of shading and natural illumination, which suits them well for use in garden walkways, outdoor patios, or dining areas. Decks Unique's team of seasoned professionals will custom-design and craft a pergola to suit your preferences, contributing to your home's value.
Build a Porch: Increase Your Home's Curb Appeal and Outdoor Living Environment
A smartly designed porch not only strengthens your home's curb appeal but also delivers a cozy exterior living area for you and your household to revel in. Our skillful staff will coordinate with you to fashion a custom porch that goes well with your home's architecture and addresses your functional requirements. With our attention to detail and commitment to quality, you can rest assured knowing your porch construction project is in good hands.
Approach Decks Unique to enhance your Stony Brook outdoor living area
Decks Unique takes pride in giving first-rate, personalized outdoor living solutions to people in Stony Brook and the surrounding communities. If adding a wood awning, cabana, gazebo, pergola, or porch to your outdoor space is what you're after, our proficient team is here to guide you. Give us a call today to discuss your vision, and we'll show you how we can upgrade your outdoor living area into a deluxe and useful extension of your home.
Specialist Deck Consultation and Design Services in Stony Brook
Decks Unique specializes in delivering bespoke consultations and customized deck plans, ensuring that every client's needs are met. Our highly skilled deck designers, with over two decades of experience, will work intimately with you to build a deck that enhances your home's visual allure and features. Utilizing innovative 3D modeling and visualization approaches, we'll make your dream deck a reality, confirming that the finished result meets your standards.
Top-Notch Decking Materials to Ensure Longevity
Decks Unique, the leading deck builder in Long Island, is a certified installer for top composite deck brands like Trex, TimberTech, and Azek. We also furnish an assortment of wooden decking options to match your likings, including pressure-treated planks, cedar, redwood, and high-quality hardwoods. We guarantee that, by using only the best materials, your new deck will be durable and require minimal upkeep.
Exceptional Deck Construction Services in Stony Brook
The proficient deck construction team at Decks Unique takes pride in offering excellent craftsmanship and streamlined efficiency during every step of the building process. With our in-depth grasp of building codes, guidelines, and permits, you can have confidence in us to take care of the entire project, from inception to conclusion, providing you with an impressive and usable outdoor space.
Secure and Reinstate Your Deck's Grace
At Decks Unique, we understand the importance of routine maintenance in preserving the beauty and structural integrity of your deck. The proficient team at Decks Unique can assess and pinpoint any damage or possible issues, carrying out vital repairs to ensure your deck remains in prime condition. We extend deck restoration and refinishing assistance, comprising cleaning, staining, weather protection, and sealing measures to secure and amplify your deck's appearance.
Elevate Your Outdoor Environment with Customized Features and Add-ons
In order to transform your deck into a distinctive outdoor haven, Decks Unique provides an array of personalized options and extras like deck illumination, integrated seating, open-air cooking areas, and fire elements. Such improvements not only boost practicality, but they also generate a cozy and welcoming ambiance for you and your visitors to appreciate.
Broad Decking Options and Additional Support
Decks Unique is well-versed in both deck design and construction as well as additional outdoor structures like wood awnings, cabanas, gazebos, pergolas, and porch construction. These additional structures can greatly contribute to the charm of your Long Island home's outdoor environment, turning it into an ideal place for relaxation and festivities.
Rely on Decks Unique for all of your decking demands in Stony Brook. Notice the transformation our dedication to quality, expertise, and client satisfaction creates in your outdoor living area. Connect with us immediately to schedule a no-cost consultation, and let us turn your backyard into a brilliant creation.
Thrilled to provide service for Stony Brook, Selden, Rockville Centre, Old Bethpage, North Bellmore, Miller Place, Massapequa, as well as other communities in Long Island.
Offering Long Island Quality Deck Designs and Services: