Visit Decks Unique - Seaford's Most Reliable Deck Builder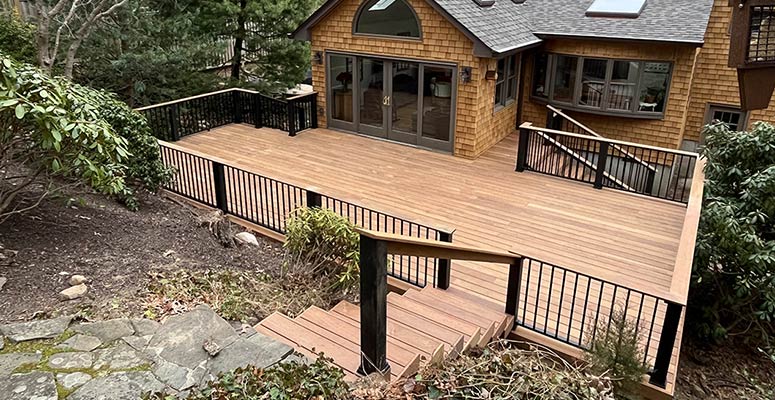 For over two decades, Decks Unique, a family-owned and operated enterprise, has offered custom deck design and construction services to the residents of Long Island and the surrounding areas, including Seaford. Our fervor for design, coupled with a strong commitment to professionalism, integrity, and innovation, has positioned us as the foremost manufacturer of high-caliber decks in Long Island, raising the bar for the sector. Our area of expertise involves creating and building custom decks, verandas, gazebos, pergolas, wooden awnings, and other external structures that add worth, allure, and functionality to your Long Island abode.
In Seaford, Proficient and Knowledgeable Deck Building Services
At Decks Unique, our perspective is that a well-crafted deck layout is an intelligent decision when looking at home upgrades. Our highly skilled team of seasoned deck constructors consistently strives for exceptional quality, adheres to effective timetables, and guarantees long-lasting warranties. Our steadfast pursuit of excellence has culminated in numerous pleased clients and deck constructions they are proud to exhibit for many years down the line.
Our deck construction crews on Long Island are endorsed to deploy all renowned composite deck products, including Trex, TimberTech, and Azek. We present free home evaluations and computerized decking layouts to enable you to picture your project before it becomes reality. Let your backyard be the canvas for our next masterpiece!
Heighten Your Home's Worth with Your Own Custom Deck
A well-crafted deck contributes to both an increase in your Seaford home's outdoor living environment and the enhancement of its value. Our team at Decks Unique is dedicated to designing and building custom-made decks that perfectly align with every client's individual needs and preferences. Be it a snug spot to accommodate get-togethers or an opulent open-air retreat to bask in lovely weather, our crew will work hand-in-hand with you to materialize your aspirations.
For outdoor spaces, we understand that each homeowner has their own distinct tastes and necessities. That's why we have a diverse array of materials, styles, and features to help you create a deck that fits your home and life. Whether you prefer classic wood choices like pressure-treated lumber, cedar, and redwood, or easy-care composite and PVC decking options, we have the perfect solution for every budget and style.
Extraordinary Concentration on Outstanding Performance and Customer Happiness
Delivering outstanding workmanship and ensuring client contentment are of utmost importance at Decks Unique. By using only the best materials and partnering with skilled, knowledgeable builders, we can assure that every project we undertake meets the highest quality standards.
To us, seamless communication is the backbone of successful projects, and we work diligently to ensure our clients are always in the know. Throughout the entire process - from initial consultation and design to construction and final inspection - our team is on hand to field questions, respond to any worries, and ensure ultimate satisfaction with your finished deck.
Let Decks Unique change your Seaford backyard into an attractive outdoor living area you'll cherish. Contact us right away to plan a free consultation and see the Decks Unique difference in person.
Extensive Deck Construction Services in Seaford
At Decks Unique, we pride ourselves on offering a wide range of decking services tailored to meet the needs of our clients in Seaford. We specialize in a variety of custom deck services, including designing and building decks, as well as providing repairs, maintenance and refinishing. We further supply a range of special features and add-ons designed to elevate your outdoor living quality. Take a closer look at the comprehensive list of services we have to offer.
Custom Deck Design: Creating the Perfect Dream Deck for You
Our accomplished deck designers will join forces with you to devise a custom-made deck that captures your unique fashion, enriches your home, and satisfies the exceptional criteria of your property. For the sake of assisting you in making confident choices, our expert personnel will take you through material assessments, guaranteeing sustained refinement and stability in your deck.
Expert Deck Assembly: Fine Craftsmanship for an Attractive External Space
As the preeminent deck builder, our commitment is to use solely premium materials and execute safe, effective workmanship. Our skilled personnel are licensed installers of prominent composite deck products, like Trex, TimberTech, and Azek. With rigorous attention to detail and a commitment to structural robustness, we confirm that your deck is not only striking but also stands firm for years to come.
Deck Upkeep and Restoration: Guarding Your Investment
Routine maintenance is necessary for preserving the attractiveness and usefulness of your deck. For wood and composite decks, our diligent team offers complete maintenance and repair solutions. Offering complete inspections to uncover potential issues and expert repair services for damages due to the elements or wear, we are your ultimate destination for all things related to deck maintenance. Through our pre-scheduled maintenance programs, you can enjoy the certainty that your deck's outstanding condition will be sustained year-round.
Deck Refinishing and Renewal: Bring Freshness to Your Outdoor Environment
With the passage of time, even first-rate decks might show evidence of wear or need refinishing in order to continue looking great. Our expert group can recover your deck's beauty with the help of professional cleaning, staining, weatherproofing, and sealing services. Furthermore, we can carry out structural upgrades to make sure your deck stays secure and operational in the long term.
Made-to-order Qualities and Accessories: Strengthen Your Deck Recreation
To refine your outdoor living space, we offer a collection of custom-fitted elements and added features conceived to elevate your deck. Included options involve energy-preserving lighting for your deck, integrated seating arrangements, outside kitchens, and fire facilities. By blending these factors into your deck's design, we fashion a hospitable and cozy setting for you to relish alongside your loved ones in Seaford.
At Decks Unique, we take pride in delivering outstanding decking services to customers and surrounding regions. In our 20 years of experience, we have garnered a reputation for being professional, sincere, and inventive. If you're interested in designing a new deck or renovating your current one, our experienced team can help. Connect with us today to set up a no-charge consultation and learn how your outdoor space can become a gorgeous, practical escape.
Choose the Right Deck Material for Your Home: Wood and Composite Selections
We, at Decks Unique, are devoted to aiding you in crafting the ultimate outdoor haven for your abode. This is the reason we provide an extensive array of decking materials, encompassing wood and composite selections. All materials have exclusive benefits that let you settle on the best choice based on your specific desires and favorites.
Experience the Classic Charm of Wood Decking
Timber brings a classic, adaptable quality while offering organic coziness and appeal for all outside areas. Discover numerous wood decking solutions that cater to each individual's taste and budget requirements.
Treated Lumber: Inexpensive and Strong
Pressure-treated lumber is a popular choice for many homeowners due to its affordability and durability. This type of decking material goes through a particular treatment, helping it resist decay and insect infestations. Because of this, pressure-treated decks offer enduring performance with low maintenance requirements.
Premium and Resistant: Cedar and Redwood's Natural Features
For those seeking a more luxurious option, we also offer cedar and redwood decking. With their inherent resistance to decay and insects, these exquisite and high-end woods offer a deck that endures and ages gracefully. The bold shades and unmatched grain structures of cedar and redwood decks contribute a breathtaking element to any abode.
Exotic Hardwoods: Beautiful and Durable
If you want an exceptional and one-of-a-kind option, look into using exotic hardwoods like Ipe, Tigerwood, or Cumaru for your project. These remarkable hardwoods are extremely dense and strong, making them known for their outstanding longevity and striking visual charm. Accentuating any outdoor area, exotic hardwood decks offer eye-catching colors and ornate patterns as a stunning centerpiece.
Composite and PVC Decking: Your Path to Low-Maintenance Living
Those looking for a low-maintenance and green choice should think about composite and PVC decking. These innovative materials combine the beauty of wood with the durability of synthetic materials, providing homeowners with a nearly maintenance-free outdoor space.
Benefits and Advantages of Composite Decking
Composite decking, which combines recycled wood fibers and plastic, is a sturdy and green choice. Warping, cracking, and fading are no match for this decking material, which ensures a beautiful and long-lasting deck with minimal effort required. Cleaning composite decks is hassle-free, as they just need the occasional washing to ensure that the outdoor area stays spotless.
A Look at Industry-Leading Composite Materials Brands
It is an honor for Decks Unique to collaborate with the best composite decking brands, including Trex, TimberTech, and Azek. As approved installers of these remarkable products, we can furnish Seaford homeowners with premium materials for an elegant and lasting outdoor living area.
Customize Your Deck with Color and Texture Options
A major selling point of composite decking is its wide customization choice range. With numerous color and texture options, you can design a unique outdoor area tailored to your home's style. Whether you prefer the look of natural wood or a more contemporary design, there's a composite decking option for you.
Transform Your Deck with Various Railing and Baluster Choices
An ideal deck requires the appropriate railing and baluster system to be complete. With Decks Unique, you have access to a variety of options that enhance your deck design while guaranteeing safety and functionality in your outdoor area.
Wood Railing Systems: Traditional and Timeless
To achieve a timeless and classic appearance, think about using a wood railing system. A wood railing system can complement both wooden and composite decking, providing a cohesive and polished appearance. Create a breathtaking finished look by painting or staining your wood railing system to complement your deck or the exterior of your Seaford home.
Metal and Glass Railing Systems: Trendy and Slick
If a cutting-edge and elegant style suits your taste, metal or glass railing systems could be a great option. Such choices add a modern twist and can elevate the vista from your outdoor space, making them an attractive option for homeowners with striking scenery.
Composite Railing Systems: Low-Care and Trendy
For those seeking a low-maintenance option that still offers style and elegance, composite railing systems are a perfect choice. Featuring both durability and charm, these railings, when paired with composite decking, establish an attractive and consistent look, ultimately constructing a beautiful outdoor living area requiring limited upkeep.
No matter what you prefer, Decks Unique is available to guide you in choosing the best decking materials for your house. Engage with us today to convey your needs and embark on the journey to design your dream outdoor space.
Boost Your Outdoor Living Space with Our Additional Services in Seaford
We believe in transforming your outside living space into a luxurious and functional part of your home at Decks Unique. Besides our excellent deck building services, we also deliver a wide array of extra services, including wood awnings, cabanas, gazebos, pergolas, and porch construction. Our professional experts in Seaford work hand in hand with you to bring your ideas to fruition while ensuring superior quality and lasting durability.
Wooden Awnings: Increase Shade and Style for Your Outdoor Space
Wood awnings serve as an effective way to integrate both shade and elegance into your outdoor surroundings. The knowledgeable professionals at Decks Unique can help you determine the best design and materials to construct a gorgeous and useful wood awning that aligns with your home's aesthetic. These wood awnings not only serve to protect against harsh weather but also help raise your property's overall value.
Cabanas: Establish an Elegant Haven in Your Seaford Greenspace
Cabanas are unparalleled in providing luxury, comfort, and privacy, making them a top choice for inclusion in any exterior space. Our experienced team will work alongside you to plan and erect a unique cabana that caters to your distinct needs and preferences. Be it a warm, inviting spot for rest or a refined space for social engagements, we can build a cabana that becomes your dream outdoor getaway.
Gazebos: An Attractive Extension to Your Garden or Patio
In any garden or patio, a gazebo is an enduring addition that supplies an appealing focal point and a cool refuge for outdoor leisure. Our expert team assists you in selecting the perfect design, materials, and placement for your gazebo, guaranteeing a smooth blend with your current outdoor environment. Relying on our precision craftsmanship, we present a magnificent gazebo that adds to the charm of your outdoor environment for the long run.
Pergolas: Integrate Architectural Style and Functionality into Your Open-air Space
Adding a pergola is a fantastic method for enhancing your outdoor area's architectural appeal and usefulness. Pergolas offer a balance of shading and natural illumination, which suits them well for use in garden walkways, outdoor patios, or dining areas. Choose Decks Unique's experienced team to conceive and erect a made-to-order pergola that reflects your individual style and boosts your property's worth.
Porches: Enhancing Your Home's Curb Appeal and Expanding Outdoor Living Space
A tastefully designed porch not only enriches your home's curb appeal but also bestows a cozy alfresco living area for you and your family to enjoy. Our seasoned group will join forces with you to execute a customized porch design that suits your home's architecture and meets your purposeful needs. With our comprehensive attention to even the smallest detail and steadfast pledge to premium quality, you can breathe easy knowing your porch assembly project is in proficient hands.
Talk to Decks Unique for improving your Seaford outdoor living space
We at Decks Unique are dedicated to offering exceptional, bespoke outdoor living solutions for our Seaford clientele and the neighboring areas. If you're interested in incorporating a wood awning, cabana, gazebo, pergola, or porch to your exterior space, our team of experts is ready to assist. Contact us today to discuss your project and discover how we can transform your outdoor living space into a luxurious and functional extension of your home.
Seaford's Expert Deck Design and Consultation
At Decks Unique, we are proud of our ability to offer personalized consultations and custom deck designs that accommodate the unique demands of each client. Our seasoned deck designers, with over 20 years in the field, will partner with you to develop a deck that improves both your home's appearance and functionality. Through the use of progressive 3D modeling and visualization practices, we'll breathe life into your dream deck, ensuring the end product surpasses your expectations.
Finest Quality Deck Materials to Guarantee Durability
Decks Unique, the leading deck builder in Long Island, is a certified installer for top composite deck brands like Trex, TimberTech, and Azek. Furthermore, we extend a multitude of wooden decking options geared to your tastes, including pressure-treated beams, cedar, redwood, and superior hardwoods. Our commitment to using only the best materials ensures that your new deck will be built to last while requiring minimal maintenance.
Reliable Deck Construction Services in Seaford
At Decks Unique, our talented deck building professionals are devoted to ensuring exceptional quality and efficiency in all phases of the construction process. With our extensive know-how of building codes, statutes, and permits, you can rely on us to steer the whole project from its start to finish, leaving you with a visually striking and practical outdoor living area.
Keep and Restore Your Deck's Attractiveness
At Decks Unique, we are conscious of the pivotal role regular maintenance plays in preserving your deck's visual charm and solid framework. Our capable team can investigate and identify any harm or likely complications, delivering needed repairs to keep your deck in superior condition. We also supply deck resurfacing and revitalization services, encompassing cleaning, staining, protecting against the elements, and sealing for the preservation and enhancement of your deck's aesthetics.
Custom Features and Add-ons to Elevate Your Outdoor Space
To genuinely convert your deck into an exceptional exterior retreat, Decks Unique presents a range of custom characteristics and additions, including deck lights, built-in benches, alfresco kitchens, and features involving fire. These advancements not only heighten practical use, but they also build a pleasant and convivial milieu for you and your visitors to take pleasure in.
Broad Decking Options and Additional Support
Decks Unique, known for its expertise in deck design and construction, also offers expertise in other outdoor structures, including wood awnings, cabanas, gazebos, pergolas, and porch construction. Such structures can augment the beauty of your Long Island home's exterior, transforming it into an excellent space for leisure and socializing.
Rely on Decks Unique for all of your decking demands in Seaford. Notice the transformation our dedication to quality, expertise, and client satisfaction creates in your outdoor living area. Connect with us immediately to schedule a no-cost consultation, and let us turn your backyard into a brilliant creation.
With pride, offering our assistance to Seaford, Rockville Centre, Old Bethpage, North Bellmore, Mineola, Massapequa, Levittown and additional Long Island locales.
Offering Long Island Quality Deck Designs and Services: