Visit Decks Unique - Dix Hills's Most Reliable Deck Builder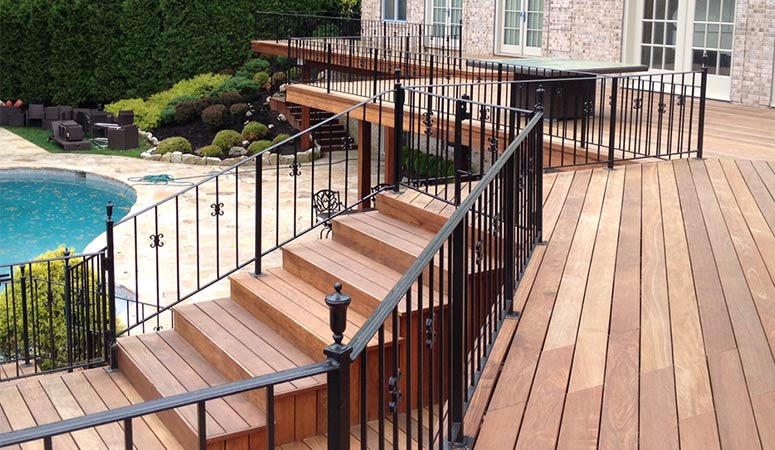 Decks Unique, a family-owned and operated company specializing in custom deck design and construction, has served the communities of Long Island and the surrounding areas, such as Dix Hills, for over two decades. We have become the preeminent supplier of high-quality decks on Long Island through our passion for design and dedication to professionalism, honesty, and innovation, shaping the industry standards. Our expertise lies in crafting custom decks, porches, gazebos, pergolas, wooden awnings, and other outdoor amenities that enhance the appeal, value, and practicality of your residence in Long Island.
Dix Hills Deck Building Services with Expertise and Experience
At Decks Unique, we know that a well-executed deck design proves to be a great investment when pondering home enhancements. At Decks Unique, our skilled professionals in deck building are devoted to providing superior quality, working towards efficient scheduling, and making sure that our warranties retain true long-term value. Our allegiance to exceptional quality has borne fruit in the form of myriad satisfied clients and beautifully crafted decks they can flaunt for the years ahead.
Our Long Island deck building specialists are licensed to install all top composite deck brands, such as Trex, TimberTech, and Azek. Enjoy our complimentary house visits and computer-rendered deck blueprints that let you perceive your deck before it's physically realized. Give us the chance to make your backyard our succeeding project!
Enhance Your Home's Value through a Tailor-Made Deck
With a high-quality deck, your Dix Hills house can see its outdoor living area improved and its property value significantly raised. We, at Decks Unique, focus on the development and creation of bespoke decks that address the specific requirements and tastes of each client. From a warm and welcoming spot for get-togethers to an elegant outdoor refuge for enjoying the splendid weather, our team will work intimately with you to fashion your desired space.
We appreciate that every homeowner has distinct preferences and needs for their outdoor environments. This is the reason we present various materials, styles, and characteristics to craft the ultimate deck that suits your house and lifestyle. From classic wooden choices such as pressure-treated wood, cedar, and redwood, to the low-maintenance composite and PVC decking options, we have the ideal solution for any budget and taste.
Unrivaled Persistence in Upholding Quality and Ensuring Customer Delight
At Decks Unique, excellent workmanship and gratified clients are what we focus on. We are dedicated to utilizing only top-grade materials and partnering with expert, seasoned builders to guarantee our projects meet the most stringent standards.
To us, seamless communication is the backbone of successful projects, and we work diligently to ensure our clients are always in the know. Throughout the entire process - from initial consultation and design to construction and final inspection - our team is on hand to field questions, respond to any worries, and ensure ultimate satisfaction with your finished deck.
Enable Decks Unique to make your Dix Hills backyard into an inviting outdoor living environment you'll appreciate. Contact us today to schedule a free consultation and experience the Decks Unique difference for yourself.
Thorough Deck Building Solutions in Dix Hills
Decks Unique takes pride in providing an extensive array of decking services, customized to accommodate the requirements of our Dix Hills clientele. Our proficiency extends from designing and constructing tailor-made decks to managing repairs, maintenance, and refinishing tasks. Besides our primary services, we also offer numerous distinctive features and upgrades to improve your outdoor living space. We invite you to explore our extensive selection of services more closely.
Custom Deck Design: Manifesting Your Dream Deck into Reality
Our skillful deck designers will collaborate intimately with you to assemble a custom-built deck that exemplifies your private style, seamlessly integrates with your home, and meets the peculiar specifications of your property. For the sake of assisting you in making confident choices, our expert personnel will take you through material assessments, guaranteeing sustained refinement and stability in your deck.
Superior Deck Construction: Exceptional Expertise for a Breathtaking Outdoor Area
Being the top deck builder, we are dedicated to utilizing only the best materials and ensuring the safety and efficiency of our workmanship. Our competent crews are licensed to install top-tier composite decking materials, such as Trex, TimberTech, and Azek. With meticulous attention to detail and a focus on structural integrity, we ensure that your deck not only looks stunning but also stands the test of time.
Keeping Your Deck in Tip-Top Shape: Defending Your Investment
Regular upkeep is vital for maintaining your deck's aesthetics and functionality. Our devoted team supplies a wide range of repair and maintenance services for wood and composite decks alike. From exhaustive assessments aimed at spotting potential concerns, to professional repair of damages resulting from weather or age, consider us your all-encompassing deck maintenance provider. You'll have peace of mind with the knowledge that your deck will remain in exceptional condition year-round, thanks to our regular maintenance programs.
Deck Refinishing and Restoration: Rejuvenate Your Exterior Space
As the years go by, even the highest-grade decks can demonstrate signs of wear or ask for refinishing to retain their attractiveness. Our capable team can reestablish the gorgeousness of your deck using professional cleaning, staining, weatherproofing, and sealing methods. Notably, we can apply structural ameliorations, securing your deck's safety and utility for the future.
Made-to-order Qualities and Accessories: Strengthen Your Deck Recreation
For improving your outdoor living environment, we propose a selection of customized attributes and add-ons intended to supplement your deck. The available options consist of energy-efficient illumination on decks, embedded seating, exterior kitchens, and fire amenities. Embedding these particulars into your deck configuration, we help form a friendly and cozy atmosphere for you to treasure with your dear ones in Dix Hills.
Providing top-notch decking solutions to clients and nearby areas is a specialty of Decks Unique. For more than 20 years, our experience has earned us a reputation for being professional, honest, and groundbreaking. No matter if you're seeking to create a new deck or update your current one, our knowledgeable team is prepared to assist. Arrange a no-obligation consultation with us today, and learn how we can help turn your outside area into an amazing, functional hideaway.
Decide on the Optimal Deck Material for Your Lifestyle: Wood and Composite Variants
At Decks Unique, our mission is to guide you in designing your dream outdoor refuge for your house. This is why we have an expansive array of decking materials at our disposal, featuring both wood and composite options. Various materials have unique positive aspects, ensuring your ability to opt for the finest choice that caters to your personal necessities and proclivities.
Embrace the Timeless Beauty of Wooden Decks
Offering unparalleled warmth and charm, wood is an eternal and versatile choice for outdoor environments. Discover numerous wood decking solutions that cater to each individual's taste and budget requirements.
Pressure-Processed Wood: Wallet-friendly and Durable
A significant number of homeowners find pressure-treated lumber appealing for its inexpensive and durable aspects. Protection from wood deterioration and insect issues is provided by a special treatment process for this decking material. Minimal maintenance is needed for these durable, pressure-treated decks as a result of the treatment.
Elegance and Resilience: Cedar and Redwood's Natural Qualities
We also provide cedar and redwood decking for those wanting a more extravagant option. These elegant and premium woods possess natural resistance to decay and pests, guaranteeing a durable deck that matures with elegance. Cedar and redwood decks, featuring deep colors and one-of-a-kind grain patterns, add a striking touch to any household.
Exotic Hardwoods: Stunning and Enduring
If you desire a truly rare and refined option, think of using exotic hardwoods like Ipe, Tigerwood, or Cumaru. These remarkable hardwoods are extremely dense and strong, making them known for their outstanding longevity and striking visual charm. Accentuating any outdoor area, exotic hardwood decks offer eye-catching colors and ornate patterns as a stunning centerpiece.
Discover the Ease of Low-Maintenance Living by Choosing Composite and PVC Decking
Should you desire an environmentally-friendly and low-maintenance option, look into composite and PVC decking. These cutting-edge materials meld the aesthetics of wood with the longevity of artificial materials, giving homeowners a virtually maintenance-free exterior area.
Pros and Perks of Composite Decking
Composite decking is made from a combination of recycled wood fibers and plastic, offering a highly durable and eco-friendly option. With resistance to warping, cracking, and discoloration, this decking material guarantees an attractive and enduring deck that requires little maintenance. Another benefit is the effortless cleaning of composite decks, needing only an occasional wash to retain the freshness of the outdoor environment.
Top Brands in the Composite Materials Industry
Decks Unique takes pride in collaborating with top-tier composite decking brands like Trex, TimberTech, and Azek. As sanctioned installers of these exceptional products, we're able to provide Dix Hills homeowners with top-quality materials for a striking and long-lasting outdoor area.
Upgrade Your Deck with Various Color and Texture Choices
One main strength of composite decking is the numerous customization alternatives. You can design a bespoke outdoor area that matches your home's aesthetic, thanks to various color and texture possibilities. Whether your liking leans towards natural wood or a more sophisticated design, composite decking has something for you.
Amplify Your Deck's Look with Railing and Baluster Additions
To be complete, the perfect deck calls for the appropriate railing and baluster system. Decks Unique offers an extensive selection of options to work seamlessly with your deck design and promote the safety and usefulness of your exterior area.
Timber Railing Designs: Conventional and Unchanging
For a stylish and lasting design, a wood railing system should be considered. A wood railing system can complement both wooden and composite decking, providing a cohesive and polished appearance. For a striking finale, customize your wood railing system by painting or staining it to match your deck or the exterior of your Dix Hills home.
Metal and Glass Railing Systems: Contemporary and Elegant
Should you fancy a contemporary and streamlined look, think about opting for metal or glass railing systems. These stylish options not only contribute a contemporary element, but they also accentuate the view from your deck, making them well-liked among those who live amidst breathtaking landscapes.
Composite Railing Systems: Effortless Maintenance and Stylish
Those in search of a stylish yet low-maintenance alternative will find composite railing systems to be an excellent selection. Not only are these railings durable and visually appealing, but they also create a unified appearance when combined with composite decking, resulting in an impressive outdoor area that demands minimal tending.
Regardless of your favorite styles, Decks Unique is ready to help you identify the ideal decking components for your household. Reach out to our team today to discuss your vision and begin shaping the outdoor area you've always imagined.
Take Your Outdoor Living Space to the Next Level with Our Added Services in Dix Hills
Our mission at Decks Unique is to convert your outdoor living area into a deluxe and practical extension of your abode. Our services extend beyond remarkable deck building, as we also provide a variety of supplementary services such as wood awnings, cabanas, gazebos, pergolas, and porch construction. Our adept experts in Dix Hills collaborate with you to manifest your vision, while guaranteeing exceptional quality and enduring durability.
Wood Awnings: Incorporate Style and Shade to Your Outdoor Area
Installing wood awnings is a fantastic approach to enhance your outdoor area with both shade and elegance. The proficient staff at Decks Unique will guide you in picking the perfect design and materials to fashion an appealing and functional wood awning that suits your home's style. These setups not only offer defense against tough weather conditions but also augment the overall market value of your property.
Cabanas: Design a Lavish Getaway in Your Dix Hills Garden
Cabanas deliver a flawless fusion of opulence, comfort, and seclusion, making them the ultimate addition to any outdoor setting. Our team of experts will work with you to design and build a custom cabana that meets your specific needs and preferences. Whether you need a soothing oasis for leisure or a fashionable area for entertaining guests, we shall produce a cabana that acts as the consummate outdoor refuge.
Gazebos: A Visually Appealing Addition for Your Garden or Patio
In any garden or patio, a gazebo is an enduring addition that supplies an appealing focal point and a cool refuge for outdoor leisure. Our expert team assists you in selecting the perfect design, materials, and placement for your gazebo, guaranteeing a smooth blend with your current outdoor environment. Thanks to our superior craftsmanship, your gazebo will be a beautiful addition to your outdoor area and provide enjoyment for many years.
Pergolas: Enhance Your Outdoor Space with Architectural Beauty and Function
One effective way to enrich your outdoor living space with architectural appeal and utility is by constructing a pergola. These structures adeptly merge shadow and light, creating an idyllic atmosphere for walkways in gardens, patios, or outdoor dining places. The team of skilled experts at Decks Unique can create and construct a tailor-made pergola that complements your taste and enhances your home's worth.
Porch Construction: Enhance Your Home's Curb Appeal and Outdoor Living Space
An artfully designed porch not only advances your home's curb appeal but also serves up a comfy outdoor living spot for you and your family to cherish. Our efficient group will work jointly with you to conceive a made-to-order porch that corresponds with your home's architecture and satisfies your conducive needs. With our attention to detail and commitment to quality, you can rest assured knowing your porch construction project is in good hands.
Communicate with Decks Unique for your Dix Hills outdoor living area transformation
Decks Unique specializes in delivering premium, custom-crafted outdoor living solutions to our Dix Hills clients and the surrounding areas. If you'd like to include a wood awning, cabana, gazebo, pergola, or porch in your outdoor living area, our expert team is on hand to help. Let's chat about your project today, and we'll reveal how we can change your outdoor living space into a luxurious and practical component of your home.
Top-notch Deck Consulting and Design Solutions in Dix Hills
Delivering personalized consultations and tailor-made deck designs that satisfy every client's specific needs is what sets Decks Unique apart. Our highly skilled deck designers, with over two decades of experience, will work intimately with you to build a deck that enhances your home's visual allure and features. We'll employ top-tier 3D modeling and visualization strategies to turn your dream deck into a reality, guaranteeing that the resulting product lives up to your anticipations.
Top-Notch Decking Materials to Ensure Longevity
Long Island's foremost deck builder, Decks Unique, is an officially recognized installer of major composite deck materials, including brands like Trex, TimberTech, and Azek. We also propose a diverse set of wood decking choices to meet your specific preferences, such as pressure-treated building materials, cedar, redwood, and upscale hardwoods. With a commitment to using only exceptional materials, you can trust that your new deck will be long-lasting and require minimal maintenance.
Professional Deck Construction Services in Dix Hills
At Decks Unique, our highly trained deck construction crew is dedicated to upholding superior craftsmanship and optimal efficiency during the complete building venture. Utilizing our comprehensive knowledge of building codes, laws, and permits, you can have faith in us to handle the entire project from initiation to completion, resulting in an exquisite and functional outdoor living space.
Sustain and Renew Your Deck's Appeal
At Decks Unique, we recognize the significance of regular upkeep in maintaining your deck's aesthetic appeal and structural stability. The experienced professionals at Decks Unique can survey and determine any issues or prospective challenges, offering crucial repairs to uphold your deck's excellent quality. At Decks Unique, we also propose deck revamping and restoration amenities, involving cleaning, staining, safeguarding against weather, and sealing to conserve and magnify your deck's appeal.
Custom Features and Add-ons to Elevate Your Outdoor Space
To actually turn your deck into a remarkable outside getaway, Decks Unique offers numerous customized details and enhancements like decking illumination, seating built into the structure, kitchens suited for the exterior, and accents centered around fire. These embellishments not only extend usability, but they also create a snug and appealing air for you and your guests to find joy in.
In-Depth Decking Assistance and More
Decks Unique not only excels in deck designing and construction but also focuses on additional outdoor structures, including wooden awnings, cabanas, gazebos, pergolas, and porch construction. With these extra outdoor installations, your Long Island home's outdoor ambience can be significantly improved, making it the best spot for relaxation and amusement.
Decks Unique can tackle your entire Dix Hills decking necessities. See how our commitment to excellence, professionalism, and customer satisfaction enhances your outdoor space. Message us today to plan a free meetup, and let us make your backyard into a stunning display.
Joyfully helping the citizens in Dix Hills, Brentwood, Woodmere, Terryville, Smithtown, Rocky Point, Old Westbury, and other Long Island vicinities.
Offering Long Island Quality Deck Designs and Services: