Experience Decks Unique - The Premier Deck Building Service in West Babylon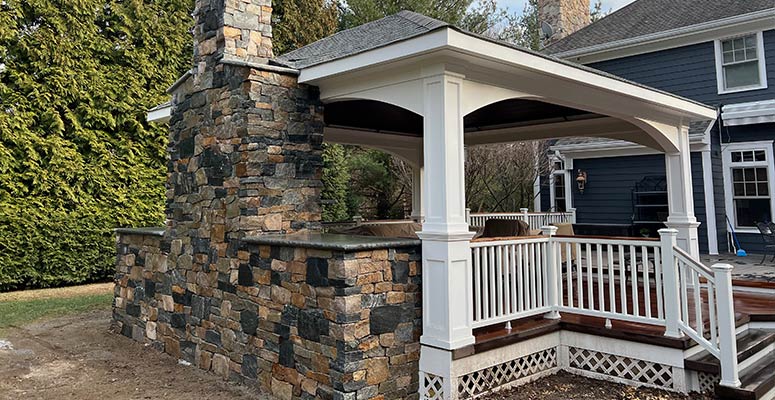 Decks Unique is a family-owned and operated custom deck design and construction company, serving the residents of Long Island and surrounding areas, including West Babylon, for over 20 years. Driven by our passion for design and a strong commitment to professionalism, honesty, and innovation, we have become the leading producer of top-quality decks in Long Island, setting the standards for our industry. We're experts in designing and building custom decks, porches, gazebos, pergolas, timber awnings, and other outdoor features that enhance the value, beauty, and functionality of your home in Long Island.
West Babylon's Expert and Experienced Deck Builders
At Decks Unique, we are convinced that a well-organized deck layout offers a sensible investment in home improvement projects. Our knowledgeable assembly of expert deck builders is determined to ensure top-quality outcomes, preserve efficiency in production, and ascertain that our warranties hold significant enduring value. Our steadfast pursuit of excellence has culminated in numerous pleased clients and deck constructions they are proud to exhibit for many years down the line.
Our Long Island deck building crews are authorized installers of all major composite deck products, such as Trex, TimberTech, and Azek. Benefit from our complimentary at-home consultations and computer-aided deck templates so you can envisage your project ahead of construction. Permit us to create an amazing transformation in your backyard for our next project!
Increase the Value of Your Home with a Custom-Built Deck
Not only does an excellent deck boost your West Babylon home's outdoor living area, but it also raises the overall property value. Decks Unique is specialized in crafting and assembling personalized decks that fulfill the requirements and appeals of our diverse clientele. No matter if you desire a comfy location for social events or a grand outdoor paradise to savor the charming weather, our staff will partner with you to create your ideal space.
It's clear that each homeowner possesses distinct tastes and necessities for their outside spaces. That's why we have a diverse array of materials, styles, and features to help you create a deck that fits your home and life. Starting from conventional wood materials like pressure-treated lumber, cedar, and redwood, through to the low-maintenance compound and PVC decking options, we cater to every budget and predilection.
Adherence to Exceptional Quality and Consumer Satisfaction
Decks Unique is deeply committed to delivering top-notch workmanship and ensuring our clients' satisfaction. Utilizing premium materials and employing accomplished builders allows us to uphold the highest standards in every project we handle.
For a project to be successful, we believe communication is key, and we place great importance on keeping our clients aware of every development. From the start, with the initial consultation and design aspects, all through the construction phase and the final inspection, our ever-present team is here to address questions, eliminate concerns, and confirm that you are absolutely thrilled with your new deck.
Give Decks Unique the chance to modify your West Babylon backyard into a cozy outdoor living space you'll love. Reach out to us today to set up a no-cost consultation and feel the Decks Unique distinction yourself.
All-inclusive Decking Solutions in West Babylon
A vast array of personalized decking services are available at Decks Unique, aimed at fulfilling the requirements of our clients in West Babylon. Our team is skilled in providing a holistic suite of services, from custom deck design and construction to repair, maintenance, and refinishing. At Decks Unique, we also supply a variety of distinct features and additional options to augment your outdoor living enjoyment. Let us examine the range of services we provide in greater detail.
Custom Deck Design: Materializing Your Dream Deck with Expertise
Our professional deck designers will work closely with you to create a custom deck that reflects your personal style, complements your home, and meets the unique requirements of your property. In order to assist you in making knowledgeable choices, our specialists will walk you through the process of selecting materials, guaranteeing lasting attractiveness and resilience.
Masterful Deck Fabrication: Impressive Craftsmanship for an Elegant Exterior Space
Being the top deck builder, we are dedicated to utilizing only the best materials and ensuring the safety and efficiency of our workmanship. Our adept teams are sanctioned installers of major composite decking products like Trex, TimberTech, and Azek. With meticulous attention to detail and a focus on structural integrity, we ensure that your deck not only looks stunning but also stands the test of time.
Keeping Your Deck in Tip-Top Shape: Defending Your Investment
Regular upkeep is vital for maintaining your deck's aesthetics and functionality. Our skilled team is available to provide detailed repair and maintenance services for wood and composite decks. From meticulous inspections that reveal potential problems, to adept repairs for any damages stemming from weather or wear patterns, we are the comprehensive source for all your deck upkeep needs. Our timely maintenance programs give you the comfort of knowing that your deck will always be in outstanding condition, no matter the season.
Deck Refinishing and Restoration: Renew Your Outdoor Oasis
Eventually, even the best quality decks might display signs of wear and might need refinishing to preserve their look. Our expert group can recover your deck's beauty with the help of professional cleaning, staining, weatherproofing, and sealing services. Moreover, we can implement structural enhancements, guaranteeing your deck's safety and function for the foreseeable future.
Custom Features and Add-ons: Enhance Your Deck Experience
For improving your outdoor living environment, we propose a selection of customized attributes and add-ons intended to supplement your deck. The available options consist of energy-efficient illumination on decks, embedded seating, exterior kitchens, and fire amenities. By fusing these elements within the deck design, we cultivate a warm and comfy place for you and your kin to share memorable moments in West Babylon.
Decks Unique is dedicated to providing premium decking services to clients in the surrounding areas. We have established a strong reputation for professionalism, reliability, and originality, thanks to our 20 years in the industry. Whether designing a novel deck or enhancing a current one, our proficient team is available for assistance. Contact us today to schedule a free consultation and discover how we can transform your outdoor space into a stunning and functional retreat.
Decide on the Optimal Deck Material for Your Lifestyle: Wood and Composite Variants
Decks Unique is all about empowering you to create an amazing outdoor utopia within your home. Thus, we have a vast assortment of decking materials, including alternatives made of wood and composite materials. All materials have exclusive benefits that let you settle on the best choice based on your specific desires and favorites.
Wood Decking Provides an Ageless Beauty
Being both ageless and flexible, wood imbues a sense of inviting warmth and elegance to outdoor spaces. Numerous wood decking choices are available, suiting various tastes and budgetary requirements.
Pressure-Maintained Lumber: Reasonably Priced and Rugged
Affordability and durability make pressure-treated lumber a favorite choice for numerous homeowners. A certain treatment process ensures this decking material remains resistant to rot and insect infiltrations. Consequently, pressure-treated decks have a lengthy life and demand limited upkeep.
Elegance and Resilience: Cedar and Redwood's Natural Qualities
Should you seek a more sumptuous choice, we also present cedar and redwood decking. These gorgeous and top-tier woods boast natural resistance to rot and insect infestations, offering a lasting deck that matures gracefully. With their rich colors and unique grain patterns, cedar and redwood decks make a stunning addition to any home.
Exotic Hardwoods: Exquisite and Long-Lasting
If you're on the hunt for a genuinely distinct and sophisticated alternative, consider utilizing exotic hardwoods like Ipe, Tigerwood, or Cumaru. These incredibly dense and durable woods are known for their exceptional longevity and striking appearance. Exotic hardwood decks, known for their brilliant colors and involved patterns, act as show-stopping centerpieces in all outdoor spaces.
Achieve Low-Maintenance Living with the Use of Composite and PVC Decking
For people who want an environmentally conscious and low-maintenance possibility, examine composite and PVC decking. These state-of-the-art materials join the attractiveness of wood with the resilience of synthetics, supplying homeowners with an outdoor space that requires minimal maintenance.
Understanding the Benefits and Advantages of Composite Decking
Composite decking, composed of both reused wood fibers and plastic, presents a robust and eco-friendly alternative. This decking option can withstand warping, cracking, and fading, leading to a beautiful and resilient deck that requires little care. Cleaning composite decks is a breeze, as they only require periodic washing to maintain a spotless and inviting outdoor space.
The Best Brands in the World of Composite Materials
Decks Unique takes pride in collaborating with top-tier composite decking brands like Trex, TimberTech, and Azek. As authorized installers of these exceptional products, we can provide West Babylon homeowners with the highest quality materials, ensuring a gorgeous and long-lasting outdoor space.
Design Your Deck with a Variety of Color and Texture Possibilities
One of the major benefits of composite decking is the wide range of customization options. The assortment of color and texture choices enables you to construct an unparalleled outdoor space that adheres to your home's visual appeal. Whether you prefer the look of natural wood or a more contemporary design, there's a composite decking option for you.
Elevate Your Deck with a Variety of Railing and Baluster Options
The perfect deck isn't complete without the right railing and baluster system. Decks Unique provides an ample range of options to elevate your deck design and warrant your outdoor area's safety and functionality.
Timber Railing Systems: Conventional and Enduring
A wood railing system is worth considering for a classic and ageless look. The use of a wood railing system can create a harmonious, unified design for both wood and composite decks. To create a visually appealing result, paint or stain your wood railing system so it complements your deck or the exterior of your West Babylon home.
Metal and Glass Railing Systems: Fashionable and Uncluttered
If you prefer a more modern and sleek aesthetic, consider metal or glass railing systems. Providing a fresh, up-to-date feel, these options can also boost the visuals enjoyed from your deck, appealing to homeowners who are surrounded by idyllic landscapes.
Composite Railing Systems: Minimal Upkeep and Fashionable
For an ideal blend of style, elegance, and low-maintenance, composite railing systems are an excellent option. When combined with composite decking, these rugged and elegant railings contribute to a seamless appearance, crafting a striking outdoor sanctuary with minimal required maintenance.
No matter what your tastes are, Decks Unique is committed to helping you find the perfect decking materials for your living quarters. Communicate with us today to express your needs and start crafting the outdoor haven of your dreams.
Take Your Outdoor Living Space to the Next Level with Our Added Services in West Babylon
Decks Unique is committed to turning your outdoor living area into a lavish and practical extension of your residence. We don't just provide exemplary deck building services; we also have a variety of extra services like wood awnings, cabanas, gazebos, pergolas, and porch construction. Our proficient specialists in West Babylon closely cooperate with you to materialize your vision, ensuring high quality and long-lasting durability.
Wood Awnings: Bring Both Shade and Style to Your Outdoor Living Space
Installing wood awnings is a fantastic approach to enhance your outdoor area with both shade and elegance. The knowledgeable professionals at Decks Unique can help you determine the best design and materials to construct a gorgeous and useful wood awning that aligns with your home's aesthetic. These constructions provide both shelter from severe weather conditions and elevation in your property's total value.
Cabanas: Set up a Deluxe Oasis in Your West Babylon Backyard
Cabanas offer a perfect blend of luxury, comfort, and privacy, making them an ideal addition to any outdoor space. You can count on our team of professionals to design and create a unique cabana that caters to your individual needs and preferences. Whether it's a homely corner for winding down or a polished space for hosting visitors, we can conjure up a cabana that stands as your flawless exterior retreat.
Gazebos: A Picturesque Addition for Your Backyard Garden or Patio
A gazebo brings lasting appeal to gardens or patios, creating an inviting central attraction and a shaded space for outdoor downtime. Our knowledgeable team guides you through the process of choosing the perfect style, materials, and location for your gazebo, guaranteeing harmonious fusion with your existing landscape. Thanks to our masterful craftsmanship, you can delight in a splendid gazebo that boosts the allure of your outdoor space for many years to come.
Pergolas: Upgrade Your Exterior Area by Adding Architectural Intrigue and Purpose
A great way to boost architectural allure and functionality in your outdoor living area is by installing a pergola. Pergolas inherently deliver a mix of shaded areas and sunlit spaces, ideally suiting them for the likes of garden promenades, terraces, or eateries outdoors. At Decks Unique, our experienced professionals will design and build a custom pergola that matches your style and adds value to your home.
Porch Assembly: Augment Your Home's Curb Appeal and Outdoor Living Space
An artfully designed porch not only advances your home's curb appeal but also serves up a comfy outdoor living spot for you and your family to cherish. Our experienced team will team up with you to establish a bespoke porch that matches your home's architecture and caters to your functional necessities. With our keen eye for detail and dedication to excellence, you can have peace of mind knowing your porch construction endeavor is well taken care of.
Get ahold of Decks Unique for upgrading your West Babylon outdoor living space
We pride ourselves on bringing top-quality, tailored outdoor living solutions to our customers in West Babylon and the neighboring regions at Decks Unique. Our knowledgeable team is eager to assist if you're considering adding a wood awning, cabana, gazebo, pergola, or porch to your outdoor area. Discuss your project with us today and find out how we can turn your outdoor living environment into a comfortable and efficient extension of your residence.
West Babylon's Premier Deck Consultation and Design Experts
Decks Unique is renowned for providing individualized consultations and custom deck plans to fulfill the particular desires of our customers. Boasting more than two decades of expertise, our skilled deck designers collaborate with you to design a deck that augments your home's visual appeal and practicality. By applying modern 3D modeling and visualization techniques, we'll make your envisioned deck a tangible reality, confirming the final creation meets your demands.
Top-Notch Decking Materials to Ensure Longevity
On Long Island, Decks Unique is the top deck builder and authorized installer for leading composite deck products such as Trex, TimberTech, and Azek. We also present an array of wooden decking alternatives to accommodate your preferences, like pressure-treated timber, cedarwood, redwood, and rare hardwoods. Our pledge to utilize only the finest materials ensures that your new deck will withstand the test of time while demanding little maintenance.
Premier Deck Construction Services in West Babylon
Our team of skilled deck builders at Decks Unique is focused on providing high-quality craftsmanship and effective execution during the whole construction journey. With our exceptional understanding of building codes, requirements, and permits, you can count on us to navigate the entire project from its inception to culmination, leaving you with a stunning and functional outdoor living space.
Keep and Restore Your Deck's Attractiveness
Decks Unique is well aware of the value of routine maintenance in sustaining both the visual allure and durability of your deck. Our capable team can investigate and identify any harm or likely complications, delivering needed repairs to keep your deck in superior condition. We additionally present deck refurbishing and restoration offerings, consisting of cleaning, staining, weatherproofing, and sealing strategies to fortify and boost your deck's visual quality.
Improve Your Outdoor Living Area with Custom-built Additions and Elements
For authentically crafting your deck into a standout alfresco haven, Decks Unique brings you a variety of individualized elements and add-ins, featuring lighting systems for decks, seats embedded within the layout, cooking zones suitable for outdoor use, and fire-related fixtures. Such improvements not only boost practicality, but they also generate a cozy and welcoming ambiance for you and your visitors to appreciate.
Thorough Decking Services and More
Apart from our knowledge and experience in deck design and construction, Decks Unique also extends its expertise to additional outdoor structures such as wooden awnings, cabanas, gazebos, pergolas, and porches. Such structures can augment the beauty of your Long Island home's exterior, transforming it into an excellent space for leisure and socializing.
Decks Unique is here to help with your West Babylon decking needs. Explore the difference our devotion to high-quality work, professionalism, and happy customers brings to your outdoor space. Get in touch right away to arrange a free consultation and let us transform your backyard into an impressive work.
Taking great pleasure in assisting West Babylon, Stony Brook, Seaford, Riverhead, Oceanside, North Babylon, Middle Island and other Long Island districts.
Offering Long Island Quality Deck Designs and Services: