Experience Decks Unique - The Premier Deck Building Service in Baldwin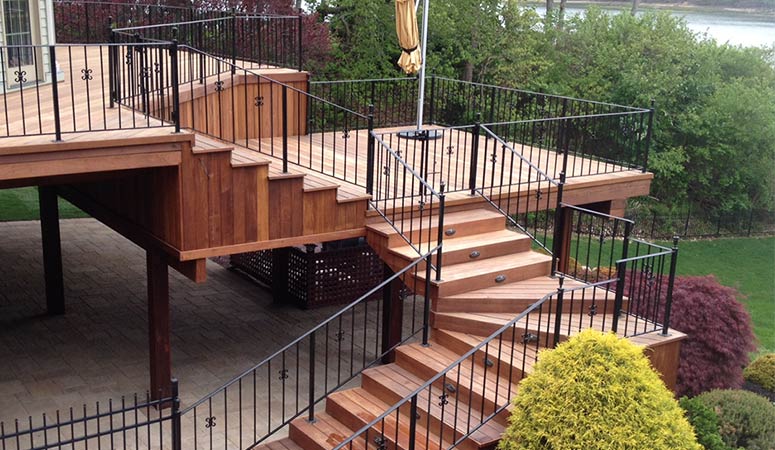 Decks Unique, a family-owned and operated custom deck design and construction business, has catered to the residents of Long Island and nearby areas, like Baldwin, for more than 20 years. Driven by our passion for design and a strong commitment to professionalism, honesty, and innovation, we have become the leading producer of top-quality decks in Long Island, setting the standards for our industry. We pride ourselves on developing and constructing custom decks, porches, gazebos, pergolas, wood awnings, and assorted outdoor structures that bolster the appeal, worth, and function of your Long Island home.
In Baldwin, Proficient and Knowledgeable Deck Building Services
At Decks Unique, we are convinced that a well-organized deck layout offers a sensible investment in home improvement projects. Our adept squad of professional deck builders aims to achieve exceptional quality, maintain productivity in schedules, and assure our warranties come with true durable value. This resolute commitment to maintaining excellence has garnered numerous fulfilled clients and stunning decks they are thrilled to exhibit for years to come.
Our Long Island deck building specialists are licensed to install all top composite deck brands, such as Trex, TimberTech, and Azek. Enjoy our complimentary house visits and computer-rendered deck blueprints that let you perceive your deck before it's physically realized. Permit us to create an amazing transformation in your backyard for our next project!
Heighten Your Home's Worth with Your Own Custom Deck
A top-quality deck serves to enhance the open-air living quarters of your Baldwin dwelling while also heightening its value. We, at Decks Unique, focus on the development and creation of bespoke decks that address the specific requirements and tastes of each client. Whether you are looking for a cozy space to entertain friends and family or a luxurious outdoor oasis to enjoy the beautiful weather, our team will work closely with you to bring your vision to life.
We appreciate that every homeowner has distinct preferences and needs for their outdoor environments. That's why we have a diverse array of materials, styles, and features to help you create a deck that fits your home and life. We present solutions to suit any budget and preference, ranging from classic wood options like pressure-treated lumber, cedar, and redwood, to the maintenance-free world of composite and PVC decking.
Extraordinary Concentration on Outstanding Performance and Customer Happiness
Delivering outstanding workmanship and ensuring client contentment are of utmost importance at Decks Unique. Our commitment to using only high-quality materials and employing skilled, experienced builders ensures that each project we undertake is completed to the highest standards.
We think that effective communication is crucial for project success, and it's our top priority to keep clients in the loop throughout the process. Our team is at your service, from the very beginning with the consultation and design stage, throughout construction, and up until the final inspection, to address any queries or concerns and to make certain you are fully satisfied with your deck.
Allow Decks Unique to create a beautiful outdoor living area in your Baldwin backyard. Reach out to us now to organize a free consultation and understand the Decks Unique difference on your own.
Thorough Deck Building Solutions in Baldwin
Decks Unique, located in Baldwin, is proud to offer an extensive range of tailored decking services, designed to cater to client needs. Our expertise covers everything from custom deck design and construction to repair, maintenance, and refinishing. We also offer a variety of exclusive features and extras designed to upgrade and enhance your outdoor living space. Let's take a closer look at the services we offer.
Custom Deck Design: Developing Your Picture-Perfect Dream Deck
Our masterful deck designers will work in conjunction with you to construct a made-to-order deck that reflects your individual panache, harmonizes with your home, and caters to the distinct prerequisites of your property. To enable you to make sound decisions, our adept advisors will steer you through the process of selecting the right materials, safeguarding enduring sophistication and solidity.
Expert Deck Building: Excellent Workmanship for an Impressive Exterior Area
As an elite deck builder, we are resolved to use only high-quality materials and employ safe, efficient craftsmanship. Our competent crews are licensed to install top-tier composite decking materials, such as Trex, TimberTech, and Azek. With thorough attention to detail and a concentration on sound construction, we ascertain that your deck is not only eye-catching but also resilient throughout the years.
Deck Repair and Maintenance: Protecting Your Investment
Routine maintenance is necessary for preserving the attractiveness and usefulness of your deck. We have a dedicated team that offers all-inclusive repair and upkeep services for both wood and composite decks. Providing extensive inspections to identify possible challenges, coupled with expert repairs tackling weather or wear-and-tear damages, we serve as your primary choice for all deck maintenance tasks. Equipped with our scheduled maintenance programs, you can rest easy knowing that your deck will be kept in pristine condition all year long.
Deck Refinishing and Restoration: Breathe New Life Into Your Outdoor Space
In the course of time, even the most superior decks can reveal signs of wear or call for refinishing to uphold their appearance. Our expert group can recover your deck's beauty with the help of professional cleaning, staining, weatherproofing, and sealing services. Further, we can administer structural optimizations, keeping your deck safe and efficient for a considerable duration.
Distinctive Details and Expanded Options: Intensify Your Deck Gratification
To step up your outdoor living zone, we bring forth a multitude of bespoke aspects and add-ons fashioned to amplify your deck. Some of the options are energy-efficient light fittings on decks, internal seating, exterior cooking areas, and fire-inspired features. Inclusion of these elements within your deck's design enables us to produce a warm and affable space for your enjoyment with family and friends in Baldwin.
At Decks Unique, we take pride in delivering outstanding decking services to customers and surrounding regions. Our 20-plus years of experience in the field have earned us a name for professionalism, integrity, and creativity. When it comes to designing a fresh deck or improving an existing one, our expert team is at your service. Schedule a complimentary consultation with us today, and explore the possibilities to transform your outdoor space into a beautifully functional sanctuary.
Compare Wood and Composite Options to Discover Your Perfect Deck Material
Assisting you in creating the ultimate outdoor getaway for your home is our commitment at Decks Unique. Hence, we put forth a broad selection of decking materials, consisting of wood and composite possibilities. Every material comes with distinct benefits, guaranteeing the optimal option tailored to your individual requirements and tastes.
Wood Decking Provides an Ageless Beauty
Timber brings a classic, adaptable quality while offering organic coziness and appeal for all outside areas. Numerous wood decking choices are available, suiting various tastes and budgetary requirements.
Pressure-Treated Timber: Economical and Resilient
For many homeowners, pressure-treated lumber is a preferred option because of its budget-friendly and tough nature. A specialized process protects the decking material from both decay and insect-related damage. Consequently, pressure-treated decks have a lengthy life and demand limited upkeep.
Naturally Resistant Cedar and Redwood: A Grand Luxury
Should you seek a more sumptuous choice, we also present cedar and redwood decking. These elegant and premium woods possess natural resistance to decay and pests, guaranteeing a durable deck that matures with elegance. With their deep pigments and singular grain markings, cedar and redwood decks offer a captivating augmentation to any home.
Exotic Hardwoods: Elegant and Resilient
If you want an exceptional and one-of-a-kind option, look into using exotic hardwoods like Ipe, Tigerwood, or Cumaru for your project. Thanks to their substantial density and ruggedness, these woods are celebrated for their incredible durability and strikingly beautiful appearance. Exotic hardwood decks, featuring their bold colors and detailed patterns, make for an impressive centerpiece in any outdoor setting.
Experience Low-Maintenance Living through Composite and PVC Decking
For anyone interested in an eco-friendly and easy-to-maintain alternative, explore composite and PVC decking. These groundbreaking materials fuse the visual appeal of wood with the ruggedness of synthetic ingredients, granting homeowners an essentially maintenance-free outdoor environment.
Advantages and Benefits of Composite Decking
Composite decking, featuring a mix of reused wood fibers and plastic, is an enduring and eco-friendly solution. This type of decking material is impervious to issues like warping, cracking, and color loss, guaranteeing a stunning and durable deck that needs little attention. Another benefit is the effortless cleaning of composite decks, needing only an occasional wash to retain the freshness of the outdoor environment.
Leading Brands in the Field of Composite Materials
Decks Unique is proud to work with the leading brands in composite decking, including Trex, TimberTech, and Azek. As authorized installation experts of these unparalleled products, we can offer Baldwin homeowners the highest-grade materials for an appealing, durable outdoor space.
Tailor Your Deck through Selecting Color and Texture Varieties
A major selling point of composite decking is its wide customization choice range. Having a myriad of color and texture options allows you to fashion a one-off outdoor space that connects with your home's design. Whether you prefer the look of natural wood or a more contemporary design, there's a composite decking option for you.
Optimize Your Deck's Design with Railing and Baluster Options
An ideal deck requires the appropriate railing and baluster system to be complete. Decks Unique delivers a wide variety of solutions to boost your deck design and uphold the safety and effectiveness of your outdoor space.
Wooden Balustrade Systems: Classic and Eternal
Opt for a wood railing system if you desire a timeless and sophisticated feel. Both wood and composite decks can be perfectly matched by a wood railing system, ensuring a smooth and integrated look. To guarantee a beautiful final product, paint or stain your wood railing system to coordinate with your deck or Baldwin home exterior.
Metal and Glass Railing Systems: Contemporary and Elegant
For those who appreciate a stylish and up-to-date feel, metal or glass railing systems can be a wise choice. These modern possibilities not only offer an up-to-date appeal but also amplify the sights from your deck, making them a top choice for homeowners immersed in picturesque backdrops.
Composite Railing Systems: Minimal Upkeep and Fashionable
For an ideal blend of style, elegance, and low-maintenance, composite railing systems are an excellent option. Not only are these railings durable and visually appealing, but they also create a unified appearance when combined with composite decking, resulting in an impressive outdoor area that demands minimal tending.
Regardless of your personal preferences, Decks Unique stands ready to help you decide on the most suitable decking materials for your living space. Contact us today to discuss your needs and begin designing the outdoor space of your dreams.
Transform Your Outdoor Living Space with Our Extra Offerings in Baldwin
Our objective at Decks Unique is to transition your outdoor living area into an elegant and useful home extension. Our expertise extends beyond exceptional deck building, as we also offer additional services like wood awnings, cabanas, gazebos, pergolas, and porch construction. Our proficient specialists in Baldwin closely cooperate with you to materialize your vision, ensuring high quality and long-lasting durability.
Wood Awnings: Incorporate Style and Shade to Your Outdoor Area
Installing wood awnings is a fantastic approach to enhance your outdoor area with both shade and elegance. Our proficient crew at Decks Unique will offer guidance in determining the perfect design and materials for a visually appealing and practical wood awning that goes well with your home's decor. These wood awnings not only serve to protect against harsh weather but also help raise your property's overall value.
Cabanas: Build an Opulent Sanctuary in Your Baldwin Yard
Cabanas are unparalleled in providing luxury, comfort, and privacy, making them a top choice for inclusion in any exterior space. With the assistance of our expert team, we will design and build for you a customized cabana that aligns with your specific needs and preferences. Whether you want a cozy space to relax or an elegant area to entertain guests, we can create a cabana that serves as a perfect outdoor retreat.
Gazebos: A Captivating Addition to Your Garden or Patio Environment
Incorporating a gazebo in a garden or patio lends perpetual elegance, offering an alluring centerpiece and a cool alcove for outdoor unwinding. Our knowledgeable team guides you through the process of choosing the perfect style, materials, and location for your gazebo, guaranteeing harmonious fusion with your existing landscape. Thanks to our superior craftsmanship, your gazebo will be a beautiful addition to your outdoor area and provide enjoyment for many years.
Pergolas: Integrate Architectural Style and Functionality into Your Open-air Space
Integrating a pergola into your outdoor living area is an outstanding approach for increasing architectural attractiveness and functionality. Such structures offer a mix of shade and natural light, making them ideal for garden paths, terrace areas, or al fresco dining spots. Let Decks Unique's knowledgeable professionals plan and build a customized pergola to match your style, and in doing so, increase your home's value.
Porches: Enhancing Your Home's Curb Appeal and Expanding Outdoor Living Space
A smartly designed porch not only strengthens your home's curb appeal but also delivers a cozy exterior living area for you and your household to revel in. Our qualified team will cooperate with you to construct an exclusive porch that blends with your home's architectural design and accommodates your functional needs. With our painstaking observance of detail and fidelity to outstanding quality, you can be assured that your porch manufacturing enterprise is being managed by skilled professionals.
Get in contact with Decks Unique for your Baldwin outdoor living space renovation
Decks Unique takes pride in giving first-rate, personalized outdoor living solutions to people in Baldwin and the surrounding communities. Our knowledgeable team is eager to assist if you're considering adding a wood awning, cabana, gazebo, pergola, or porch to your outdoor area. Contact us right away to go over your project and learn how we can transform your outdoor area into a plush and purposeful extension of your living space.
Top-notch Deck Consulting and Design Solutions in Baldwin
At Decks Unique, personalizing consultations and crafting custom deck designs to align with the individual requirements of our clients is our top priority. Boasting more than two decades of expertise, our skilled deck designers collaborate with you to design a deck that augments your home's visual appeal and practicality. With state-of-the-art 3D modeling and visualization tools, we'll actualize your vision of the perfect deck, guaranteeing that the completed project satisfies your requirements.
Finest Quality Deck Materials to Guarantee Durability
Decks Unique, the preeminent deck builder on Long Island, is authorized to install all renowned composite decking products, featuring brands like Trex, TimberTech, and Azek. Additionally, we provide various wood decking choices tailored to your taste, including pressure-treated wood, cedar, redwood, and unique hardwoods. Our pledge to utilize only the finest materials ensures that your new deck will withstand the test of time while demanding little maintenance.
Exceptional Deck Construction Services in Baldwin
Our team of skilled deck builders at Decks Unique is focused on providing high-quality craftsmanship and effective execution during the whole construction journey. With our exceptional understanding of building codes, requirements, and permits, you can count on us to navigate the entire project from its inception to culmination, leaving you with a stunning and functional outdoor living space.
Maintaining and Restoring Your Deck's Beauty
Decks Unique is well aware of the value of routine maintenance in sustaining both the visual allure and durability of your deck. Our capable team can investigate and identify any harm or likely complications, delivering needed repairs to keep your deck in superior condition. Additionally, we offer deck refinishing and restoration services, including cleaning, staining, weatherproofing, and sealing to protect and enhance your deck's appearance.
Enhance Your Exterior Living Space with Bespoke Additions and Features
To shape your deck into an unparalleled open-space sanctuary, Decks Unique supplies a multitude of custom attributes and ancillary items, incorporating lights designed for decks, in-built chair arrangements, cooking facilities for open-air settings, and fire-centric highlights. These embellishments not only extend usability, but they also create a snug and appealing air for you and your guests to find joy in.
Complete Decking Solutions and Beyond
Decks Unique, known for its expertise in deck design and construction, also offers expertise in other outdoor structures, including wood awnings, cabanas, gazebos, pergolas, and porch construction. With these extra outdoor installations, your Long Island home's outdoor ambience can be significantly improved, making it the best spot for relaxation and amusement.
Decks Unique is here to help with your Baldwin decking needs. Uncover the change our pledge of quality, professionalism, and customer delight brings to your outdoor environment. Reach out to us today for a free consultation, and let us convert your backyard into an exquisite showpiece.
Thrilled to provide service for Baldwin, Westbury, Stony Brook, Seaford, Riverhead, North Wantagh, North Babylon, as well as other communities in Long Island.
Offering Long Island Quality Deck Designs and Services: