Explore Decks Unique - Your Go-To Deck Building Experts in St James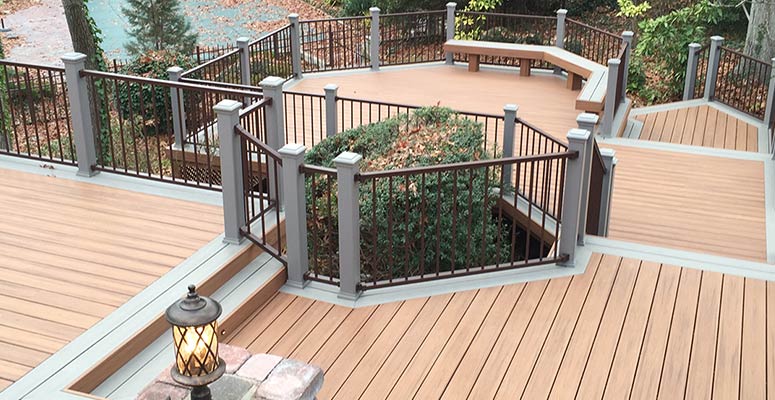 Decks Unique, a family-owned and operated custom deck design and construction business, has catered to the residents of Long Island and nearby areas, like St James, for more than 20 years. Owing to our zeal for design and unwavering dedication to professionalism, honesty, and innovation, we've become the largest producer of high-end decks on Long Island, establishing industry standards. At Decks Unique, we excel in constructing custom decks, porches, gazebos, pergolas, wood awnings, and additional outdoor structures that augment the aesthetics, worth, and functionality of your Long Island property.
Comprehensive and Experienced Deck Building Services in St James
The belief at Decks Unique is that a well planned deck configuration presents a shrewd investment for upgrading one's home. At Decks Unique, our skilled professionals in deck building are devoted to providing superior quality, working towards efficient scheduling, and making sure that our warranties retain true long-term value. This relentless dedication to superior workmanship has delivered countless gratified customers and exceptional decks they can take pride in for years.
Our Long Island deck building crews are authorized installers of all major composite deck products, such as Trex, TimberTech, and Azek. We extend free residential consultations and digitally-crafted deck layouts for you to preview your project before it gets underway. Make your backyard the site for our subsequent project!
Your St James home's outdoor living space is not only enriched by a fine deck but also experiences a boost in overall worth. Decks Unique excels at creating and constructing tailor-made decks that cater to the distinct demands and desires of every customer. Whether a comfortable venue for socializing or a plush outdoor getaway to experience the terrific weather, our committed personnel will closely cooperate with you to manifest your ideal vision.
We know that each property owner has their own distinct taste and requirements for their outdoor living areas. That's why we have a diverse array of materials, styles, and features to help you create a deck that fits your home and life. From traditional wood options like pressure-treated lumber, cedar, and redwood to low-maintenance composite and PVC decking, we have the right solution for every budget and preference.
Unequaled Focus on Superior Standards and Customer Gratification
High-quality workmanship and customer satisfaction are at the heart of what we do at Decks Unique. Every project we tackle meets the highest criteria, thanks to our commitment to using first-rate materials and working with proficient, seasoned builders.
In our view, clear communication is essential to a project's success, and we're committed to keeping our clients up-to-date at every stage. From beginning to end - initial consultation, design planning, construction, and final examination - our team stays engaged, ready to answer any questions you have, address any concerns, and wholeheartedly ensure you are delighted with your new deck.
Let Decks Unique remodel your St James backyard into an outdoor living oasis you'll relish. Get in touch with us today to arrange a complimentary consultation and discover the Decks Unique advantage firsthand.
Total Deck Construction Solutions in St James
Decks Unique takes pride in providing an extensive array of decking services, customized to accommodate the requirements of our St James clientele. From creating custom decks and construction to repair, maintenance, and refinishing, Decks Unique offers a wide range of expert services. In addition to our core offerings, Decks Unique provides a variety of exceptional enhancements and additions to upgrade your outdoor living. Let's take a closer look at the services we offer.
Custom Deck Design: Making Your Dream Deck Come True
Our skillful deck designers will collaborate intimately with you to assemble a custom-built deck that exemplifies your private style, seamlessly integrates with your home, and meets the peculiar specifications of your property. To empower you to make well-versed decisions, our seasoned consultants will lead you through the material-picking phase, promising sustained grace and durability for your deck.
Outstanding Deck Construction: Unparalleled Craftsmanship for a Gorgeous Open-Air Space
As an elite deck builder, we are resolved to use only high-quality materials and employ safe, efficient craftsmanship. Our competent crews are licensed to install top-tier composite decking materials, such as Trex, TimberTech, and Azek. With careful scrutiny of detail and a dedication to solid structure, we guarantee that your deck is not only aesthetically pleasing but also long-lasting.
Deck Repair and Maintenance: Protecting Your Investment
Consistent maintenance is key to maintaining the visual appeal and practicality of your deck. Our team of specialists delivers thorough maintenance and repair services for both wooden and composite decks. From detailed assessments to detect possible problems, to expert damage repairs due to weather or wear, we're the one-stop-shop for all of your deck maintenance requirements. Our organized maintenance plans deliver the confidence that your deck will maintain premium quality throughout the entire year.
Deck Refinishing and Restoration: Breathe New Life Into Your Outdoor Space
As the years go by, even the highest-grade decks can demonstrate signs of wear or ask for refinishing to retain their attractiveness. Our knowledgeable team can recuperate your deck's attractiveness by utilizing expert cleaning, staining, weatherproofing, and sealing techniques. Besides, we can execute structural adjustments, assuring that your deck maintains its safety and functionality in the years to come.
Individualized Aspects and Additional Pieces: Refine Your Deck Encounters
To elevate your outdoor living space, we offer a range of custom features and add-ons designed to complement your deck. These offerings contain energy-saving lighting solutions for decks, built-in places to sit, outdoor culinary areas, and fire-related elements. Incorporating these aspects into the deck design, we generate a welcoming and snug habitat for you and your acquaintances to revel in St James.
At Decks Unique, we specialize in providing top-quality decking services to clients and the surrounding areas. In our 20 years of experience, we have garnered a reputation for being professional, sincere, and inventive. Should you need assistance in designing a new deck or improving a current one, our competent team has your back. Touch base with us today to organize a free consultation, and let us demonstrate how we can change your outdoor area into a beautiful and practical haven.
Find Your Ultimate Deck Material: Wood vs. Composite Choices
Our commitment at Decks Unique is to help you establish an impeccable outdoor retreat for your dwelling. Consequently, we supply various decking materials encompassing both wooden and composite choices. Various materials have unique positive aspects, ensuring your ability to opt for the finest choice that caters to your personal necessities and proclivities.
Discover the Classic Appeal of Wood Decking
With a classic, versatile nature, wood gives an organic warmth and stylish appeal to open-air spaces. Explore our broad selection of wood deck options created to suit diverse styles and budgets.
Pressure-Treated Boards: Economically Viable and Robust
Due to its cost efficiency and resilience, pressure-treated lumber appeals to a lot of homeowners. This decking material receives a distinctive treatment, making it resistant to rotting and insect infestations. Thus, pressure-treated decks provide enduring quality with reduced maintenance efforts.
Naturally Resistant Cedar and Redwood: A Grand Luxury
For individuals searching for a lavish choice, cedar and redwood decking are additionally available. The eye-catching and high-grade woods are organically immune to decay and bug damage, ensuring a deck that remains sturdy for years to come. With their deep pigments and singular grain markings, cedar and redwood decks offer a captivating augmentation to any home.
Exotic Hardwoods: Elegant and Resilient
For an absolutely unique and luxurious solution, explore the possibility of using exotic hardwoods like Ipe, Tigerwood, or Cumaru. These remarkably strong and resilient woods are renowned for their extraordinary longevity and eye-catching looks. An exotic hardwood deck's dazzling colors and intricate designs make it a standout centerpiece in any outside space.
Low-Maintenance Living with Composite and PVC Decking
If you're after a green and low-maintenance substitute, evaluate the merits of composite and PVC decking. These cutting-edge materials meld the aesthetics of wood with the longevity of artificial materials, giving homeowners a virtually maintenance-free exterior area.
Composite Decking: Benefits and Advantages
Using a blend of reclaimed wood fibers and plastic, composite decking delivers a long-lasting and environmentally friendly solution. Warping, cracking, and fading are no match for this decking material, which ensures a beautiful and long-lasting deck with minimal effort required. Composite decks also have an advantage in their ease of cleaning, with only sporadic washing needed to keep the outdoor area immaculate.
The Best Brands in the World of Composite Materials
Decks Unique is pleased to join forces with leading composite decking brands, such as Trex, TimberTech, and Azek. As authorized installation experts of these unparalleled products, we can offer St James homeowners the highest-grade materials for an appealing, durable outdoor space.
Make Your Deck Unique with Color and Texture Choices
Composite decking's large selection of customization options is one of its main benefits. You can design a bespoke outdoor area that matches your home's aesthetic, thanks to various color and texture possibilities. You can find a fitting composite decking solution to satisfy your inclination for natural wood or modern design aesthetics.
Improve Your Deck through Railing and Baluster Selections
A flawless deck needs the correct railing and baluster system to be fully realized. At Decks Unique, we feature a vast collection of alternatives to match your deck design and ensure your outdoor area remains safe and functional.
Wood Railing Solutions: Ageless and Time-honored
A wood railing system is an excellent choice for a classic and never-outdated appearance. By integrating a wood railing system with either a wood or composite deck, you can achieve a smooth and consistent design. By painting or staining a wood railing system, you can create a perfect match for your deck or your St James home's exterior, delivering an impressive outcome.
Metal and Glass Railing Systems: Modern and Sleek
Contemporary and sleek styles might lead you to consider metal or glass railing systems. Such choices add a modern twist and can elevate the vista from your outdoor space, making them an attractive option for homeowners with striking scenery.
Composite Railing Systems: Hassle-Free and Modern
For those seeking a low-maintenance option that still offers style and elegance, composite railing systems are a perfect choice. The resilient and captivating railings offer a consistent aesthetic when used in conjunction with composite decking, cultivating an exquisite outdoor space with low maintenance needs.
No matter your style preferences, Decks Unique is prepared to support you in determining the perfect decking materials for your domicile. Contact our team today to share your needs and initiate the planning process for your dream outdoor living space.
Raise the Bar for Your Outdoor Living Space with Our Additional Services in St James
Our mission at Decks Unique is to convert your outdoor living area into a deluxe and practical extension of your abode. Besides our excellent deck building services, we also deliver a wide array of extra services, including wood awnings, cabanas, gazebos, pergolas, and porch construction. In St James, our experienced professionals collaborate closely with you to turn your dreams into reality while maintaining exceptional quality and durable construction.
Wooden Awnings: Increase Shade and Style for Your Outdoor Space
Through wood awnings, you can effortlessly introduce both shade and grace to your exterior area. The proficient staff at Decks Unique will guide you in picking the perfect design and materials to fashion an appealing and functional wood awning that suits your home's style. These structures not only protect you from harsh weather conditions but also enhance the overall value of your property.
Cabanas: Design a Lavish Getaway in Your St James Garden
Cabanas are unparalleled in providing luxury, comfort, and privacy, making them a top choice for inclusion in any exterior space. Our expert team will collaborate with you to develop and construct a bespoke cabana tailored to your requirements and desires. From a cozy sanctuary for relaxation to a chic locale for socializing with friends, we can craft a cabana that makes for the perfect open-air haven.
Gazebos: A Picture-Perfect Addition for Your Garden or Patio
Adding a gazebo to a garden or patio creates an ageless charm, providing a striking focal point, and a covered spot for outdoor relaxation. Our expert team assists you in selecting the perfect design, materials, and placement for your gazebo, guaranteeing a smooth blend with your current outdoor environment. With our expert craftsmanship, you can enjoy a stunning gazebo that enhances the beauty of your outdoor space for years to come.
Pergolas: Amplify Your Outdoor Setting's Distinction and Practicality with Architectural Elements
The addition of a pergola can dramatically improve the architectural design and usefulness of your outdoor space. These structures adeptly merge shadow and light, creating an idyllic atmosphere for walkways in gardens, patios, or outdoor dining places. Choose Decks Unique's experienced team to conceive and erect a made-to-order pergola that reflects your individual style and boosts your property's worth.
Porch Creation: Boost Your Home's Curb Appeal and Outdoor Living Space
A skillfully designed porch not only boosts your home's curb appeal but also gives a welcoming outdoor living space for you and your family to savor. Our adept squad will come together with you to formulate a distinctive porch that integrates with your home's architectural layout and meets your functional preferences. With our scrupulous focus on detail and loyalty to top-notch quality, you can relax knowing that your porch construction venture is in adept hands.
Get in contact with Decks Unique for your St James outdoor living space renovation
Decks Unique takes pride in giving first-rate, personalized outdoor living solutions to people in St James and the surrounding communities. If you're interested in incorporating a wood awning, cabana, gazebo, pergola, or porch to your exterior space, our team of experts is ready to assist. Discuss your project with us today and find out how we can turn your outdoor living environment into a comfortable and efficient extension of your residence.
High-Quality Deck Consultation and Design in St James
At Decks Unique, personalizing consultations and crafting custom deck designs to align with the individual requirements of our clients is our top priority. Possessing over 20 years of experience, our proficient deck designers will work hand-in-hand with you to create a deck that complements your home's aesthetics and usefulness. Utilizing innovative 3D modeling and visualization approaches, we'll make your dream deck a reality, confirming that the finished result meets your standards.
Durable Deck Materials for Extended Life Expectancy
On Long Island, Decks Unique is the top deck builder and authorized installer for leading composite deck products such as Trex, TimberTech, and Azek. Additionally, we offer a wide range of wood decking alternatives that suit your personal tastes, such as pressure-treated materials, cedar, redwood, and exclusive hardwoods. Our pledge to utilize only the finest materials ensures that your new deck will withstand the test of time while demanding little maintenance.
Premier Deck Construction Services in St James
Our adept deck construction personnel at Decks Unique are passionate about maintaining top-of-the-line workmanship and efficiency in the entire building process. With our extensive know-how of building codes, statutes, and permits, you can rely on us to steer the whole project from its start to finish, leaving you with a visually striking and practical outdoor living area.
Uphold and Revamp Your Deck's Charm
At Decks Unique, we recognize the significance of regular upkeep in maintaining your deck's aesthetic appeal and structural stability. Our experienced team can inspect and identify any damages or potential issues, providing necessary repairs to keep your deck in top condition. We additionally present deck refurbishing and restoration offerings, consisting of cleaning, staining, weatherproofing, and sealing strategies to fortify and boost your deck's visual quality.
Upgrade Your Outdoor Area with Custom Features and Add-ons
To honestly create a one-of-a-kind backyard sanctuary with your deck, Decks Unique makes available a selection of bespoke aspects and supplements, encompassing deck light systems, incorporated chairs, outdoor culinary spaces, and fire-based amenities. These refinements not only contribute to usefulness, but they also establish a warm and alluring environment for you and your guests' enjoyment.
Broad Decking Options and Additional Support
Apart from our knowledge and experience in deck design and construction, Decks Unique also extends its expertise to additional outdoor structures such as wooden awnings, cabanas, gazebos, pergolas, and porches. These extra structures will considerably enrich your Long Island home's outdoor area, providing the perfect space for both relaxation and entertainment.
Allow Decks Unique to manage all your decking requirements in St James. Discover the impact our dedication to quality, professionalism, and customer satisfaction has on your outdoor area. Reach out to us now for a complimentary discussion and let us convert your outdoor space into a mesmerizing marvel.
Dedicated to attending to the needs of St James, Seaford, Riverhead, Oceanside, North Bay Shore, Middle Island, Manorville, and various other Long Island zones.
Offering Long Island Quality Deck Designs and Services: