Experience Decks Unique - The Premier Deck Building Service in Sayville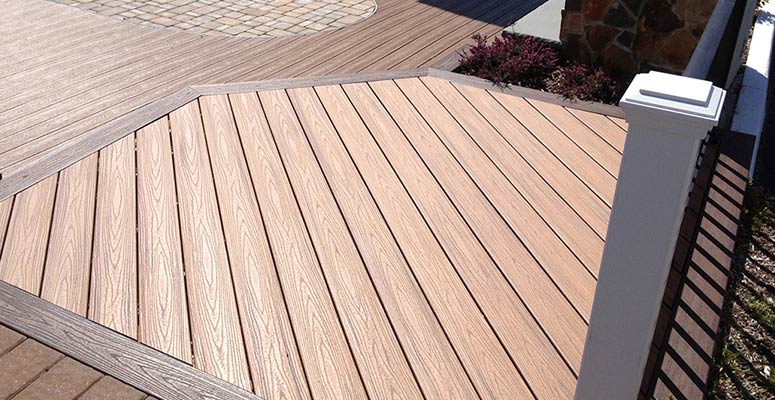 Family-owned and operated Decks Unique provides custom deck design and construction services to the people of Long Island and its surrounding areas, including Sayville, and has done so for over 20 years. We have become the preeminent supplier of high-quality decks on Long Island through our passion for design and dedication to professionalism, honesty, and innovation, shaping the industry standards. Decks Unique is skilled in designing and constructing tailor-made decks, porches, gazebos, pergolas, wood awnings, and other exterior structures that increase the value, attractiveness, and practicality of your Long Island residence.
In Sayville, Proficient and Knowledgeable Deck Building Services
Decks Unique upholds the idea that a thoughtfully devised deck design constitutes a wise investment in home improvement. Decks Unique's highly trained team of deck builders pledges to deliver the highest quality, keep up with effective production timeframes, and guarantee that our warranties possess genuine lasting value. Our allegiance to exceptional quality has borne fruit in the form of myriad satisfied clients and beautifully crafted decks they can flaunt for the years ahead.
Our Long Island deck building crews are authorized installers of all major composite deck products, such as Trex, TimberTech, and Azek. We furnish free home-based consultations along with tech-driven deck illustrations, so you can conceptualize your undertaking before its materialization. Why not turn your backyard into our following endeavor?
Your Sayville home's outdoor living space is not only enriched by a fine deck but also experiences a boost in overall worth. We take pride in our specialization at Decks Unique in the creation and construction of custom decks that cater to each client's particular needs and choices. Whether a comfortable venue for socializing or a plush outdoor getaway to experience the terrific weather, our committed personnel will closely cooperate with you to manifest your ideal vision.
We recognize that every homeowner has unique preferences and needs for their outdoor areas. This is the basis for our extensive variety of materials, styles, and elements to establish the flawless deck that lines up with your home and lifestyle. From time-honored wood choices such as pressure-treated lumber, cedar, and redwood to the low-maintenance advantages of composite and PVC decking, we offer an ideal solution for each budget and liking.
Dedication to Fantastic Quality and Client Satisfaction
Decks Unique is deeply committed to delivering top-notch workmanship and ensuring our clients' satisfaction. By using only the best materials and partnering with skilled, knowledgeable builders, we can assure that every project we undertake meets the highest quality standards.
We believe that communication is the key to a successful project, and we make it a priority to keep our clients informed every step of the way. From beginning to end - initial consultation, design planning, construction, and final examination - our team stays engaged, ready to answer any questions you have, address any concerns, and wholeheartedly ensure you are delighted with your new deck.
Let Decks Unique enhance your Sayville backyard with an outdoor living space you'll be proud of. Contact us right away to plan a free consultation and see the Decks Unique difference in person.
Wide-ranging Decking Services for Sayville
At Decks Unique, our goal is to offer a vast selection of tailored decking services, tailored to meet the needs of our Sayville clients. Our expertise covers everything from custom deck design and construction to repair, maintenance, and refinishing. Decks Unique also offers an assortment of standout features and add-ons to improve and elevate your outdoor living area. Take a more detailed look at the assortment of services we proudly offer.
Custom Deck Design: Manifesting Your Dream Deck into Reality
Our expert deck designers will work hand-in-hand with you to produce a tailored deck that mirrors your personal flair, complements your residence, and addresses the exclusive demands of your property. To aid you in making well-informed decisions, our authorities will guide you in choosing appropriate materials, promising enduring elegance and sturdiness.
Masterful Deck Fabrication: Impressive Craftsmanship for an Elegant Exterior Space
As a distinguished deck builder, our commitment lies in using only outstanding materials and implementing safe, effective work methods. Our proficient crews are authorized to install well-known composite deck materials, including Trex, TimberTech, and Azek. By giving close attention to detail and prioritizing structural strength, we ensure that your deck is not only breathtaking but also withstands the passage of time.
Repairing and Maintaining Decks: Retaining the Value of Your Investment
To keep your deck beautiful and functional, regular maintenance is essential. Our dedicated team offers comprehensive repair and maintenance services for both wood and composite decks. From meticulous inspections that reveal potential problems, to adept repairs for any damages stemming from weather or wear patterns, we are the comprehensive source for all your deck upkeep needs. Equipped with our scheduled maintenance programs, you can rest easy knowing that your deck will be kept in pristine condition all year long.
Deck Refinishing and Renewal: Bring Freshness to Your Outdoor Environment
As time passes, even the most excellent decks could show indications of wear or demand refinishing to sustain their visual allure. Our team of specialists can reinstate the aesthetic charm of your deck through professional cleaning, staining, weatherproofing, and sealing procedures. Further, we can administer structural optimizations, keeping your deck safe and efficient for a considerable duration.
Personal Customizations and Upgrades: Enrich Your Deck Leisure
To refine your outdoor living space, we offer a collection of custom-fitted elements and added features conceived to elevate your deck. These options include energy-efficient deck lighting, built-in seating, outdoor kitchens, and fire features. Through integrating these attributes into your deck plan, we'll establish a congenial and snug environment for you and your companions in Sayville.
Decks Unique excels in furnishing clients and the surrounding communities with superior-quality decking services. For more than 20 years, our experience has earned us a reputation for being professional, honest, and groundbreaking. Our adept team is eager to assist you with designing a brand-new deck or revamping your old one. Reach out to us now to book a cost-free consultation and find out how we can turn your outdoor area into a visually striking and practical haven.
Identify the Ideal Deck Material: Wood and Composite Choices
Decks Unique is all about empowering you to create an amazing outdoor utopia within your home. Hence, we put forth a broad selection of decking materials, consisting of wood and composite possibilities. Each of the materials has its own merits, helping you to decide on the top option that matches your distinct demands and inclinations.
Wooden Decks Showcase Timeless Sophistication
With a classic, versatile nature, wood gives an organic warmth and stylish appeal to open-air spaces. We offer a range of wood decking options to meet every style and budget.
Pressure-Handled Lumber: Budget-friendly and Enduring
Pressure-treated lumber is a popular choice for many homeowners due to its affordability and durability. This decking material receives a distinctive treatment, making it resistant to rotting and insect infestations. Consequently, pressure-treated decks have a lengthy life and demand limited upkeep.
Naturally Resistant Cedar and Redwood: A Grand Luxury
For people looking for an upscale option, we offer cedar and redwood decking too. These gorgeous and top-tier woods boast natural resistance to rot and insect infestations, offering a lasting deck that matures gracefully. The bold shades and unmatched grain structures of cedar and redwood decks contribute a breathtaking element to any abode.
Exotic Hardwoods: Exquisite and Long-Lasting
If you're on the hunt for a genuinely distinct and sophisticated alternative, consider utilizing exotic hardwoods like Ipe, Tigerwood, or Cumaru. These uncommonly sturdy and enduring woods are well known for their amazing long-lasting qualities and gorgeous appearance. An exotic hardwood deck's dazzling colors and intricate designs make it a standout centerpiece in any outside space.
Turn to Composite and PVC Decking for a Low-Maintenance Lifestyle
For people who want an environmentally conscious and low-maintenance possibility, examine composite and PVC decking. These cutting-edge materials meld the aesthetics of wood with the longevity of artificial materials, giving homeowners a virtually maintenance-free exterior area.
Why Choose Composite Decking: Benefits and Advantages
Constructed from a mix of repurposed wood fibers and plastic, composite decking provides a strong, environmentally conscious choice. Unaffected by warping, cracking, and fading, the material used for this decking provides a long-lasting and beautiful deck that's easy to maintain. Furthermore, composite decks are simple to maintain, needing just infrequent washing to preserve the cleanliness of your outdoor area.
Composite Materials: Industry-Leading Brands
It is an honor for Decks Unique to collaborate with the best composite decking brands, including Trex, TimberTech, and Azek. Being certified installers of these outstanding products, we're able to supply Sayville residents with top-notch materials for stunning and durable outdoor spaces.
Customize Your Deck with Color and Texture Options
A significant advantage of composite decking is the vast array of personalization possibilities. With numerous color and texture options, you can design a unique outdoor area tailored to your home's style. Regardless of your preference for natural wood's appearance or modern designs, composite decking provides a suitable option.
Boost Your Deck's Appeal with Railing and Baluster Alternatives
An impeccable deck isn't finished without the suitable railing and baluster system. At Decks Unique, we offer a wide range of options to complement your deck design and ensure the safety and functionality of your outdoor space.
Timber Railing Designs: Conventional and Unchanging
To achieve a timeless and classic appearance, think about using a wood railing system. Seamlessly blending with both wood and composite decks, a wood railing system offers a clean and unified design. Create a breathtaking finished look by painting or staining your wood railing system to complement your deck or the exterior of your Sayville home.
Metal and Glass Railing Systems: Fashionable and Uncluttered
If modern sophistication and sleekness catch your eye, metal or glass railing systems might be just the thing. These modern possibilities not only offer an up-to-date appeal but also amplify the sights from your deck, making them a top choice for homeowners immersed in picturesque backdrops.
Composite Railing Systems: Easy-Care and Elegant
Composite railing systems present an exceptional option for those who want style and elegance without the hassle of constant maintenance. The combination of durability and beauty in these railings, alongside composite decking, fosters a cohesive design and a breathtaking outdoor setting with minimal maintenance efforts.
Regardless of your favorite styles, Decks Unique is ready to help you identify the ideal decking components for your household. Communicate with us today to express your needs and start crafting the outdoor haven of your dreams.
Improve Your Outdoor Living Area with Our Additional Offerings in Sayville
Our objective at Decks Unique is to transition your outdoor living area into an elegant and useful home extension. In addition to top-notch deck building services, we also offer various other services, such as installing wood awnings, cabanas, gazebos, pergolas, and constructing porches. Our skilled professionals in Sayville work closely with you to bring your vision to life while ensuring the highest quality and durability.
Wooden Awnings: Infuse Style and Shade into Your Outdoor Space
Wood awnings offer an excellent way to create shade and style in your outdoor environment. Our proficient crew at Decks Unique will offer guidance in determining the perfect design and materials for a visually appealing and practical wood awning that goes well with your home's decor. These wood awnings not only serve to protect against harsh weather but also help raise your property's overall value.
Cabanas: Set up a Deluxe Oasis in Your Sayville Backyard
Cabanas deliver a flawless fusion of opulence, comfort, and seclusion, making them the ultimate addition to any outdoor setting. Our expert team will collaborate with you to develop and construct a bespoke cabana tailored to your requirements and desires. Be it a warm, inviting spot for rest or a refined space for social engagements, we can build a cabana that becomes your dream outdoor getaway.
Gazebos: A Picturesque Addition for Your Backyard Garden or Patio
Adding a gazebo to a garden or patio creates an ageless charm, providing a striking focal point, and a covered spot for outdoor relaxation. With our skilled team's guidance, you'll select the right style, materials, and site for your gazebo, ensuring harmonious integration with your existing surroundings. Relying on our precision craftsmanship, we present a magnificent gazebo that adds to the charm of your outdoor environment for the long run.
Pergolas: Integrate Architectural Style and Functionality into Your Open-air Space
Pergolas provide a superb means of incorporating architectural charm and practicality to your outdoor space. Pergolas offer a balance of shading and natural illumination, which suits them well for use in garden walkways, outdoor patios, or dining areas. Let Decks Unique's knowledgeable professionals plan and build a customized pergola to match your style, and in doing so, increase your home's value.
Porch Creation: Boost Your Home's Curb Appeal and Outdoor Living Space
A smartly designed porch not only strengthens your home's curb appeal but also delivers a cozy exterior living area for you and your household to revel in. Our efficient group will work jointly with you to conceive a made-to-order porch that corresponds with your home's architecture and satisfies your conducive needs. With our conscientious scrutiny of detail and allegiance to first-rate quality, you can be relaxed knowing that your porch building mission is in expert hands.
Contact Decks Unique for Your Sayville Outdoor Living Space Transformation
Decks Unique is proud to deliver top-notch, tailor-made outdoor living solutions to customers in Sayville and nearby regions. If you're interested in incorporating a wood awning, cabana, gazebo, pergola, or porch to your exterior space, our team of experts is ready to assist. Let's chat about your project today, and we'll reveal how we can change your outdoor living space into a luxurious and practical component of your home.
High-Quality Deck Consultation and Design in Sayville
Decks Unique prides itself on presenting custom consultations and deck designs, designed to cater to the distinctive needs of our clientele. Drawing from our 20-plus years of experience, our professional deck designers will closely collaborate with you to construct a deck that enriches your home's aesthetics and functions. Utilizing innovative 3D modeling and visualization approaches, we'll make your dream deck a reality, confirming that the finished result meets your standards.
Outstanding Decking Materials for Long-lasting Resilience
Decks Unique, the leading deck builder in Long Island, is a certified installer for top composite deck brands like Trex, TimberTech, and Azek. We also put forward various wood decking options to conform to your preferences, like pressure-treated wood pieces, cedar, redwood, and luxurious hardwoods. We are committed to using only superior materials, ensuring the durability of your new deck while keeping maintenance requirements minimal.
Premier Deck Construction Services in Sayville
At Decks Unique, our talented deck building professionals are devoted to ensuring exceptional quality and efficiency in all phases of the construction process. Leveraging our deep expertise in building codes, norms, and permits, you can entrust us with the full project from beginning to end, yielding an eye-catching and practical outdoor environment.
Defend and Resurrect Your Deck's Splendor
Decks Unique comprehends the crucial role of ongoing maintenance in preserving your deck's attractiveness and solid construction. Decks Unique's expert team can scrutinize and discover any issues or possible concerns, providing the necessary solutions to preserve your deck in peak condition. Additionally, we offer deck refinishing and restoration services, including cleaning, staining, weatherproofing, and sealing to protect and enhance your deck's appearance.
Elevate Your Outdoor Environment with Customized Features and Add-ons
To shape your deck into an unparalleled open-space sanctuary, Decks Unique supplies a multitude of custom attributes and ancillary items, incorporating lights designed for decks, in-built chair arrangements, cooking facilities for open-air settings, and fire-centric highlights. These enhancements not only add functionality but also create a comfortable and inviting atmosphere for you and your guests to enjoy.
Full-Scale Decking Services and More
Beyond our expertise in deck design and construction, Decks Unique also specializes in additional outdoor structures such as wood awnings, cabanas, gazebos, pergolas, and porch construction. These amenities can remarkably enhance your Long Island home's outdoor space, converting it into a perfect haven for relaxation and social gatherings.
Decks Unique can tackle your entire Sayville decking necessities. Notice the transformation our dedication to quality, expertise, and client satisfaction creates in your outdoor living area. Reach out to us today for a free consultation, and let us convert your backyard into an exquisite showpiece.
Taking great pleasure in assisting Sayville, Riverhead, Oceanside, North Bay Shore, Miller Place, Manorville, Lawrence and other Long Island districts.
Offering Long Island Quality Deck Designs and Services: