Discover Decks Unique - The Leading Deck Builder in Old Bethpage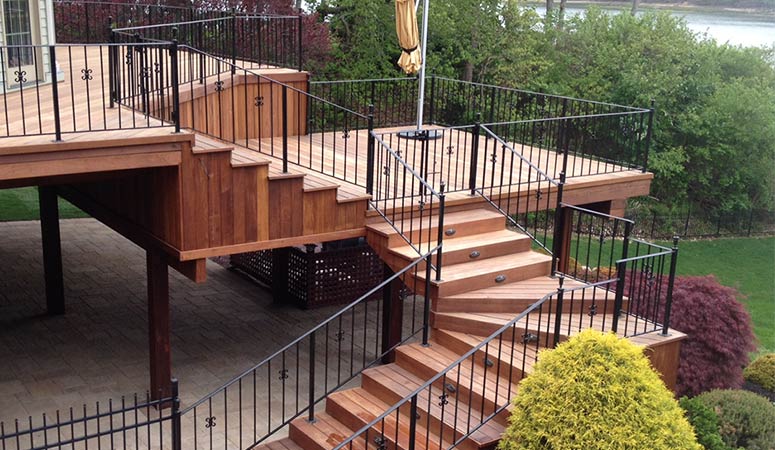 Decks Unique is a family-owned and operated custom deck design and construction company, serving the residents of Long Island and surrounding areas, including Old Bethpage, for over 20 years. Driven by our passion for design and a strong commitment to professionalism, honesty, and innovation, we have become the leading producer of top-quality decks in Long Island, setting the standards for our industry. We're experts in designing and building custom decks, porches, gazebos, pergolas, timber awnings, and other outdoor features that enhance the value, beauty, and functionality of your home in Long Island.
Deck Building Services with Expertise and Experience in Old Bethpage
At Decks Unique, our perspective is that a well-crafted deck layout is an intelligent decision when looking at home upgrades. The Decks Unique team of master deck builders is resolute in offering optimum quality, sticking to smooth production schedules, and safeguarding the lasting merit of our warranties. Our allegiance to exceptional quality has borne fruit in the form of myriad satisfied clients and beautifully crafted decks they can flaunt for the years ahead.
Long Island-based deck building crews have authorization to use all major composite deck products, including Trex, TimberTech, and Azek. Our services include no-cost home consultations and computer-generated deck designs, allowing you to see your project before it's brought to life. Entrust us with your backyard as our forthcoming assignment!
Boost Your Home's Worth with a Personalized Deck
Besides improving the exterior living area of your Old Bethpage residence, an exceptional deck can also drive up property value. Decks Unique excels at creating and constructing tailor-made decks that cater to the distinct demands and desires of every customer. Whether you are looking for a cozy space to entertain friends and family or a luxurious outdoor oasis to enjoy the beautiful weather, our team will work closely with you to bring your vision to life.
We appreciate that every homeowner has distinct preferences and needs for their outdoor environments. That is why we offer a wide range of materials, styles, and features to create the perfect deck that complements your home and lifestyle. From classic wooden choices such as pressure-treated wood, cedar, and redwood, to the low-maintenance composite and PVC decking options, we have the ideal solution for any budget and taste.
Exceptional Attention to Premium Quality and Client Pleasure
Decks Unique is deeply committed to delivering top-notch workmanship and ensuring our clients' satisfaction. Our dedication to the use of high-caliber materials and collaboration with skilled, seasoned builders guarantees each project we undertake is of the finest quality.
In our experience, consistent communication is the foundation of a successful project, and we never falter in our commitment to keep clients apprised of progress. From the start, with the initial consultation and design aspects, all through the construction phase and the final inspection, our ever-present team is here to address questions, eliminate concerns, and confirm that you are absolutely thrilled with your new deck.
Allow Decks Unique to turn your Old Bethpage backyard into an outdoor living area you'll adore. Contact us right away to plan a free consultation and see the Decks Unique difference in person.
Extensive Deck Construction Services in Old Bethpage
In Old Bethpage, Decks Unique boasts a comprehensive variety of decking services, all geared towards satisfying the unique demands of our clients. From creating custom decks and construction to repair, maintenance, and refinishing, Decks Unique offers a wide range of expert services. In addition to our core offerings, Decks Unique provides a variety of exceptional enhancements and additions to upgrade your outdoor living. We invite you to explore our extensive selection of services more closely.
Custom Deck Design: Making Your Dream Deck Come True
Our skillful deck designers will collaborate intimately with you to assemble a custom-built deck that exemplifies your private style, seamlessly integrates with your home, and meets the peculiar specifications of your property. To enable you to make sound decisions, our adept advisors will steer you through the process of selecting the right materials, safeguarding enduring sophistication and solidity.
Exceptional Deck Creation: Superior Quality in Craftsmanship for an Eye-Catching Outside Space
As an elite deck builder, we are resolved to use only high-quality materials and employ safe, efficient craftsmanship. Our competent crews are licensed to install top-tier composite decking materials, such as Trex, TimberTech, and Azek. By closely examining details and focusing on structural durability, we assure that your deck will not only look beautiful but also remain strong over time.
Deck Maintenance & Repairs: Shielding Your Investment
Regular care is important for preserving both the beauty and functionality of your deck. For both wood and composite decks, our committed team provides extensive maintenance and repair services. Whether it's thorough inspections to uncover potential issues, or professional repairs for weather-induced damage and wear, we can handle all your deck maintenance demands. Equipped with our scheduled maintenance programs, you can rest easy knowing that your deck will be kept in pristine condition all year long.
Deck Restoration and Refinishing: Reimagine Your Outdoor Sphere
Over the years, even the finest decks might manifest signs of wear or ask for refinishing to conserve their visual charm. Our team of specialists can reinstate the aesthetic charm of your deck through professional cleaning, staining, weatherproofing, and sealing procedures. Furthermore, we can carry out structural upgrades to make sure your deck stays secure and operational in the long term.
Bespoke Features and Additions: Boost Your Deck Experiences
With the goal of elevating your outdoor living area, we put forth numerous individualized aspects and add-ons intended to accent your deck. These offerings contain energy-saving lighting solutions for decks, built-in places to sit, outdoor culinary areas, and fire-related elements. By incorporating these elements into your deck design, we create a welcoming and comfortable space for you to enjoy with family and friends in Old Bethpage.
Decks Unique specializes in offering clients high-quality deck services in their area and beyond. Boasting over 20 years of experience, we are known for our professionalism, trustworthiness, and innovative approach. Should you need assistance in designing a new deck or improving a current one, our competent team has your back. Connect with us today to set up a no-charge consultation and learn how your outdoor space can become a gorgeous, practical escape.
Determine the Best Deck Material for Your Space: Wood and Composite Possibilities
Assisting you in creating the ultimate outdoor getaway for your home is our commitment at Decks Unique. This is why we have an expansive array of decking materials at our disposal, featuring both wood and composite options. All of the materials come with their distinct advantages, allowing you to handpick the most appropriate alternative based on your specified needs and preferences.
Wood Decking: A Refined Classic Look
Being both ageless and flexible, wood imbues a sense of inviting warmth and elegance to outdoor spaces. Our selection of wooden deck options caters to an array of preferences and financial plans.
Treated Lumber: Inexpensive and Strong
For many homeowners, pressure-treated lumber is a preferred option because of its budget-friendly and tough nature. This decking material undergoes a special treatment process, protecting it against rot and insect infestation. Thus, pressure-treated decks provide enduring quality with reduced maintenance efforts.
Premium and Resistant: Cedar and Redwood's Natural Features
In case you desire a more opulent alternative, we provide cedar and redwood decking as well. These visually pleasing and superior woods are gifted with an innate resistance to decay and critters, providing a deck that lasts and grows old gracefully. The vibrant hues and distinct grain designs of cedar and redwood decks create an impressive enhancement to any residence.
Exotic Hardwoods: Attractive and Sturdy
If you're on the hunt for a genuinely distinct and sophisticated alternative, consider utilizing exotic hardwoods like Ipe, Tigerwood, or Cumaru. These exceedingly solid and long-lasting woods stand out due to their commendable longevity and stunning appearance. An exotic hardwood deck's dazzling colors and intricate designs make it a standout centerpiece in any outside space.
Low-Maintenance Living with Composite and PVC Decking
Should you desire an environmentally-friendly and low-maintenance option, look into composite and PVC decking. These revolutionary materials marry the elegance of wood with the strength of engineered materials, treating homeowners to a nearly maintenance-free outdoor retreat.
Discover the Benefits and Advantages of Composite Decking
Composite decking is made from a combination of recycled wood fibers and plastic, offering a highly durable and eco-friendly option. By resisting warping, cracking, and fading, this decking material ensures an attractive and long-lasting deck, while keeping maintenance to a minimum. Another benefit is the effortless cleaning of composite decks, needing only an occasional wash to retain the freshness of the outdoor environment.
Prominent Brands in Composite Materials Sector
Decks Unique takes pride in collaborating with top-tier composite decking brands like Trex, TimberTech, and Azek. Being authorized installers of these extraordinary products allows us to give Old Bethpage homeowners access to the highest quality materials for a gorgeous and long-lasting outdoor living space.
Personalize Your Deck by Exploring Various Color and Texture Options
Composite decking's large selection of customization options is one of its main benefits. You can design a bespoke outdoor area that matches your home's aesthetic, thanks to various color and texture possibilities. Your preference for natural wood visuals or a more state-of-the-art design can both be met with a composite decking option.
Enhance Your Deck with Railing and Baluster Options
An exceptional deck is missing something without the right railing and baluster system. With Decks Unique, you have access to a variety of options that enhance your deck design while guaranteeing safety and functionality in your outdoor area.
Wooden Balustrade Systems: Classic and Eternal
To achieve a timeless and classic appearance, think about using a wood railing system. Seamlessly blending with both wood and composite decks, a wood railing system offers a clean and unified design. Ensure a striking end result by customizing the finish of your wood railing system to match your deck or Old Bethpage home exterior.
Metal and Glass Railing Systems: Chic and Smooth
Should you fancy a contemporary and streamlined look, think about opting for metal or glass railing systems. These stylish options not only contribute a contemporary element, but they also accentuate the view from your deck, making them well-liked among those who live amidst breathtaking landscapes.
Composite Railing Systems: Low-Care and Trendy
Those in search of a stylish yet low-maintenance alternative will find composite railing systems to be an excellent selection. Not only are these railings durable and visually appealing, but they also create a unified appearance when combined with composite decking, resulting in an impressive outdoor area that demands minimal tending.
No matter what you prefer, Decks Unique is available to guide you in choosing the best decking materials for your house. Reach out to us today to discuss your goals and commence the design of your ideal outdoor space.
Elevate Your Outdoor Living Experience with Our Supplementary Services in Old Bethpage
Decks Unique is committed to turning your outdoor living area into a lavish and practical extension of your residence. Our services extend beyond remarkable deck building, as we also provide a variety of supplementary services such as wood awnings, cabanas, gazebos, pergolas, and porch construction. In Old Bethpage, our skilled team works closely with you to achieve your outdoor vision, guaranteeing top-quality and durable results.
Wood Awnings: Bring Both Shade and Style to Your Outdoor Living Space
Wood awnings are a perfect way to add both shade and elegance to your outdoor area. The knowledgeable professionals at Decks Unique can help you determine the best design and materials to construct a gorgeous and useful wood awning that aligns with your home's aesthetic. Such structures offer protection from inclement weather while simultaneously increasing your property's overall value.
Cabanas: Put together a Plush Solace in Your Old Bethpage Garden
Providing a seamless mix of luxury, comfort, and seclusion, cabanas are an excellent enhancement to any outdoor space. With the assistance of our expert team, we will design and build for you a customized cabana that aligns with your specific needs and preferences. Looking for a comfortable retreat to relax or a classy space to host events, we can design a cabana that transforms into your perfect outdoor haven.
Gazebos: A Picturesque Addition for Your Backyard Garden or Patio
A timeless gazebo enhances both gardens and patios, delivering a delightful focus and a sheltered area for outdoor rest. Our seasoned team supports you in determining the best style, materials, and spot for your gazebo, making sure it fuses effortlessly with your present outdoor space. Thanks to our masterful craftsmanship, you can delight in a splendid gazebo that boosts the allure of your outdoor space for many years to come.
Pergolas: Enhance Your Outdoor Space with Architectural Beauty and Function
One effective way to enrich your outdoor living space with architectural appeal and utility is by constructing a pergola. These constructions supply a blend of shadow and natural brightness, thus perfectly complementing garden pathways, external platforms, or open dining zones. At Decks Unique, our experienced professionals will design and build a custom pergola that matches your style and adds value to your home.
Constructing a Porch: Improve Your Home's Exterior Attractiveness and Outdoor Living Area
An artfully designed porch not only advances your home's curb appeal but also serves up a comfy outdoor living spot for you and your family to cherish. Our skillful staff will coordinate with you to fashion a custom porch that goes well with your home's architecture and addresses your functional requirements. With our keen eye for detail and dedication to excellence, you can have peace of mind knowing your porch construction endeavor is well taken care of.
Connect with Decks Unique for your Old Bethpage outdoor living space makeover
We pride ourselves on bringing top-quality, tailored outdoor living solutions to our customers in Old Bethpage and the neighboring regions at Decks Unique. Whether it's a wood awning, cabana, gazebo, pergola, or porch you want to incorporate into your outdoor space, our professional team stands ready to help. Connect with us today to explore your project's possibilities and see how we can make your outdoor living space a luxurious and efficient extension of your household.
Professional Deck Planning and Creation in Old Bethpage
Decks Unique prides itself on presenting custom consultations and deck designs, designed to cater to the distinctive needs of our clientele. Possessing over 20 years of experience, our proficient deck designers will work hand-in-hand with you to create a deck that complements your home's aesthetics and usefulness. We'll employ top-tier 3D modeling and visualization strategies to turn your dream deck into a reality, guaranteeing that the resulting product lives up to your anticipations.
High-Quality Deck Materials for Lasting Durability
Long Island's elite deck builder, Decks Unique, is a licensed installer for all primary composite decking products, such as Trex, TimberTech, and Azek. We also propose a diverse set of wood decking choices to meet your specific preferences, such as pressure-treated building materials, cedar, redwood, and upscale hardwoods. We guarantee that, by using only the best materials, your new deck will be durable and require minimal upkeep.
Outstanding Deck Building Services in Old Bethpage
Decks Unique's seasoned deck construction team is all about offering unparalleled artistry and streamlining efficiency throughout the entire construction process. Given our considerable insight into building codes, specifications, and permits, you can trust in us to undertake the entire endeavor from inception to completion, providing you a captivating and efficient outdoor area.
Defend and Resurrect Your Deck's Splendor
At Decks Unique, we recognize the significance of regular upkeep in maintaining your deck's aesthetic appeal and structural stability. Our proficient staff at Decks Unique can inspect and uncover any damages or potential problems, administering essential repairs to maintain your deck in an optimal state. We also supply deck resurfacing and revitalization services, encompassing cleaning, staining, protecting against the elements, and sealing for the preservation and enhancement of your deck's aesthetics.
Elevate Your Open-air Space with Tailor-made Features and Add-ons
In order to transform your deck into a distinctive outdoor haven, Decks Unique provides an array of personalized options and extras like deck illumination, integrated seating, open-air cooking areas, and fire elements. These optimizations not only broaden the functional aspects but also forge an amicable and snug setting for you and your invitees to relish.
All-Inclusive Decking Offerings and Additional Services
Decks Unique not only excels in deck designing and construction but also focuses on additional outdoor structures, including wooden awnings, cabanas, gazebos, pergolas, and porch construction. These extra structures will considerably enrich your Long Island home's outdoor area, providing the perfect space for both relaxation and entertainment.
For all your decking desires in Old Bethpage, choose Decks Unique. Discover the impact our dedication to quality, professionalism, and customer satisfaction has on your outdoor area. Contact us today to book a free assessment and let us change your backyard into an astonishing piece of art.
Delighted to cater to the needs of Old Bethpage, North Lindenhurst, Nassau County, Mastic, Locust Valley, Huntington Station, Greenvale, and other Long Island neighborhoods.
Offering Long Island Quality Deck Designs and Services: