Get to know Decks Unique - Wantagh's Trusted Deck Building Specialists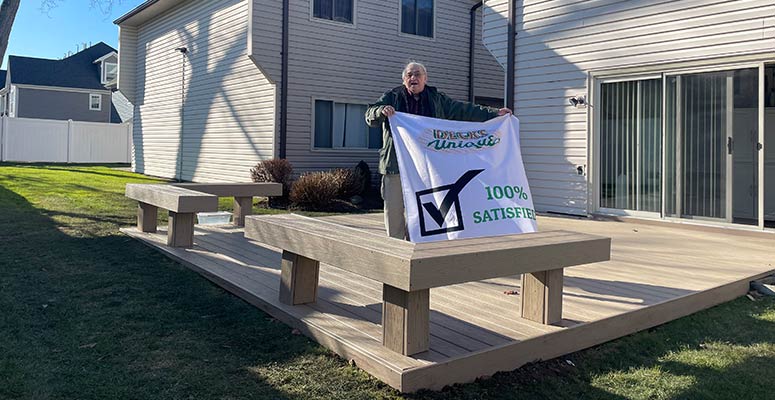 As a family-owned and operated business for over 20 years, Decks Unique has provided custom deck design and construction services to the people of Long Island and neighboring regions, such as Wantagh. Thanks to our enthusiasm for design and steadfast commitment to professionalism, integrity, and innovation, we've emerged as the top producer of premium decks on Long Island, setting the benchmark for the industry. We specialize in designing and building custom decks, porches, gazebos, pergolas, wood awnings, and other outdoor structures that add value, beauty, and functionality to your Long Island home.
Expertise and Experience in Deck Building Services in Wantagh
Decks Unique maintains that a well-designed deck is a smart investment when thinking about ways to improve your home. The Decks Unique team of expert deck builders holds a steadfast commitment to delivering unparalleled quality, upholding efficient production schedules, and guaranteeing the lasting value of our warranties. This unswerving commitment to unparalleled standards has brought about a hundreds of happy customers and elegant decks they're excited to showcase for years to come.
All major composite decking products, such as Trex, TimberTech, and Azek, can be installed by our experienced Long Island deck construction teams. We furnish free home-based consultations along with tech-driven deck illustrations, so you can conceptualize your undertaking before its materialization. Let us make your backyard our next project!
Add Value to Your Home with a Custom Deck
The addition of a fantastic deck not only expands your Wantagh home's outdoor living space but also amplifies its market value. Our area of expertise at Decks Unique lies in conceiving and erecting individualized decks that accommodate the unique necessities and preferences of our clients. If you want a casual space for hosting gatherings or an upscale oasis to soak up the beautiful weather, our professionals will diligently work alongside you to realize your vision.
In regards to outdoor areas, we understand that each homeowner has unique tastes and requirements. That is why we offer a wide range of materials, styles, and features to create the perfect deck that complements your home and lifestyle. With options spanning from traditional wood varieties such as pressure-treated lumber, cedar, and redwood, to low-maintenance composite and PVC decking alternatives, we have the perfect solution for every financial plan and preference.
Extraordinary Concentration on Outstanding Performance and Customer Happiness
High-quality workmanship and customer satisfaction are at the heart of what we do at Decks Unique. Utilizing premium materials and employing accomplished builders allows us to uphold the highest standards in every project we handle.
For a project to be successful, we believe communication is key, and we place great importance on keeping our clients aware of every development. From the initial consultation and design process through construction and final inspection, our team is always available to answer questions, address concerns, and ensure that you are completely satisfied with your new deck.
Trust Decks Unique to morph your Wantagh backyard into an impressive outdoor living space you'll enjoy for years. Get ahold of us today to schedule an obligation-free consultation and explore the Decks Unique benefits.
Thorough Deck Building Solutions in Wantagh
We at Decks Unique are proud to offer a broad selection of decking services, designed to address the specific needs of our customers in Wantagh. Our expertise covers everything from custom deck design and construction to repair, maintenance, and refinishing. In addition to our core offerings, Decks Unique provides a variety of exceptional enhancements and additions to upgrade your outdoor living. Take a closer look at the comprehensive list of services we have to offer.
Custom Deck Design: Crafting Your Dream Deck with Precision
Our masterful deck designers will work in conjunction with you to construct a made-to-order deck that reflects your individual panache, harmonizes with your home, and caters to the distinct prerequisites of your property. Our masters will help you make discerning selections by providing guidance on material options, ensuring that your deck possesses long-lasting allure and hardiness.
Expert Deck Assembly: Fine Craftsmanship for an Attractive External Space
As the leading deck builder, we pledge to use only top-notch materials and practice secure, effective workmanship. Our capable personnel are accredited installers of prestigious composite deck products, including Trex, TimberTech, and Azek. By giving close attention to detail and prioritizing structural strength, we ensure that your deck is not only breathtaking but also withstands the passage of time.
Maintaining and Repairing Decks: Preserving Your Investment
Consistent maintenance is key to maintaining the visual appeal and practicality of your deck. We have a dedicated team that offers all-inclusive repair and upkeep services for both wood and composite decks. Offering complete inspections to uncover potential issues and expert repair services for damages due to the elements or wear, we are your ultimate destination for all things related to deck maintenance. Our organized maintenance plans deliver the confidence that your deck will maintain premium quality throughout the entire year.
Deck Refinishing and Restoration: Revive Your Outdoor Living Area
With the passage of time, even first-rate decks might show evidence of wear or need refinishing in order to continue looking great. Our knowledgeable team can recuperate your deck's attractiveness by utilizing expert cleaning, staining, weatherproofing, and sealing techniques. We can also effectuate structural refinements, thereby ensuring your deck remains protected and functional for years.
Personalized Attributes and Extras: Improve Your Deck Enjoyment
To elevate your outdoor living space, we offer a range of custom features and add-ons designed to complement your deck. Among these selections are energy-effective deck lights, inherent seating, kitchens designed for outdoor use, and features involving fire. Inclusion of these elements within your deck's design enables us to produce a warm and affable space for your enjoyment with family and friends in Wantagh.
At Decks Unique, we take pride in delivering outstanding decking services to customers and surrounding regions. For more than 20 years, our experience has earned us a reputation for being professional, honest, and groundbreaking. No matter if you're seeking to create a new deck or update your current one, our knowledgeable team is prepared to assist. Give us a call today to plan a free consultation, and let us show you how to morph your outdoor area into an impressive, functional refuge.
Uncover the Ideal Deck Material for You: Comparing Wood and Composite Options
Our commitment at Decks Unique is to help you establish an impeccable outdoor retreat for your dwelling. Hence, we put forth a broad selection of decking materials, consisting of wood and composite possibilities. Every decking material has its attractive features, ascertaining that you find the perfect choice addressing your individual essentials and partialities.
Wood Decks Radiate Classic Appeal
Being both ageless and flexible, wood imbues a sense of inviting warmth and elegance to outdoor spaces. We offer a range of wood decking options to meet every style and budget.
Pressure-Processed Wood: Wallet-friendly and Durable
Many homeowners opt for pressure-treated lumber on account of its economical and sturdy features. A specialized process protects the decking material from both decay and insect-related damage. This makes pressure-treated decks not only durable but also low-maintenance.
Naturally Resistant Cedar and Redwood: A Grand Luxury
We also provide cedar and redwood decking for those wanting a more extravagant option. These attractive and upscale woods have innate resistance to rot and infestation, resulting in a long-lasting deck that weathers beautifully. Cedar and redwood decks, showcasing rich coloration and individualistic grain patterns, bring a significant accent to any living space.
Exotic Hardwoods: Exquisite and Long-Lasting
For an absolutely unique and luxurious solution, explore the possibility of using exotic hardwoods like Ipe, Tigerwood, or Cumaru. These incredibly dense and durable woods are known for their exceptional longevity and striking appearance. The stunning shades and complex configurations of exotic hardwood decks act as a captivating centerpiece in every outdoor space.
Low-Maintenance Living with Composite and PVC Decking
For individuals in search of a low-maintenance, environmentally friendly option, composite and PVC decking are worth considering. These groundbreaking materials fuse the visual appeal of wood with the ruggedness of synthetic ingredients, granting homeowners an essentially maintenance-free outdoor environment.
Composite Decking: Benefits and Advantages
With a mixture of repurposed wood fibers and plastic, composite decking is a resilient and Earth-friendly selection. Warping, cracking, and fading are no match for this decking material, which ensures a beautiful and long-lasting deck with minimal effort required. Another benefit is the effortless cleaning of composite decks, needing only an occasional wash to retain the freshness of the outdoor environment.
Premier Composite Material Brands in the Industry
Decks Unique is pleased to join forces with leading composite decking brands, such as Trex, TimberTech, and Azek. As authorized installers of these exceptional products, we can provide Wantagh homeowners with the highest quality materials, ensuring a gorgeous and long-lasting outdoor space.
Personalize Your Deck by Choosing Color and Texture Alternatives
The extensive array of personalization options is a crucial benefit of composite decking. You can design a bespoke outdoor area that matches your home's aesthetic, thanks to various color and texture possibilities. Your preference for natural wood visuals or a more state-of-the-art design can both be met with a composite decking option.
Enhance Your Deck with Railing and Baluster Options
The perfect deck isn't complete without the right railing and baluster system. Decks Unique offers an extensive selection of options to work seamlessly with your deck design and promote the safety and usefulness of your exterior area.
Wooden Railing Systems: Classic and Everlasting
A wood railing system is worth considering for a classic and ageless look. For a look that complements both wood and composite decking, a wood railing system is an excellent choice, delivering a congruous and refined design. By matching the color of your wood railing system to your deck or Wantagh home exterior through painting or staining, a visually stunning result is guaranteed.
Metal and Glass Railing Systems: Chic and Smooth
For those who appreciate a stylish and up-to-date feel, metal or glass railing systems can be a wise choice. These modern possibilities not only offer an up-to-date appeal but also amplify the sights from your deck, making them a top choice for homeowners immersed in picturesque backdrops.
Composite Railing Systems: Low-Maintenance, Chic Design
Those in search of a stylish yet low-maintenance alternative will find composite railing systems to be an excellent selection. These strong and stylish railings, when matched with composite decking, bring about a cohesive appearance, resulting in a stunning low-maintenance outdoor space.
No matter your inclinations, Decks Unique is at your service to aid you in picking the perfect decking supplies for your home. Get in touch with us now to talk about your requirements and start creating your dream outdoor area.
Enhance Your Outdoor Living Space with Our Additional Services in Wantagh
We believe in transforming your outside living space into a luxurious and functional part of your home at Decks Unique. Our services extend beyond remarkable deck building, as we also provide a variety of supplementary services such as wood awnings, cabanas, gazebos, pergolas, and porch construction. Our professional experts in Wantagh work hand in hand with you to bring your ideas to fruition while ensuring superior quality and lasting durability.
Wood Awnings: Add Fashion and Functionality for Your Outdoor Space
Wood awnings offer an excellent way to create shade and style in your outdoor environment. Our experienced team at Decks Unique will help you choose the right design and materials to create a beautiful and functional wood awning that complements your home's aesthetic. Not only do these structures shield you from extreme weather, but they also boost your property's overall worth.
Cabanas: Assemble a Sophisticated Retreat in Your Wantagh Outdoor Space
Providing a seamless mix of luxury, comfort, and seclusion, cabanas are an excellent enhancement to any outdoor space. You can count on our team of professionals to design and create a unique cabana that caters to your individual needs and preferences. Whether you're looking for a comfortable nook to unwind or a sophisticated space to entertain visitors, we can fashion a cabana that becomes your ultimate al fresco getaway.
Gazebos: An Idyllic Enhancement for Your Garden or Patio
Adding a gazebo to a garden or patio creates an ageless charm, providing a striking focal point, and a covered spot for outdoor relaxation. Our knowledgeable team guides you through the process of choosing the perfect style, materials, and location for your gazebo, guaranteeing harmonious fusion with your existing landscape. Thanks to our superior craftsmanship, your gazebo will be a beautiful addition to your outdoor area and provide enjoyment for many years.
Pergolas: Enhance Your Outdoor Space with Architectural Beauty and Function
For those looking to enhance their outdoor living area's aesthetics and functionality, pergolas are an excellent choice. Pergolas are adept at creating a sheltered yet sunlit environment, making them ideal for garden strolls, patio hangouts, or dining outdoors. Let the skilled experts at Decks Unique craft a bespoke pergola that caters to your style and contributes to your home's overall value.
Constructing a Porch: Improve Your Home's Exterior Attractiveness and Outdoor Living Area
An expertly designed porch not only improves your home's curb appeal but also offers a cozy outdoor space for you and your loved ones to relish. Our knowledgeable team will partner with you to build a personalized porch that fits your home's architectural theme and adheres to your functional demands. With our thorough consideration for detail and unwavering commitment to superior quality, you can be at ease knowing your porch creation task is entrusted to the right people.
Contact Decks Unique to revamp your Wantagh outdoor living area
At Decks Unique, providing superior, custom-made outdoor living options for our clients in Wantagh and the adjacent areas is our mission. Seeking to integrate a wood awning, cabana, gazebo, pergola, or porch into your outdoor area? Our team of specialists is prepared to help. Contact us right away to go over your project and learn how we can transform your outdoor area into a plush and purposeful extension of your living space.
Top-notch Deck Consulting and Design Solutions in Wantagh
Decks Unique specializes in delivering bespoke consultations and customized deck plans, ensuring that every client's needs are met. Possessing over 20 years of experience, our proficient deck designers will work hand-in-hand with you to create a deck that complements your home's aesthetics and usefulness. Employing cutting-edge 3D modeling and visualization methods, we'll transform your dream deck into reality, making certain the end product aligns with your aspirations.
Durable Deck Materials for Extended Life Expectancy
Decks Unique, the leading deck builder in Long Island, is a certified installer for top composite deck brands like Trex, TimberTech, and Azek. We also furnish an assortment of wooden decking options to match your likings, including pressure-treated planks, cedar, redwood, and high-quality hardwoods. With a commitment to using only exceptional materials, you can trust that your new deck will be long-lasting and require minimal maintenance.
Top-Notch Deck Building Services in Wantagh
The proficient deck construction team at Decks Unique takes pride in offering excellent craftsmanship and streamlined efficiency during every step of the building process. Given our considerable insight into building codes, specifications, and permits, you can trust in us to undertake the entire endeavor from inception to completion, providing you a captivating and efficient outdoor area.
Maintaining and Restoring Your Deck's Beauty
At Decks Unique, we appreciate the importance of consistent care in retaining the aesthetics and strength of your deck. Our capable team can investigate and identify any harm or likely complications, delivering needed repairs to keep your deck in superior condition. Additionally, we offer deck refinishing and restoration services, including cleaning, staining, weatherproofing, and sealing to protect and enhance your deck's appearance.
Enhance Your Exterior Living Space with Bespoke Additions and Features
For truly fashioning your deck into a singular open-air refuge, Decks Unique proffers an assortment of tailor-made components and augmentations, such as lighting solutions for decks, seats integrated into the design, kitchens designed for the outdoors, and flame-oriented installations. These refinements not only contribute to usefulness, but they also establish a warm and alluring environment for you and your guests' enjoyment.
All-Inclusive Decking Offerings and Additional Services
Decks Unique, known for its expertise in deck design and construction, also offers expertise in other outdoor structures, including wood awnings, cabanas, gazebos, pergolas, and porch construction. With these extra outdoor installations, your Long Island home's outdoor ambience can be significantly improved, making it the best spot for relaxation and amusement.
Rely on Decks Unique for all of your decking demands in Wantagh. See how our commitment to excellence, professionalism, and customer satisfaction enhances your outdoor space. Reach out to us today for a free consultation, and let us convert your backyard into an exquisite showpiece.
Joyfully helping the citizens in Wantagh, St James, Sayville, Ridge, North Wantagh, North Amityville, Merrick, and other Long Island vicinities.
Offering Long Island Quality Deck Designs and Services: