Check out Decks Unique - Nassau County's Exceptional Deck Building Professionals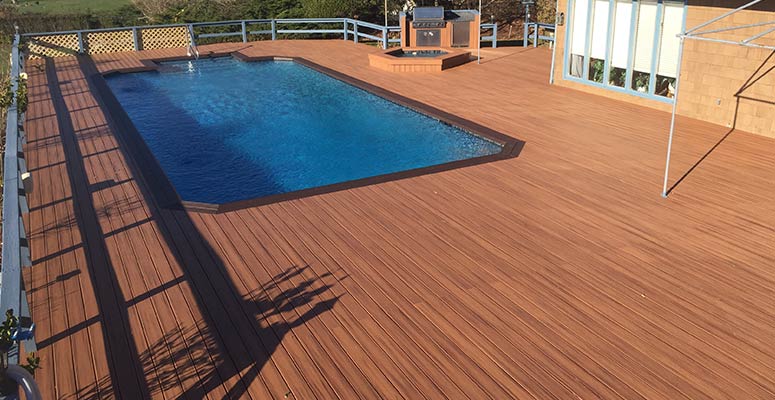 Decks Unique, a family-run business specializing in custom deck design and construction, has been serving the Long Island community and surrounding regions, including Nassau County, for more than two decades. We have become the preeminent supplier of high-quality decks on Long Island through our passion for design and dedication to professionalism, honesty, and innovation, shaping the industry standards. Our specialization includes creating custom decks, porches, gazebos, pergolas, wooden awnings, and various outdoor structures that contribute to the value, charm, and utility of your Long Island home.
Leading Expertise and Experience in Deck Building in Nassau County
At Decks Unique, our perspective is that a well-crafted deck layout is an intelligent decision when looking at home upgrades. Our knowledgeable assembly of expert deck builders is determined to ensure top-quality outcomes, preserve efficiency in production, and ascertain that our warranties hold significant enduring value. Our unwavering dedication to outstanding results has produced countless satisfied clients and striking decks they can be proud of for years.
Our deck construction crews on Long Island are endorsed to deploy all renowned composite deck products, including Trex, TimberTech, and Azek. We furnish free home-based consultations along with tech-driven deck illustrations, so you can conceptualize your undertaking before its materialization. Let's tackle your backyard as our next challenge!
With a high-quality deck, your Nassau County house can see its outdoor living area improved and its property value significantly raised. We, at Decks Unique, focus on the development and creation of bespoke decks that address the specific requirements and tastes of each client. If you want a casual space for hosting gatherings or an upscale oasis to soak up the beautiful weather, our professionals will diligently work alongside you to realize your vision.
For outdoor spaces, we understand that each homeowner has their own distinct tastes and necessities. This is the basis for our extensive variety of materials, styles, and elements to establish the flawless deck that lines up with your home and lifestyle. Whether you prefer classic wood choices like pressure-treated lumber, cedar, and redwood, or easy-care composite and PVC decking options, we have the perfect solution for every budget and style.
Exceptional Attention to Premium Quality and Client Pleasure
High-quality workmanship and customer satisfaction are at the heart of what we do at Decks Unique. Utilizing premium materials and employing accomplished builders allows us to uphold the highest standards in every project we handle.
We regard transparent communication as a critical component of project success, and we dedicate ourselves to keeping our clients informed at all times. Our reliable team is there for you, from the initial consultation and design brainstorming, through the construction journey, and even after the final review, to make sure all questions are answered, fears are addressed, and your satisfaction with the new deck is undeniable.
Let Decks Unique change your Nassau County backyard into an attractive outdoor living area you'll cherish. Reach out to us now to organize a free consultation and understand the Decks Unique difference on your own.
Full-range Decking Services in Nassau County
Decks Unique is proud to deliver an array of customized decking services to cater to the diverse requirements of our clients in Nassau County. From creating custom decks and construction to repair, maintenance, and refinishing, Decks Unique offers a wide range of expert services. Alongside our main services, we offer a selection of unique features and supplementary options to enrich your outdoor living experience. Allow us to provide you with a more in-depth overview of our services.
Custom Deck Design: Bringing Your Dream Deck to Life
Our professional deck designers will work closely with you to create a custom deck that reflects your personal style, complements your home, and meets the unique requirements of your property. By assisting you in making informed choices, our connoisseurs will facilitate your material selection journey, assuring lasting charm and toughness.
Superior Deck Construction: Exceptional Expertise for a Breathtaking Outdoor Area
As the foremost deck builder, we are devoted to employing first-rate materials and maintaining secure, productive workmanship. Our expert staff are certified installers of top composite decking brands, such as Trex, TimberTech, and Azek. By closely examining details and focusing on structural durability, we assure that your deck will not only look beautiful but also remain strong over time.
Deck Care and Repairs: Keeping Your Investment Secure
Consistent maintenance is key to maintaining the visual appeal and practicality of your deck. Our team of specialists delivers thorough maintenance and repair services for both wooden and composite decks. Offering complete inspections to uncover potential issues and expert repair services for damages due to the elements or wear, we are your ultimate destination for all things related to deck maintenance. Through our pre-scheduled maintenance programs, you can enjoy the certainty that your deck's outstanding condition will be sustained year-round.
Deck Refinishing and Restoration: Rejuvenate Your Exterior Space
Eventually, even the best quality decks might display signs of wear and might need refinishing to preserve their look. Our expert group can recover your deck's beauty with the help of professional cleaning, staining, weatherproofing, and sealing services. Furthermore, we can carry out structural upgrades to make sure your deck stays secure and operational in the long term.
Tailored Characteristics and Supplemental Items: Augment Your Deck Adventures
For improving your outdoor living environment, we propose a selection of customized attributes and add-ons intended to supplement your deck. These options consist of energy-wise deck lights, fixed seating, kitchens intended for open-air use, and fire configurations. Incorporating these aspects into the deck design, we generate a welcoming and snug habitat for you and your acquaintances to revel in Nassau County.
We, at Decks Unique, excel in delivering the finest decking solutions to our customers and areas nearby. Over our 20 years in the business, we've carved out a reputation for professionalism, dependability, and innovation. Our talented team is ready to assist, whether you'd like to create a new deck or upgrade an existing one. Give us a call today to plan a free consultation, and let us show you how to morph your outdoor area into an impressive, functional refuge.
Uncover the Ideal Deck Material for You: Comparing Wood and Composite Options
Here at Decks Unique, we are passionate about collaborating with you to develop the perfect outdoor hideaway for your house. That's why we offer a wide variety of decking materials, including both wood and composite options. Various materials have unique positive aspects, ensuring your ability to opt for the finest choice that caters to your personal necessities and proclivities.
Wood Decking: A Refined Classic Look
Wooden materials possess a lasting, adaptable nature that grants a sense of comfort and allure to any outdoor setting. A variety of wood decking options are offered to match each person's style and monetary constraints.
Pressure-Treated Boards: Economically Viable and Robust
Pressure-treated lumber attracts many homeowners because of its cost-saving and long-lasting properties. The decking material is treated specially to guard against wood rot and insect invasion. Because of this, pressure-treated decks offer enduring performance with low maintenance requirements.
The Luxury of Cedar and Redwood: A Natural Resistance
For those pursuing a deluxe option, we feature cedar and redwood decking in our offerings. These elegant and premium woods possess natural resistance to decay and pests, guaranteeing a durable deck that matures with elegance. Exhibiting rich color palettes and peculiar grain motifs, cedar and redwood decks present a marvelous addition to any domestic setting.
Exotic Hardwoods: Elegant and Resilient
If you're on the hunt for a genuinely distinct and sophisticated alternative, consider utilizing exotic hardwoods like Ipe, Tigerwood, or Cumaru. Thanks to their substantial density and ruggedness, these woods are celebrated for their incredible durability and strikingly beautiful appearance. An exotic hardwood deck's dazzling colors and intricate designs make it a standout centerpiece in any outside space.
The Benefits of Low-Maintenance Living: Composite and PVC Decking
To find an eco-responsible and low-upkeep choice, take into account composite and PVC decking. These revolutionary materials marry the elegance of wood with the strength of engineered materials, treating homeowners to a nearly maintenance-free outdoor retreat.
Advantages and Benefits of Composite Decking
Made from recycled wood fibers and plastic, composite decking is a strong and environmentally friendly preference. Thanks to its resistance to warping, cracking, and fading, this decking material yields an eye-catching, long-lasting deck that demands minimal maintenance. Composite decks are also known for their ease of cleaning, requiring only infrequent washes to keep your outdoor space looking its best.
Premier Composite Material Brands in the Industry
Decks Unique is proud of their association with top composite decking brands like Trex, TimberTech, and Azek. Being authorized installers of these extraordinary products allows us to give Nassau County homeowners access to the highest quality materials for a gorgeous and long-lasting outdoor living space.
Tailor Your Deck through Selecting Color and Texture Varieties
One of the major benefits of composite decking is the wide range of customization options. You can design a bespoke outdoor area that matches your home's aesthetic, thanks to various color and texture possibilities. If you have a penchant for natural wood looks or more innovative designs, composite decking offers a compatible option.
Amplify Your Deck's Look with Railing and Baluster Additions
An impeccable deck isn't finished without the suitable railing and baluster system. We furnish a multitude of choices at Decks Unique to amplify your deck design and confirm the security and utility of your outdoor setting.
Wooden Railing Systems: Classic and Everlasting
If you're after a classic and eternal look, a wood railing system could be the way to go. For a look that complements both wood and composite decking, a wood railing system is an excellent choice, delivering a congruous and refined design. For a striking finale, customize your wood railing system by painting or staining it to match your deck or the exterior of your Nassau County home.
Metal and Glass Railing Systems: Current and Refined
Opt for metal or glass railing systems if you're inclined towards a sophisticated and current aesthetic. These railing systems bring a current flair while enhancing the panorama from your deck, which is highly appreciated by property owners with beautiful surroundings.
Composite Railing Systems: Simple Maintenance and Sophisticated
For individuals who desire a low-upkeep solution while maintaining sophistication and elegance, composite railing systems make an ideal choice. The combination of durability and beauty in these railings, alongside composite decking, fosters a cohesive design and a breathtaking outdoor setting with minimal maintenance efforts.
No matter your style preferences, Decks Unique is prepared to support you in determining the perfect decking materials for your domicile. Engage with us today to convey your needs and embark on the journey to design your dream outdoor space.
Improve Your Outdoor Living Area with Our Additional Offerings in Nassau County
Our mission at Decks Unique is to convert your outdoor living area into a deluxe and practical extension of your abode. In addition to our outstanding deck construction services, we also provide a range of supplementary services like wooden awnings, cabanas, gazebos, pergolas, and building porches. In Nassau County, our skilled team works closely with you to achieve your outdoor vision, guaranteeing top-quality and durable results.
Wood Awnings: Boost Your Outdoor Space's Style and Shade
Wooden awnings present an ideal solution for incorporating both shade and sophistication to your outdoor space. Our proficient crew at Decks Unique will offer guidance in determining the perfect design and materials for a visually appealing and practical wood awning that goes well with your home's decor. Not only do these structures shield you from extreme weather, but they also boost your property's overall worth.
Cabanas: Design a Lavish Getaway in Your Nassau County Garden
Cabanas deliver a flawless fusion of opulence, comfort, and seclusion, making them the ultimate addition to any outdoor setting. Our skilled professionals will partner with you in designing and constructing a personalized cabana that fulfills your unique necessities and preferences. Regardless of whether you want an intimate hideaway for unwinding or an upscale space for entertaining company, we can construct a cabana that serves as your ideal outdoor sanctuary.
Gazebos: A Picture-Perfect Addition for Your Garden or Patio
Incorporating a gazebo in a garden or patio lends perpetual elegance, offering an alluring centerpiece and a cool alcove for outdoor unwinding. Our expert team assists you in selecting the perfect design, materials, and placement for your gazebo, guaranteeing a smooth blend with your current outdoor environment. With our high-quality craftsmanship, you'll have a gorgeous gazebo that not only complements but also enhances your outdoor space for years to come.
Pergolas: Add Architectural Interest and Functionality to Your Outdoor Area
One effective way to enrich your outdoor living space with architectural appeal and utility is by constructing a pergola. Pergolas offer a balance of shading and natural illumination, which suits them well for use in garden walkways, outdoor patios, or dining areas. Let the skilled experts at Decks Unique craft a bespoke pergola that caters to your style and contributes to your home's overall value.
Build a Porch: Increase Your Home's Curb Appeal and Outdoor Living Environment
A skillfully designed porch not only boosts your home's curb appeal but also gives a welcoming outdoor living space for you and your family to savor. Our professional team will collaborate with you to develop a tailor-made porch that harmonizes with your home's architectural style and fulfills your practical requirements. With our precise eye for detail and resolute passion for top-quality work, you can be sure that your porch erection project is in safe hands.
Connect with Decks Unique for your Nassau County outdoor living space makeover
Decks Unique takes pride in giving first-rate, personalized outdoor living solutions to people in Nassau County and the surrounding communities. Should you desire to add a wood awning, cabana, gazebo, pergola, or porch to your outdoor living environment, our adept team is here for support. Let's chat about your project today, and we'll reveal how we can change your outdoor living space into a luxurious and practical component of your home.
Proven Deck Design and Consultation Excellence in Nassau County
At Decks Unique, we take great pride in providing customized consultations and tailor-made deck designs to cater to the specific requirements of our customers. Leveraging their 20-year expertise, our accomplished deck designers will closely engage with you to craft a deck that accentuates your home's visual charm and practical aspects. With state-of-the-art 3D modeling and visualization tools, we'll actualize your vision of the perfect deck, guaranteeing that the completed project satisfies your requirements.
First-Rate Deck Materials for Maximum Strength
Decks Unique, the leading deck builder in Long Island, is a certified installer for top composite deck brands like Trex, TimberTech, and Azek. Moreover, we supply a selection of wood decking possibilities to fit your desires, featuring pressure-treated lumber, cedar, redwood, and specialty hardwoods. Our pledge to utilize only the finest materials ensures that your new deck will withstand the test of time while demanding little maintenance.
Exceptional Deck Construction Services in Nassau County
The proficient deck construction team at Decks Unique takes pride in offering excellent craftsmanship and streamlined efficiency during every step of the building process. With our exceptional understanding of building codes, requirements, and permits, you can count on us to navigate the entire project from its inception to culmination, leaving you with a stunning and functional outdoor living space.
Hold and Re-establish Your Deck's Gorgeousness
At Decks Unique, we understand the importance of routine maintenance in preserving the beauty and structural integrity of your deck. Our skilled team can examine and detect any problems or potential concerns, offering required fixes to maintain your deck in excellent shape. We also supply deck resurfacing and revitalization services, encompassing cleaning, staining, protecting against the elements, and sealing for the preservation and enhancement of your deck's aesthetics.
Upgrade Your Outdoor Area with Custom Features and Add-ons
To genuinely convert your deck into an exceptional exterior retreat, Decks Unique presents a range of custom characteristics and additions, including deck lights, built-in benches, alfresco kitchens, and features involving fire. These augmentations not only amplify effectiveness, but they also cultivate a friendly and cozy aura for you and your company to enjoy.
Full-Scale Decking Services and More
Beyond our expertise in deck design and construction, Decks Unique also specializes in additional outdoor structures such as wood awnings, cabanas, gazebos, pergolas, and porch construction. With these extra outdoor installations, your Long Island home's outdoor ambience can be significantly improved, making it the best spot for relaxation and amusement.
Let Decks Unique take care of all your decking needs in Nassau County. Notice the transformation our dedication to quality, expertise, and client satisfaction creates in your outdoor living area. Get in touch with us now to set up a complimentary consultation and watch us turn your backyard into a beautiful work of art.
Delighted to cater to the needs of Nassau County, Mastic Beach, Long Beach, Jericho, Hauppauge, Franklin Square, East Patchogue, and other Long Island neighborhoods.
Offering Long Island Quality Deck Designs and Services: