Introducing Decks Unique - Mastic's Top-Rated Deck Construction Company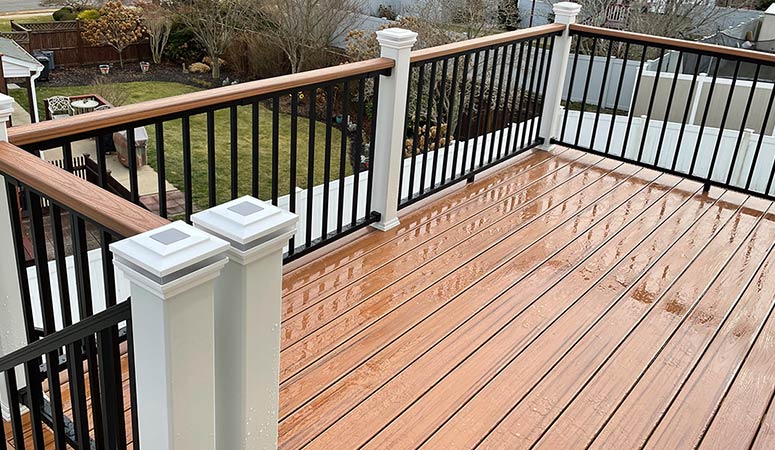 For over two decades, Decks Unique, a family-owned and operated enterprise, has offered custom deck design and construction services to the residents of Long Island and the surrounding areas, including Mastic. Our enthusiasm for design, coupled with our dedication to professionalism, honesty, and innovation, has established us as the premier producer of top-notch decks throughout Long Island, and we've set industry benchmarks. We're experts in designing and building custom decks, porches, gazebos, pergolas, timber awnings, and other outdoor features that enhance the value, beauty, and functionality of your home in Long Island.
Comprehensive and Experienced Deck Building Services in Mastic
Decks Unique upholds the idea that a thoughtfully devised deck design constitutes a wise investment in home improvement. Our adept squad of professional deck builders aims to achieve exceptional quality, maintain productivity in schedules, and assure our warranties come with true durable value. This relentless dedication to superior workmanship has delivered countless gratified customers and exceptional decks they can take pride in for years.
Our Long Island deck building specialists are licensed to install all top composite deck brands, such as Trex, TimberTech, and Azek. We provide complimentary in-home consultations and digital deck plans to help you envision your project prior to its completion. Allow us to transform your backyard into our upcoming venture!
Improve Your Dwelling's Value by Constructing a Custom Deck
Besides improving the exterior living area of your Mastic residence, an exceptional deck can also drive up property value. Decks Unique specializes in the planning and building of tailor-made decks that satisfy each of our clients' distinctive needs and inclinations. From a warm and welcoming spot for get-togethers to an elegant outdoor refuge for enjoying the splendid weather, our team will work intimately with you to fashion your desired space.
In regards to outdoor areas, we understand that each homeowner has unique tastes and requirements. Consequently, we offer a broad assortment of materials, designs, and aspects to construct the perfect deck that matches your residence and your living habits. From traditional wood options like pressure-treated lumber, cedar, and redwood to low-maintenance composite and PVC decking, we have the right solution for every budget and preference.
Incomparable Devotion to High Quality and Customer Fulfillment
At Decks Unique, excellent workmanship and gratified clients are what we focus on. We are dedicated to utilizing only top-grade materials and partnering with expert, seasoned builders to guarantee our projects meet the most stringent standards.
We think that effective communication is crucial for project success, and it's our top priority to keep clients in the loop throughout the process. Our reliable team is there for you, from the initial consultation and design brainstorming, through the construction journey, and even after the final review, to make sure all questions are answered, fears are addressed, and your satisfaction with the new deck is undeniable.
Enable Decks Unique to make your Mastic backyard into an inviting outdoor living environment you'll appreciate. Get ahold of us today to schedule an obligation-free consultation and explore the Decks Unique benefits.
All-inclusive Decking Solutions in Mastic
At Decks Unique, we pride ourselves on offering a wide range of decking services tailored to meet the needs of our clients in Mastic. Our expertise at Decks Unique ranges from crafting custom deck designs and construction to handling repair work, maintenance, and refinishing projects. We also offer a variety of exclusive features and extras designed to upgrade and enhance your outdoor living space. Join us in taking a closer look at the wide range of solutions we offer.
Custom Deck Design: Manifesting Your Dream Deck into Reality
Our skilled deck designers will closely collaborate with you to design a customized deck that showcases your individual taste, enhances your home, and caters to the specific needs of your property. To enable you to make sound decisions, our adept advisors will steer you through the process of selecting the right materials, safeguarding enduring sophistication and solidity.
Expert Deck Construction: Quality Craftsmanship for a Stunning Outdoor Space
As a distinguished deck builder, our commitment lies in using only outstanding materials and implementing safe, effective work methods. Our proficient crews are authorized to install well-known composite deck materials, including Trex, TimberTech, and Azek. By closely examining details and focusing on structural durability, we assure that your deck will not only look beautiful but also remain strong over time.
Taking Care of Your Deck: Ensuring Your Investment Stays Protected
Routine upkeep is fundamental for preserving your deck's beauty and function. Our skilled team is available to provide detailed repair and maintenance services for wood and composite decks. From thorough inspections to identify potential issues, to expert repair of damages caused by weather or wear-and-tear, we are your go-to source for all your deck maintenance needs. Our organized maintenance plans deliver the confidence that your deck will maintain premium quality throughout the entire year.
Deck Restoration and Refinishing: Reimagine Your Outdoor Sphere
Over the years, even the finest decks might manifest signs of wear or ask for refinishing to conserve their visual charm. Our adept team has the ability to bring back your deck's elegance using expert cleaning, staining, weatherproofing, and sealing services. Plus, we can undertake structural alterations, confirming that your deck stays safe and usable for an extended period.
Personal Customizations and Upgrades: Enrich Your Deck Leisure
To enrich your outdoor living quarters, we supply a wide range of specialized characteristics and extras designed to improve your deck. Some of the options are energy-efficient light fittings on decks, internal seating, exterior cooking areas, and fire-inspired features. We merge these features into your deck's overall structure, creating an inviting and pleasant ambiance for you to cherish with family and friends in Mastic.
Decks Unique focuses on offering unparalleled decking assistance to customers and areas close by. Our distinguished reputation has been built on 20 years of professionalism, integrity, and novel thinking. Whether designing a novel deck or enhancing a current one, our proficient team is available for assistance. Reach out to us now to book a cost-free consultation and find out how we can turn your outdoor area into a visually striking and practical haven.
Uncover the Ideal Deck Material for You: Comparing Wood and Composite Options
Assisting you in creating the ultimate outdoor getaway for your home is our commitment at Decks Unique. That's why we offer a wide variety of decking materials, including both wood and composite options. All materials have exclusive benefits that let you settle on the best choice based on your specific desires and favorites.
Wood Decking Provides an Ageless Beauty
Wood, with its enduring and adaptable properties, naturally lends warmth and charisma to any exterior area. Our selection of wooden deck options caters to an array of preferences and financial plans.
Pressure-Maintained Lumber: Reasonably Priced and Rugged
Due to its cost efficiency and resilience, pressure-treated lumber appeals to a lot of homeowners. Protection from wood deterioration and insect issues is provided by a special treatment process for this decking material. Thus, pressure-treated decks provide enduring quality with reduced maintenance efforts.
Premium and Resistant: Cedar and Redwood's Natural Features
If you're in the market for a high-end solution, consider our cedar and redwood decking options. Inherently impervious to decay and insects, these beautiful and premium woods assure a deck that withstands the elements and ages beautifully. With their rich colors and unique grain patterns, cedar and redwood decks make a stunning addition to any home.
Exotic Hardwoods: Visually Striking and Rugged
In your quest for a truly matchless and opulent option, weigh the idea of choosing exotic hardwoods like Ipe, Tigerwood, or Cumaru. These remarkably strong and resilient woods are renowned for their extraordinary longevity and eye-catching looks. The vivid colors and elaborate patterns of exotic hardwood decks create an awe-inspiring centerpiece for your outdoor living space.
The Benefits of Low-Maintenance Living: Composite and PVC Decking
For those seeking a low-maintenance and eco-friendly alternative, consider composite and PVC decking. These pioneering materials blend the allure of wood with the toughness of man-made substances, affording homeowners a near maintenance-free al fresco space.
Composite Decking: Benefits and Advantages
Constructed from a mix of repurposed wood fibers and plastic, composite decking provides a strong, environmentally conscious choice. Warping, cracking, and fading are no match for this decking material, which ensures a beautiful and long-lasting deck with minimal effort required. Composite decks also have an advantage in their ease of cleaning, with only sporadic washing needed to keep the outdoor area immaculate.
A Look at Industry-Leading Composite Materials Brands
Teaming up with prominent composite decking brands like Trex, TimberTech, and Azek is a matter of pride for Decks Unique. Being authorized installers of these extraordinary products allows us to give Mastic homeowners access to the highest quality materials for a gorgeous and long-lasting outdoor living space.
Design Your Deck with a Variety of Color and Texture Possibilities
Composite decking's large selection of customization options is one of its main benefits. Having a myriad of color and texture options allows you to fashion a one-off outdoor space that connects with your home's design. Any preference for natural wood aesthetics or contemporary designs can be accommodated with the right composite decking choice.
Transform Your Deck with Various Railing and Baluster Choices
The ultimate deck won't be whole without the fitting railing and baluster system. Decks Unique provides an ample range of options to elevate your deck design and warrant your outdoor area's safety and functionality.
Wooden Handrail Systems: Traditional and Timeless
If you want a classic and enduring aesthetic, contemplate a wood railing system. By integrating a wood railing system with either a wood or composite deck, you can achieve a smooth and consistent design. For a striking finale, customize your wood railing system by painting or staining it to match your deck or the exterior of your Mastic home.
Metal and Glass Railing Systems: Trendy and Slick
In case a modern and sleek design appeals to you, take into account utilizing metal or glass railing systems. These modern possibilities not only offer an up-to-date appeal but also amplify the sights from your deck, making them a top choice for homeowners immersed in picturesque backdrops.
Composite Railing Systems: Simple Maintenance and Sophisticated
Those in search of a stylish yet low-maintenance alternative will find composite railing systems to be an excellent selection. The resilient and captivating railings offer a consistent aesthetic when used in conjunction with composite decking, cultivating an exquisite outdoor space with low maintenance needs.
Regardless of your personal preferences, Decks Unique stands ready to help you decide on the most suitable decking materials for your living space. Communicate with us today to express your needs and start crafting the outdoor haven of your dreams.
Raise the Bar for Your Outdoor Living Space with Our Additional Services in Mastic
Decks Unique is committed to turning your outdoor living area into a lavish and practical extension of your residence. Apart from our exceptional deck building services, we also offer a variety of additional services such as wood awnings, cabanas, gazebos, pergolas, and porch construction. In Mastic, our experienced professionals collaborate closely with you to turn your dreams into reality while maintaining exceptional quality and durable construction.
Wood Awnings: Bring Both Shade and Style to Your Outdoor Living Space
Installing wood awnings is a fantastic approach to enhance your outdoor area with both shade and elegance. At Decks Unique, our experienced staff will assist you in the process of choosing the right design and materials to craft an elegant and functional wood awning that harmonizes with your home's aesthetic. These timber structures not only shield you from adverse weather but also enhance the total value of your property.
Cabanas: Develop a Posh Hideaway in Your Mastic Outdoor Area
Providing a seamless mix of luxury, comfort, and seclusion, cabanas are an excellent enhancement to any outdoor space. Our expert team will collaborate with you to develop and construct a bespoke cabana tailored to your requirements and desires. Be it a warm, inviting spot for rest or a refined space for social engagements, we can build a cabana that becomes your dream outdoor getaway.
Gazebos: A Stunning Complement to Your Garden or Patio Space
A gazebo adds a quaint touch to any garden or patio, creating an eye-catching centerpiece and offering shade for outdoor lounging. The experienced team at Decks Unique will help you identify the perfect style, materials, and positioning for your gazebo, so it blends seamlessly with your existing landscape. Utilizing our exceptional craftsmanship, we provide a beautiful gazebo that bolsters the aesthetic appeal of your outdoor space for years to follow.
Pergolas: Add Architectural Interest and Functionality to Your Outdoor Area
For those looking to enhance their outdoor living area's aesthetics and functionality, pergolas are an excellent choice. The design of these structures allows for a combination of shade and sunlight, which makes them perfect for garden trails, patio spaces, and open-air eating areas. At Decks Unique, our qualified experts are capable of designing and constructing a personalized pergola that fits your aesthetic desires and adds worth to your residence.
Porches: Enhancing Your Home's Curb Appeal and Expanding Outdoor Living Space
A thoughtfully designed porch not only elevates your home's curb appeal but also supplies a pleasant outdoor living area for you and your family to appreciate. Our efficient group will work jointly with you to conceive a made-to-order porch that corresponds with your home's architecture and satisfies your conducive needs. With our keen eye for detail and dedication to excellence, you can have peace of mind knowing your porch construction endeavor is well taken care of.
Contact Decks Unique for Your Mastic Outdoor Living Space Transformation
Decks Unique takes pride in giving first-rate, personalized outdoor living solutions to people in Mastic and the surrounding communities. Should you desire to add a wood awning, cabana, gazebo, pergola, or porch to your outdoor living environment, our adept team is here for support. Contact us today to discuss your project and discover how we can transform your outdoor living space into a luxurious and functional extension of your home.
Proven Deck Design and Consultation Excellence in Mastic
Decks Unique prides itself on presenting custom consultations and deck designs, designed to cater to the distinctive needs of our clientele. With over 20 years of industry know-how, our experienced deck designers will work side by side with you to create a deck that amplifies your home's appearance and practicality. Leveraging the latest 3D modeling and visualization processes, we'll actualize your dream deck and ensure the completed product is in line with your desired expectations.
High-Quality Deck Materials for Lasting Durability
As Long Island's premier deck builder, Decks Unique is an authorized installer of all major composite deck products, including Trex, TimberTech, and Azek. We have a range of wood decking options to cater to your needs, such as pressure-treated boards, cedar, redwood, and imported hardwoods. Our resolve to employ only high-quality materials ensures a long-lasting, easy-to-maintain deck for your property.
Reliable Deck Construction Services in Mastic
Our team of skilled deck builders at Decks Unique is focused on providing high-quality craftsmanship and effective execution during the whole construction journey. Given our considerable insight into building codes, specifications, and permits, you can trust in us to undertake the entire endeavor from inception to completion, providing you a captivating and efficient outdoor area.
Sustain and Renew Your Deck's Appeal
The Decks Unique team acknowledges the importance of ongoing maintenance to conserve the appearance and structural reliability of your deck. Our seasoned team can conduct inspections and find any damages or potential problems, performing essential repairs to maintain your deck's prime state. At Decks Unique, we also propose deck revamping and restoration amenities, involving cleaning, staining, safeguarding against weather, and sealing to conserve and magnify your deck's appeal.
Transform Your Outside Space with Personalized Additions and Features
For authentically crafting your deck into a standout alfresco haven, Decks Unique brings you a variety of individualized elements and add-ins, featuring lighting systems for decks, seats embedded within the layout, cooking zones suitable for outdoor use, and fire-related fixtures. These optimizations not only broaden the functional aspects but also forge an amicable and snug setting for you and your invitees to relish.
Complete Decking Solutions and Beyond
Besides being proficient in deck design and construction, Decks Unique provides services in creating additional outdoor structures like wood awnings, cabanas, gazebos, pergolas, and porch construction. These extra structures will considerably enrich your Long Island home's outdoor area, providing the perfect space for both relaxation and entertainment.
Decks Unique can tackle your entire Mastic decking necessities. Witness the improvement our focus on quality, professionalism, and customer happiness brings to your exterior space. Contact us today to book a free assessment and let us change your backyard into an astonishing piece of art.
Delighted to cater to the needs of Mastic, Long Beach, Jericho, Hauppauge, Freeport, East Patchogue, Coram, and other Long Island neighborhoods.
Offering Long Island Quality Deck Designs and Services: