Experience Decks Unique - The Premier Deck Building Service in Greenvale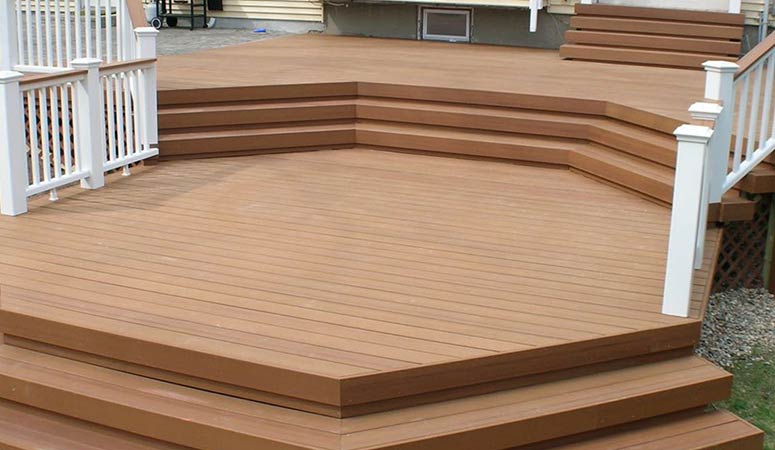 For over 20 years, Decks Unique has been a family-owned and operated company, specializing in custom deck design and construction, serving the people of Long Island and nearby areas, such as Greenvale. We have become the preeminent supplier of high-quality decks on Long Island through our passion for design and dedication to professionalism, honesty, and innovation, shaping the industry standards. Our expertise lies in crafting custom decks, porches, gazebos, pergolas, wooden awnings, and other outdoor amenities that enhance the appeal, value, and practicality of your residence in Long Island.
Expertise and Experience in Deck Building Services in Greenvale
Decks Unique maintains that a well-designed deck is a smart investment when thinking about ways to improve your home. The Decks Unique team of experienced deck builders is committed to providing top-notch quality, keeping effective production timelines, and ensuring that our warranties offer enduring value. This unwavering dedication to excellence has manifested in numerous delighted customers and impressive decks they can confidently display for years to follow.
On Long Island, our skilled deck builders are qualified to set up all leading composite deck materials, like Trex, TimberTech, and Azek. Take advantage of our free home consultations and computer-assisted decking designs to help you imagine your project before it's built. Permit us to create an amazing transformation in your backyard for our next project!
Add Value to Your Home with a Custom Deck
A superior deck not only augments the external living space of your Greenvale home but also bolsters its property value. At Decks Unique, we specialize in designing and building custom decks that meet the unique needs and preferences of each client. If you're seeking an intimate area for hosting gatherings or a lavish exterior sanctuary to revel in pleasant weather, we will collaborate closely with you to make your dream a reality.
We are aware that individual homeowners have varying preferences and demands for their external spaces. That's why we have a diverse array of materials, styles, and features to help you create a deck that fits your home and life. Whether you prefer classic wood choices like pressure-treated lumber, cedar, and redwood, or easy-care composite and PVC decking options, we have the perfect solution for every budget and style.
Unrivaled Persistence in Upholding Quality and Ensuring Customer Delight
Decks Unique is deeply committed to delivering top-notch workmanship and ensuring our clients' satisfaction. Our devotion to first-class materials and engaging the services of experienced contractors guarantees the superior completion of each project we take on.
For a project to be successful, we believe communication is key, and we place great importance on keeping our clients aware of every development. From the moment our initial consultation begins, through the design and construction phases, and all the way up to the final inspection, our team is tirelessly committed to answering inquiries, tackling concerns, and guaranteeing your happiness with your new deck.
Give Decks Unique the chance to modify your Greenvale backyard into a cozy outdoor living space you'll love. Reach out to us today to set up a no-cost consultation and feel the Decks Unique distinction yourself.
Thorough Deck Building Solutions in Greenvale
Decks Unique is proud to deliver an array of customized decking services to cater to the diverse requirements of our clients in Greenvale. Our team is skilled in providing a holistic suite of services, from custom deck design and construction to repair, maintenance, and refinishing. Decks Unique also offers an assortment of standout features and add-ons to improve and elevate your outdoor living area. Allow us to provide you with a more in-depth overview of our services.
Custom Deck Design: Realizing Your Dream Deck through Expert Design
Our skillful deck designers will collaborate intimately with you to assemble a custom-built deck that exemplifies your private style, seamlessly integrates with your home, and meets the peculiar specifications of your property. Our masters will help you make discerning selections by providing guidance on material options, ensuring that your deck possesses long-lasting allure and hardiness.
Expert Deck Construction: Quality Craftsmanship for a Stunning Outdoor Space
As the foremost deck builder, we are devoted to employing first-rate materials and maintaining secure, productive workmanship. Our seasoned teams are approved installers of leading composite decking materials, including Trex, TimberTech, and Azek. By closely examining details and focusing on structural durability, we assure that your deck will not only look beautiful but also remain strong over time.
Maintaining and Repairing Decks: Preserving Your Investment
Regular maintenance is essential to preserving the beauty and functionality of your deck. We have a dedicated team that offers all-inclusive repair and upkeep services for both wood and composite decks. Whether it's thorough inspections to uncover potential issues, or professional repairs for weather-induced damage and wear, we can handle all your deck maintenance demands. With our regular maintenance schedules, you can relax, confident that your deck will be well-maintained and preserved year-round.
Deck Restoration and Refinishing: Reimagine Your Outdoor Sphere
As time passes, even the most excellent decks could show indications of wear or demand refinishing to sustain their visual allure. Our expert group can recover your deck's beauty with the help of professional cleaning, staining, weatherproofing, and sealing services. Plus, we can undertake structural alterations, confirming that your deck stays safe and usable for an extended period.
Custom Features and Add-ons: Enhance Your Deck Experience
To step up your outdoor living zone, we bring forth a multitude of bespoke aspects and add-ons fashioned to amplify your deck. These options consist of energy-wise deck lights, fixed seating, kitchens intended for open-air use, and fire configurations. By assimilating these constituents into your deck's blueprint, we construct a charming and relaxing space for you to savor with close ones in Greenvale.
Expertise in delivering prime decking services to clients and surrounding locations sets Decks Unique apart. With over 20 years of experience in the industry, we have built a reputation for professionalism, honesty, and innovation. Should you need assistance in designing a new deck or improving a current one, our competent team has your back. Connect with us today to set up a no-charge consultation and learn how your outdoor space can become a gorgeous, practical escape.
Compare Wood and Composite Options to Discover Your Perfect Deck Material
At Decks Unique, our mission is to guide you in designing your dream outdoor refuge for your house. Thus, we have a vast assortment of decking materials, including alternatives made of wood and composite materials. Each of the materials has its own merits, helping you to decide on the top option that matches your distinct demands and inclinations.
Wood Decking: A Refined Classic Look
Timber brings a classic, adaptable quality while offering organic coziness and appeal for all outside areas. Discover numerous wood decking solutions that cater to each individual's taste and budget requirements.
Treated Lumber: Inexpensive and Strong
Pressure-treated lumber attracts many homeowners because of its cost-saving and long-lasting properties. A specialized process protects the decking material from both decay and insect-related damage. Pressure-treated decks, as a consequence, stand the test of time and demand little maintenance.
High-End and Resilient Cedar and Redwood: A Natural Concoction
For people looking for an upscale option, we offer cedar and redwood decking too. The eye-catching and high-grade woods are organically immune to decay and bug damage, ensuring a deck that remains sturdy for years to come. With their rich colors and unique grain patterns, cedar and redwood decks make a stunning addition to any home.
Exotic Hardwoods: Exquisite and Long-Lasting
For an absolutely unique and luxurious solution, explore the possibility of using exotic hardwoods like Ipe, Tigerwood, or Cumaru. These remarkable hardwoods are extremely dense and strong, making them known for their outstanding longevity and striking visual charm. An exotic hardwood deck's dazzling colors and intricate designs make it a standout centerpiece in any outside space.
Composite and PVC Decking: Your Path to Low-Maintenance Living
For those seeking a low-maintenance and eco-friendly alternative, consider composite and PVC decking. These cutting-edge materials meld the aesthetics of wood with the longevity of artificial materials, giving homeowners a virtually maintenance-free exterior area.
Why Choose Composite Decking: Benefits and Advantages
Constructed from a mix of repurposed wood fibers and plastic, composite decking provides a strong, environmentally conscious choice. With resistance to warping, cracking, and discoloration, this decking material guarantees an attractive and enduring deck that requires little maintenance. Additionally, composite decks are easy to clean, requiring only occasional washing to keep your outdoor space looking pristine.
Prominent Brands in Composite Materials Sector
Decks Unique is pleased to join forces with leading composite decking brands, such as Trex, TimberTech, and Azek. As accredited installers of these extraordinary products, we offer Greenvale homeowners the finest materials to create beautiful and enduring outdoor areas.
Create a Distinctive Deck with Color and Texture Selections
The extensive range of customization choices is a primary perk of composite decking. Having a myriad of color and texture options allows you to fashion a one-off outdoor space that connects with your home's design. You can find a fitting composite decking solution to satisfy your inclination for natural wood or modern design aesthetics.
Transform Your Deck with Various Railing and Baluster Choices
A top-notch deck demands the right railing and baluster system to be truly complete. At Decks Unique, we provide numerous choices to augment your deck design and maintain the security and practicality of your outdoor living space.
Wooden Handrail Systems: Traditional and Timeless
Opt for a wood railing system if you desire a timeless and sophisticated feel. Seamlessly blending with both wood and composite decks, a wood railing system offers a clean and unified design. Create a breathtaking finished look by painting or staining your wood railing system to complement your deck or the exterior of your Greenvale home.
Metal and Glass Railing Systems: Modern and Sleek
Contemporary and sleek styles might lead you to consider metal or glass railing systems. Metal and glass railing systems not only embody a fresh and modern charm, but they also heighten the visual experience from your deck - a popular choice for those blessed with stunning environments.
Composite Railing Systems: Low Fuss and Attractive
Composite railing systems present an exceptional option for those who want style and elegance without the hassle of constant maintenance. The resilient and captivating railings offer a consistent aesthetic when used in conjunction with composite decking, cultivating an exquisite outdoor space with low maintenance needs.
Regardless of your tastes, Decks Unique can assist you in selecting the ideal decking materials for your residence. Get in touch with us now to talk about your requirements and start creating your dream outdoor area.
Upgrade Your Outdoor Living Environment with Our Extra Services in Greenvale
At Decks Unique, we believe in transforming your outdoor living space into a luxurious and functional extension of your home. Our expertise extends beyond exceptional deck building, as we also offer additional services like wood awnings, cabanas, gazebos, pergolas, and porch construction. In Greenvale, our experienced professionals collaborate closely with you to turn your dreams into reality while maintaining exceptional quality and durable construction.
Wood Awnings: Bring Both Shade and Style to Your Outdoor Living Space
The addition of wood awnings provides both shade and a touch of elegance to your exterior living area. At Decks Unique, our skilled team can assist you in selecting the appropriate design and materials for an attractive and practical wood awning that enhances your home's appearance. The wood awnings not only ensure protection from extreme weather conditions but also improve your property's overall worth.
Cabanas: Develop a Posh Hideaway in Your Greenvale Outdoor Area
Combining luxury, comfort, and privacy expertly, cabanas are perfect for enhancing any open-air area. With the assistance of our expert team, we will design and build for you a customized cabana that aligns with your specific needs and preferences. Whether you're looking for a comfortable nook to unwind or a sophisticated space to entertain visitors, we can fashion a cabana that becomes your ultimate al fresco getaway.
Gazebos: An Attractive Extension to Your Garden or Patio
A gazebo brings lasting appeal to gardens or patios, creating an inviting central attraction and a shaded space for outdoor downtime. Our adept team works with you to find the ideal appearance, materials, and setting for your gazebo, assuring flawless integration into your current garden or patio. Our skilled craftsmanship ensures a breathtaking gazebo that will elevate the appeal of your outdoor environment for years in the future.
Pergolas: Upgrade Your Exterior Area by Adding Architectural Intrigue and Purpose
For those looking to enhance their outdoor living area's aesthetics and functionality, pergolas are an excellent choice. Pergolas inherently deliver a mix of shaded areas and sunlit spaces, ideally suiting them for the likes of garden promenades, terraces, or eateries outdoors. The team of skilled experts at Decks Unique can create and construct a tailor-made pergola that complements your taste and enhances your home's worth.
Porches: Enhancing Your Home's Curb Appeal and Expanding Outdoor Living Space
A skillfully designed porch not only boosts your home's curb appeal but also gives a welcoming outdoor living space for you and your family to savor. Our adept squad will come together with you to formulate a distinctive porch that integrates with your home's architectural layout and meets your functional preferences. With our conscientious scrutiny of detail and allegiance to first-rate quality, you can be relaxed knowing that your porch building mission is in expert hands.
Contact Decks Unique for Your Greenvale Outdoor Living Space Transformation
We at Decks Unique are dedicated to offering exceptional, bespoke outdoor living solutions for our Greenvale clientele and the neighboring areas. Our knowledgeable team is eager to assist if you're considering adding a wood awning, cabana, gazebo, pergola, or porch to your outdoor area. Connect with us today to explore your project's possibilities and see how we can make your outdoor living space a luxurious and efficient extension of your household.
Skillful Deck Design and Consultation Services in Greenvale
At Decks Unique, we excel in offering customized consultation services and creating unique deck designs to fulfill the expectations of our clients. Leveraging their 20-year expertise, our accomplished deck designers will closely engage with you to craft a deck that accentuates your home's visual charm and practical aspects. Through the use of progressive 3D modeling and visualization practices, we'll breathe life into your dream deck, ensuring the end product surpasses your expectations.
Outstanding Decking Materials for Long-lasting Resilience
Decks Unique, the preeminent deck builder on Long Island, is authorized to install all renowned composite decking products, featuring brands like Trex, TimberTech, and Azek. Additionally, we offer a wide range of wood decking alternatives that suit your personal tastes, such as pressure-treated materials, cedar, redwood, and exclusive hardwoods. Our dedication to using top-quality materials guarantees a long-lasting, low-maintenance deck for your home.
Reliable Deck Construction Services in Greenvale
At Decks Unique, our highly trained deck construction crew is dedicated to upholding superior craftsmanship and optimal efficiency during the complete building venture. With our exceptional understanding of building codes, requirements, and permits, you can count on us to navigate the entire project from its inception to culmination, leaving you with a stunning and functional outdoor living space.
Defend and Resurrect Your Deck's Splendor
Decks Unique comprehends the crucial role of ongoing maintenance in preserving your deck's attractiveness and solid construction. Our seasoned team can conduct inspections and find any damages or potential problems, performing essential repairs to maintain your deck's prime state. Furthermore, we provide deck restoration and refinishing services, which cover cleaning, staining, weatherproofing, and sealing to safeguard and improve your deck's looks.
Elevate Your Outdoor Environment with Customized Features and Add-ons
To honestly create a one-of-a-kind backyard sanctuary with your deck, Decks Unique makes available a selection of bespoke aspects and supplements, encompassing deck light systems, incorporated chairs, outdoor culinary spaces, and fire-based amenities. These optimizations not only broaden the functional aspects but also forge an amicable and snug setting for you and your invitees to relish.
Broad Decking Options and Additional Support
Decks Unique, known for its expertise in deck design and construction, also offers expertise in other outdoor structures, including wood awnings, cabanas, gazebos, pergolas, and porch construction. These additional structures can greatly contribute to the charm of your Long Island home's outdoor environment, turning it into an ideal place for relaxation and festivities.
Entrust all your Greenvale decking needs to Decks Unique. Notice the transformation our dedication to quality, expertise, and client satisfaction creates in your outdoor living area. Get in touch with us now to set up a complimentary consultation and watch us turn your backyard into a beautiful work of art.
Joyfully helping the citizens in Greenvale, Franklin Square, East Patchogue, Coram, Bellmore, West Babylon, St James, and other Long Island vicinities.
Offering Long Island Quality Deck Designs and Services: