Explore Decks Unique - Your Go-To Deck Building Experts in East Norwich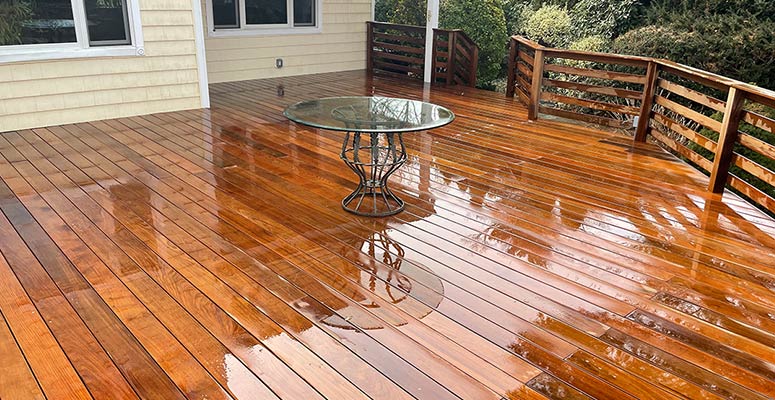 Decks Unique, a family-owned and operated company specializing in custom deck design and construction, has served the communities of Long Island and the surrounding areas, such as East Norwich, for over two decades. Thanks to our enthusiasm for design and steadfast commitment to professionalism, integrity, and innovation, we've emerged as the top producer of premium decks on Long Island, setting the benchmark for the industry. Our expertise lies in crafting custom decks, porches, gazebos, pergolas, wooden awnings, and other outdoor amenities that enhance the appeal, value, and practicality of your residence in Long Island.
Comprehensive and Experienced Deck Building Services in East Norwich
At Decks Unique, we know that a well-executed deck design proves to be a great investment when pondering home enhancements. Our proficient group of skilled deck craftspeople prioritizes first-rate quality, adheres to streamlined production timelines, and lets you rest assured knowing our warranties carry lasting worth. Our allegiance to exceptional quality has borne fruit in the form of myriad satisfied clients and beautifully crafted decks they can flaunt for the years ahead.
All major composite decking products, such as Trex, TimberTech, and Azek, can be installed by our experienced Long Island deck construction teams. We provide complimentary in-home consultations and digital deck plans to help you envision your project prior to its completion. Permit us to create an amazing transformation in your backyard for our next project!
Boost Your Home's Worth with a Personalized Deck
The addition of a fantastic deck not only expands your East Norwich home's outdoor living space but also amplifies its market value. We, at Decks Unique, focus on the development and creation of bespoke decks that address the specific requirements and tastes of each client. If you're seeking an intimate area for hosting gatherings or a lavish exterior sanctuary to revel in pleasant weather, we will collaborate closely with you to make your dream a reality.
It's clear that each homeowner possesses distinct tastes and necessities for their outside spaces. Therefore, we offer a vast array of materials, styles, and qualities to develop the perfect deck that blends with your abode and your daily life. Whether you prefer classic wood choices like pressure-treated lumber, cedar, and redwood, or easy-care composite and PVC decking options, we have the perfect solution for every budget and style.
Extraordinary Concentration on Outstanding Performance and Customer Happiness
At Decks Unique, our focus is on exceptional workmanship and happy customers. Our dedication to the use of high-caliber materials and collaboration with skilled, seasoned builders guarantees each project we undertake is of the finest quality.
We consider open communication to be the cornerstone of a successful project, and we strive to keep our clients well-informed every step of the way. Our reliable team is there for you, from the initial consultation and design brainstorming, through the construction journey, and even after the final review, to make sure all questions are answered, fears are addressed, and your satisfaction with the new deck is undeniable.
Let Decks Unique transform your East Norwich backyard into an outdoor living space you'll love. Connect with us today to book a free consultation and find out what sets Decks Unique apart.
Comprehensive Decking Services in East Norwich
In East Norwich, Decks Unique boasts a comprehensive variety of decking services, all geared towards satisfying the unique demands of our clients. We are experts in all aspects of deck services, from designing and building custom decks to repairs, maintenance, and refinishing. Besides our standard services, Decks Unique provides an assortment of unique features and add-ons to elevate your outdoor living experience. Allow us to provide you with a more in-depth overview of our services.
Custom Deck Design: Turning Your Visionary Deck into Reality
Our masterful deck designers will work in conjunction with you to construct a made-to-order deck that reflects your individual panache, harmonizes with your home, and caters to the distinct prerequisites of your property. To enable you to make sound decisions, our adept advisors will steer you through the process of selecting the right materials, safeguarding enduring sophistication and solidity.
Masterful Deck Fabrication: Impressive Craftsmanship for an Elegant Exterior Space
As the foremost deck builder, we are devoted to employing first-rate materials and maintaining secure, productive workmanship. Our seasoned teams are approved installers of leading composite decking materials, including Trex, TimberTech, and Azek. By giving close attention to detail and prioritizing structural strength, we ensure that your deck is not only breathtaking but also withstands the passage of time.
Keeping Your Deck in Tip-Top Shape: Defending Your Investment
To preserve the beauty and functionality of your deck, regular maintenance is crucial. Whether it's a wood or composite deck, our specialized team offers comprehensive repair and upkeep services. Our services range from comprehensive inspections to pinpoint potential problems, to expert repairs for weather or wear damage, ensuring we're the ultimate solution for all your deck maintenance needs. Our scheduled maintenance programs provide peace of mind, knowing that your deck will remain in excellent condition year-round.
Deck Resurfacing and Restoration: Refresh Your Outside Area
Over the years, even the finest decks might manifest signs of wear or ask for refinishing to conserve their visual charm. Our capable team can reestablish the gorgeousness of your deck using professional cleaning, staining, weatherproofing, and sealing methods. Besides, we can execute structural adjustments, assuring that your deck maintains its safety and functionality in the years to come.
Personal Customizations and Upgrades: Enrich Your Deck Leisure
To refine your outdoor living space, we offer a collection of custom-fitted elements and added features conceived to elevate your deck. Included options involve energy-preserving lighting for your deck, integrated seating arrangements, outside kitchens, and fire facilities. By incorporating these elements into your deck design, we create a welcoming and comfortable space for you to enjoy with family and friends in East Norwich.
Decks Unique focuses on offering unparalleled decking assistance to customers and areas close by. Over our 20 years in the business, we've carved out a reputation for professionalism, dependability, and innovation. If you're interested in designing a new deck or renovating your current one, our experienced team can help. Give us a call today to plan a free consultation, and let us show you how to morph your outdoor area into an impressive, functional refuge.
Track Down the Best Deck Material for You: Weighing Wood and Composite Options
Decks Unique's primary focus is to support you in building the perfect exterior paradise at your home. This is why we have an expansive array of decking materials at our disposal, featuring both wood and composite options. Each material has its unique advantages, ensuring that you can choose the best option for your specific needs and preferences.
Wood Decking Provides an Ageless Beauty
As a versatile and enduring substance, wood imparts a sense of warmth and attractiveness to every open-air space. We offer a range of wood decking options to meet every style and budget.
Pressure-Treated Timber: Economical and Resilient
Many homeowners prefer pressure-treated lumber because it is cost-effective and long-lasting. A certain treatment process ensures this decking material remains resistant to rot and insect infiltrations. Minimal maintenance is needed for these durable, pressure-treated decks as a result of the treatment.
Luxury Meets Durability: The Wonders of Cedar and Redwood
If you're interested in a more sophisticated solution, we also have cedar and redwood decking available. These elegant and premium woods possess natural resistance to decay and pests, guaranteeing a durable deck that matures with elegance. Cedar and redwood decks, featuring deep colors and one-of-a-kind grain patterns, add a striking touch to any household.
Exotic Hardwoods: Elegant and Resilient
In your quest for a truly matchless and opulent option, weigh the idea of choosing exotic hardwoods like Ipe, Tigerwood, or Cumaru. These exceedingly solid and long-lasting woods stand out due to their commendable longevity and stunning appearance. With vivid colors and detailed patterns, exotic hardwood decks provide a striking focal point for outdoor spaces.
Discover the Ease of Low-Maintenance Living by Choosing Composite and PVC Decking
If you're seeking an eco-conscious, low-maintenance solution, contemplate composite and PVC decking. These state-of-the-art materials join the attractiveness of wood with the resilience of synthetics, supplying homeowners with an outdoor space that requires minimal maintenance.
Understanding the Benefits and Advantages of Composite Decking
Composite decking, which combines recycled wood fibers and plastic, is a sturdy and green choice. Warping, cracking, and fading are no match for this decking material, which ensures a beautiful and long-lasting deck with minimal effort required. Another benefit is the effortless cleaning of composite decks, needing only an occasional wash to retain the freshness of the outdoor environment.
Top Brands in the Composite Materials Industry
It is an honor for Decks Unique to collaborate with the best composite decking brands, including Trex, TimberTech, and Azek. As approved installers of these remarkable products, we can furnish East Norwich homeowners with premium materials for an elegant and lasting outdoor living area.
Personalize Your Deck by Exploring Various Color and Texture Options
Composite decking comes with the advantage of a plethora of customization options. Various color and texture options enable you to establish an exceptional outdoor environment that fits your home's aesthetics. Regardless of your preference for natural wood's appearance or modern designs, composite decking provides a suitable option.
Improve Your Deck through Railing and Baluster Selections
A top-notch deck demands the right railing and baluster system to be truly complete. We furnish a multitude of choices at Decks Unique to amplify your deck design and confirm the security and utility of your outdoor setting.
Wooden Handrail Systems: Traditional and Timeless
For a classic and timeless look, consider a wood railing system. By integrating a wood railing system with either a wood or composite deck, you can achieve a smooth and consistent design. To guarantee a beautiful final product, paint or stain your wood railing system to coordinate with your deck or East Norwich home exterior.
Metal and Glass Railing Systems: Modern and Sleek
Should you fancy a contemporary and streamlined look, think about opting for metal or glass railing systems. These options provide a contemporary touch and can enhance the view from your deck, making them a popular choice for homeowners with picturesque surroundings.
Composite Railing Systems: Minimal Upkeep and Fashionable
Composite railing systems present an exceptional option for those who want style and elegance without the hassle of constant maintenance. When combined with composite decking, these rugged and elegant railings contribute to a seamless appearance, crafting a striking outdoor sanctuary with minimal required maintenance.
No matter your inclinations, Decks Unique is at your service to aid you in picking the perfect decking supplies for your home. Get in touch with us now to talk about your requirements and start creating your dream outdoor area.
Revamp Your Outdoor Living Area with Our Additional Services in East Norwich
Our objective at Decks Unique is to transition your outdoor living area into an elegant and useful home extension. Aside from our superior deck building services, we also deliver a variety of extra services, including wooden awnings, cabanas, gazebos, pergolas, and porch construction. Our talented experts in East Norwich partner with you to create your desired outdoor space, ensuring the utmost quality and lasting durability.
Wooden Awnings: Combine Style and Shade in Your Outdoor Space
Wood awnings serve as an effective way to integrate both shade and elegance into your outdoor surroundings. The knowledgeable professionals at Decks Unique can help you determine the best design and materials to construct a gorgeous and useful wood awning that aligns with your home's aesthetic. These setups not only offer defense against tough weather conditions but also augment the overall market value of your property.
Cabanas: Create a Sumptuous Escape in Your East Norwich Lawn
Cabanas deliver a flawless fusion of opulence, comfort, and seclusion, making them the ultimate addition to any outdoor setting. Our experienced team will work alongside you to plan and erect a unique cabana that caters to your distinct needs and preferences. Whether it's a homely corner for winding down or a polished space for hosting visitors, we can conjure up a cabana that stands as your flawless exterior retreat.
Gazebos: A Visually Appealing Addition for Your Garden or Patio
A timeless gazebo enhances both gardens and patios, delivering a delightful focus and a sheltered area for outdoor rest. Our adept team works with you to find the ideal appearance, materials, and setting for your gazebo, assuring flawless integration into your current garden or patio. With our high-quality craftsmanship, you'll have a gorgeous gazebo that not only complements but also enhances your outdoor space for years to come.
Pergolas: Integrate Architectural Style and Functionality into Your Open-air Space
One effective way to enrich your outdoor living space with architectural appeal and utility is by constructing a pergola. These structures adeptly merge shadow and light, creating an idyllic atmosphere for walkways in gardens, patios, or outdoor dining places. Our adept professionals at Decks Unique are here to design and construct a custom-built pergola that suits your preferences, adding value to your living space.
Porch Construction: Enhance Your Home's Curb Appeal and Outdoor Living Space
An expertly designed porch not only improves your home's curb appeal but also offers a cozy outdoor space for you and your loved ones to relish. Our expert team will work with you to create a custom-designed porch that complements your home's architecture and meets your functional needs. With our precise eye for detail and resolute passion for top-quality work, you can be sure that your porch erection project is in safe hands.
Get in touch with Decks Unique for transforming your East Norwich outdoor living area
Decks Unique is proud to deliver top-notch, tailor-made outdoor living solutions to customers in East Norwich and nearby regions. Our team of skilled professionals is here to help you enhance your outdoor space with a wood awning, cabana, gazebo, pergola, or porch. Connect with us today to explore your project's possibilities and see how we can make your outdoor living space a luxurious and efficient extension of your household.
Professional Deck Planning and Creation in East Norwich
Delivering personalized consultations and tailor-made deck designs that satisfy every client's specific needs is what sets Decks Unique apart. Our highly skilled deck designers, with over two decades of experience, will work intimately with you to build a deck that enhances your home's visual allure and features. Utilizing innovative 3D modeling and visualization approaches, we'll make your dream deck a reality, confirming that the finished result meets your standards.
First-Rate Deck Materials for Maximum Strength
Long Island's foremost deck builder, Decks Unique, is an officially recognized installer of major composite deck materials, including brands like Trex, TimberTech, and Azek. We also present an array of wooden decking alternatives to accommodate your preferences, like pressure-treated timber, cedarwood, redwood, and rare hardwoods. The use of only premium materials in our work reflects our commitment to building durable, low-maintenance decks.
Superior Deck Construction Services in East Norwich
Our team of skilled deck builders at Decks Unique is focused on providing high-quality craftsmanship and effective execution during the whole construction journey. Given our vast knowledge of building codes, regulations, and permits, you can trust us to execute the full project from start to finish, creating a beautiful and efficient outdoor living area.
Maintaining and Restoring Your Deck's Beauty
At Decks Unique, we understand the importance of routine maintenance in preserving the beauty and structural integrity of your deck. Our capable team can investigate and identify any harm or likely complications, delivering needed repairs to keep your deck in superior condition. At Decks Unique, we also propose deck revamping and restoration amenities, involving cleaning, staining, safeguarding against weather, and sealing to conserve and magnify your deck's appeal.
Elevate Your Outdoor Environment with Customized Features and Add-ons
To shape your deck into an unparalleled open-space sanctuary, Decks Unique supplies a multitude of custom attributes and ancillary items, incorporating lights designed for decks, in-built chair arrangements, cooking facilities for open-air settings, and fire-centric highlights. These augmentations not only amplify effectiveness, but they also cultivate a friendly and cozy aura for you and your company to enjoy.
Broad Decking Options and Additional Support
Decks Unique, known for its expertise in deck design and construction, also offers expertise in other outdoor structures, including wood awnings, cabanas, gazebos, pergolas, and porch construction. These outdoor structures can elevate your Long Island property's outdoor appeal, making it a prime location for enjoying downtime and entertaining guests.
Decks Unique is here to help with your East Norwich decking needs. Experience the difference that our commitment to quality, professionalism, and customer satisfaction brings to your outdoor living space. Message us today to plan a free meetup, and let us make your backyard into a stunning display.
Thrilled to provide service for East Norwich, Coram, Bellmore, Westbury, Stony Brook, Sayville, Ridge, as well as other communities in Long Island.
Offering Long Island Quality Deck Designs and Services: