Skip to Main Content
Welcome to Decks Unique Inc : Patchogue Custom Deck Contractor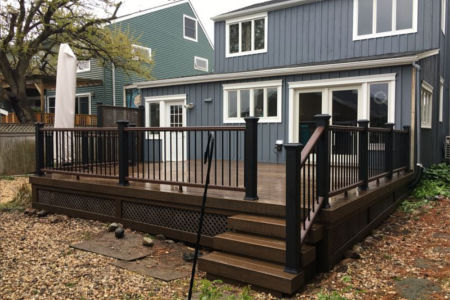 When looking for a Patchogue custom deck builder you need a contractor that is professional and that has the experience and the knowledge needed to provide you with the best possible solutions for your needs. Having provided quality deck solutions for home owners all over the Patchogue area our experts are the professionals that you need to see, so give them a cal today and see what they can do for your deck needs today.Have you ever noticed how much having a deck can change a home enhansing.
Have you ever noticed how much having a deck can change a home enhancing even the best homes curb appeal. Why not do the same for your home as our skilled staff has years of experience and knowledge in the industry and can provide you with the quality finished deck that you will enjoy for years to come. We are the professional deck builders of Decks Unique and we are here for all of your custom deck needs.
Decks Unique - Patchogue Custom Decks
Customs deck area great way to provide a unique look and feel to your backyard and can be used to level un even surfaces providing more usable space and a better protected space for your Patchogue backyard. It cab be a place where you have family Bar-B-Ques and a place where you go and relax. Many fond memories can and will be made on a deck so give our skilled staff a call today and see what they can offer you.
Homes that have a Patchogue Custom Deck will have more usable space and a deck is a finished space that can be setup to handle whatever you desire. A deck can house your hot tube or it can have built in seating and a fireplace to create a warm cozy atmosphere. There are many wonderful uses that you will find for your new deck when you have the skilled professionals at Decks Unique provide you with the custom deck of your dreams.
Having more usable space is great as long as it is a safe space to be used and having a custom deck can make it just that. A custom deck can be had with any number of railing options that would turn a otherwise unsafe environment like a cliff or steep hill in to a safe place for the family to enjoy. So if a deck sounds like something that you would like to consider then give our skilled staff a call and see what they can do for you.
Patchogue - Deck Builder Contractor
When you are ready to have your deck built you will need the services of a skilled professionals Patchogue Deck builder that has years of experience and knowledge in the industry. You do not want a deck that was built by an un-experienced individual that may not fully understand the requirements of building a safe deck. Certain precautions need to be considered to ensure that your deck is both beautiful but most importantly safe and stable.
Our skilled Patchogue deck builders have years in the industry and can provide you with the quality deck building services that will ensure that you have a deck that will look great and that you have a deck that is safe. So give our professionals a call today and see what they can do for your needs.
Patchogue Pergolas:
A garden feature that forms some shade for a walkway or patio is called a pergola. Usually made of wood today, it is constructed of wooden support pillars with crossed beams over top formed like a lattice. Some like to train vines or climbing roses to grow over the top to provide a cover or shade. The word Pergola is late Latin meaning projective eave. I suppose that the originals were attached to a building but today we use them mostly as free standing. Pergolas that are attached can lead to garden areas or pools and are always designed to provide cover. Free standing pergolas provide shade and free breezes.
Early renaissance and late medieval pergolas were mainly made of willow that was twined together and could be easily replaced. They bound the willows together and created arches that could be walked under. This provided shelter from the elements even keeping out the rain.
The word Pergola was borrowed from Italian later. First mentioned in 1645 by John Evelyn at cloister of Trinita dei Montin in Rome, Italy and then used again by Evelyn for the fifth Earl of Pembroke in England. Evelyn watched a spectacle called the coursing of hares from one pergola built just for that purpose near Salisbury.
Today's pergolas are more permanent that were mostly made of plant product. We build them today mostly from wood, but they have been constructed using elements of stone and brick as well.
Due to their less than natural nature, the pergola went out of favor in the 18th and 19th century. They preferred more natural setting in their gardens during that time.
Offering Long Island Quality Deck Designs and Services:
What Our Clients Say
About Decks Unique
The design of the deck is beautiful; the materials are of the highest quality, and the construction if flawless [...]
We were very impressed with the quality of the workmanship and the contractors were quick and very clean [...]