Skip to Main Content
Custom Decks for North Merrick Yards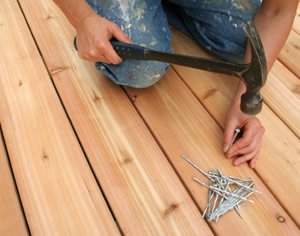 If you own a home in the North Merrick area and you are looking for ways to make your home standout from the other homes in the are then consider having a custom deck built for your home built. Our trianed professionals have years of experience in the deck building industrty and can provide you with the best possible solutions for all of your custom deck needs. So give you North Merrick professional deck builders a call today and see what they can do for you.
A custom deck will add value and beauty to your home. I custom deck will add enjoyable space to your home that you and your family will love for years to come and that you can profit from if oyu choose to sell your home. A home with a well built custom deck is worth more at resale time then a home that does not have a deck and even a home that has a deck but is poorly constructed. So if you want a deck that will stand the test of time, will look great and will provide you with years of enjoyment then give our trained prfoessionals a call and see what they can do for you.
Decks Unique is a professional custom deck builder providing quality services.
Offering Long Island Quality Deck Designs and Services:
What Our Clients Say
About Decks Unique
The design of the deck is beautiful; the materials are of the highest quality, and the construction if flawless [...]
We were very impressed with the quality of the workmanship and the contractors were quick and very clean [...]