Skip to Main Content
Custom Decks for North Massapequa Yards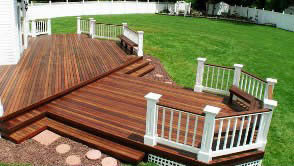 A custom deck for your North Massapequa home built by your professional North Massapequa deck builders could quickly become your favorite part of your home. Possible if you have never owned a dek you might know about the great benefits of having a custom deck. You will enoy having your custom deck for many different life events from birthday parties to graduation parties you will find a million uses for your new custom deck so give our trained professionals a call and see what they can do for you.
Decks that are custom design will fit the look of your home and your personality better then a stock deck that you get from you local hardware store. Also with our custom built decks you get the added bonus of knowing that it was built by professionals experts in the deck building industry and that it will last for years to come. So give our trianed experts a call and see what they can do for your custom deck needs.
Decks Unique is a professional custom deck builder providing quality services.
Offering Long Island Quality Deck Designs and Services:
What Our Clients Say
About Decks Unique
The design of the deck is beautiful; the materials are of the highest quality, and the construction if flawless [...]
We were very impressed with the quality of the workmanship and the contractors were quick and very clean [...]