Skip to Main Content
Custom Decks for Merrick Yards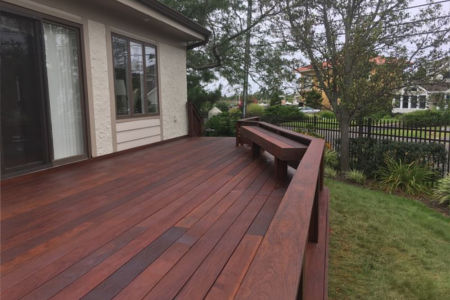 If you have or plan to have an above ground pool at your Merrick home, you are likely to want to add an above ground pool deck as well. While it is not an absolute requirement, a pool deck will greatly enhance the usability of your pool. Above ground pools are very popular for good reasons. They are affordable, easy to install, and require little maintenance. But, they come with inherent downsides as well. First, getting into the pool requires getting from ground level up to pool level, and second, there is not a poolside area to relax and do the things that people do beside their pools. Another consideration regarding above ground pools - they aren't particularly attractive just sitting out in the yard. They tend to have an "unfinished" appearance. An above ground pool deck can help you to resolve all of these issues.
A well designed above ground pool deck can transform your pool into a more attractive and more usable backyard feature. You can blend the pool into the rest of your backyard design and create a usable area around the pool for poolside activities. You will also keep your pool cleaner since there will be less dirt and debris tracked into the pool from the surrounding yard.
Call our traineds experts for all of your decking needs. From simple to complex you know that you will have the job do right when you hire the experts at Decks Unique to handle you decking needs.
Decks Unique is a professional custom deck builder providing quality services.
Offering Long Island Quality Deck Designs and Services:
What Our Clients Say
About Decks Unique
The design of the deck is beautiful; the materials are of the highest quality, and the construction if flawless [...]
We were very impressed with the quality of the workmanship and the contractors were quick and very clean [...]