Skip to Main Content
Custom Decks for Massapequa Park Yards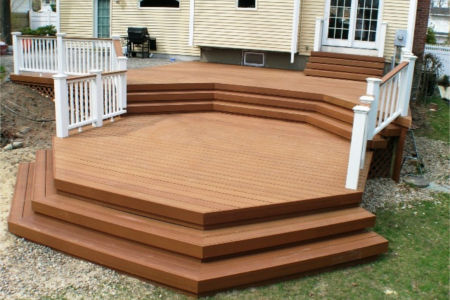 If you own a Massapequa Park home you may have considered a professionally built Custom deck that will add looks and value to you home. Whether you are seeking some that is large or something a bit smaller you can count of the professional deck builders at Decks Unique to provide you with a quality finished product that will look great and last you for years to come.
Decks Unique professionals have been building custom decks for years and know what is needed to create a custom deck that not only looks great but will add value to your home. A home that has a new custom deck will have increased value and will be a easier sell if you decide to ever sell your home. Everyone love a good quality deck that looks great and provides a comfortable place to enjoy the outdoors.
People are putting a lot of thought into creating their outdoor spaces. The combinations of possible design ideas are endless. Lighting, the most important factor according to ASLA's survey, can be anything from expensive recessed lighting to affordable, wrought iron candle chandeliers. Composite decking, once gray and boring, can be customized to resemble exotic wood grains and is a great pick for the flooring of your space. This is a cost effective product that will give you years of enjoyment and also makes for easy clean up after your neighborhood party. Plastic, folding lawn furniture is also a thing of the past. Composite furniture pieces with weather-resistant cushions are delivering an indoor look and comfort level to your outdoor space. Jessica Barwick of Barwick Interiors in Highland, Maryland, says, "In 2011, there is an expectation of having the same level of comfort inside your home existing outdoors, especially in quality and selection of materials.
Call our professionals today and see what they can do for your home deck needs. The professionals at Decks Unique are here for all of your outdoor deck needs.
Decks Unique is a professional custom deck builder providing quality services.
Offering Long Island Quality Deck Designs and Services:
What Our Clients Say
About Decks Unique
The design of the deck is beautiful; the materials are of the highest quality, and the construction if flawless [...]
We were very impressed with the quality of the workmanship and the contractors were quick and very clean [...]