Skip to Main Content
Custom Decks for Jericho Yards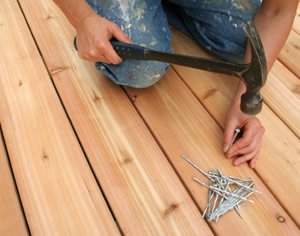 Expanding your living space by adding exterior structures is not only a smart way to add value to your home, but value to the quality of your outdoor life. There are many types of structures to choose from and virtually something for every type of yard and design aesthetic. Deciding whether to build a deck, patio, sunroom, pergola, covered patio, or screenroom is the first decision the homeowner needs to consider. The benefits of each of these structures are numerous, and any one of these structures will add value to your property.
Decks - These relatively uncomplicated structures are one of the most popular exterior additions. Decks can be made of treated lumber or composite decking material, which comes in a wide variety of colors and textures. The addition of a deck, like any other exterior living space structure, alters the exterior of the home and should be carefully planned to incorporate the style of the home. Consideration for the site of the deck should be given to take advantage of all outdoor conditions in order for the homeowner to spend time outdoors in the conditions they prefer.
Pergolas - Also referred to as arbors or shade covers, pergolas are a beautiful addition to any home. A pergola can either stand-alone or be attached to an existing structure and can be made of wood or termite resistant metal. Pergolas provide dappled shade and can serve as a trellis for climbing vines. Pergolas can transform a yard and landscape by adding elegant style to the backyard. Freestanding arbors can also play an important part in great garden design and can lead from one garden area to another.
Home improvements, whether adding a carport, replacement windows for energy efficiency, Hardie plank or siding for a long lasting exterior, or upgrading exterior paint will all add great value to your home. Whether you are adding a carport to protect an extra car or boat or adding outdoor living space by building a deck, sunroom, pergola, arbor, screen room or covered patio, these structures are sure to add to the enjoyment of your home.
Offering Long Island Quality Deck Designs and Services:
What Our Clients Say
About Decks Unique
The design of the deck is beautiful; the materials are of the highest quality, and the construction if flawless [...]
We were very impressed with the quality of the workmanship and the contractors were quick and very clean [...]