Skip to Main Content
Custom Decks for Hempstead Yards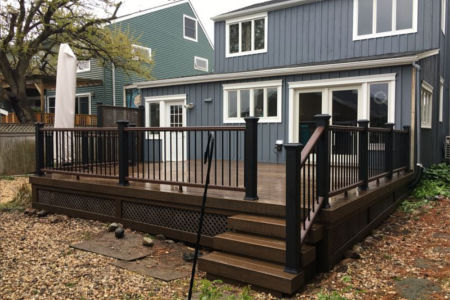 A Deck is a place where people can enjoy the scenery around them while in a sheltered area. It is also commonly referred to as a patio. Some of the materials used to construct sunrooms include bricks, wood and glass. While sunrooms may provide somewhat of a sanctuary to homeowners, decks are a more cost friendly option that is functional and spacious. One of the benefits of opting for a deck instead of a patio is that people can establish their concrete footing and proceed to continue the building from that point. On the other hand, for a patio, builders are inclined to excavate so that the ground can be adequately level.
View Our Hempstead Deck Gallery
Decks are built outdoors and can be used as an entertainment area that can accommodate a significant number of people. Sunrooms are more restricted in terms of their role as room additions. They are enclosed unlike decks that are out in the open for a more liberated feeling. Decks are more cost effective and less time intensive to install. They are cheaper to construct and take a shorter time to build. A deck is more of an extension of the house. A sunroom is often considered to be an additional room. Home owners who maintain their decks often attest to the fact that building a deck was a worthwhile venture for them. With a simple coat of pain or regular clean up, a deck can last long and its aesthetic appeal can be maintained. It is also easier to reconstruct a deck if the need arises.
The uses of a deck are vast as compared to those of a sunroom. It can be used as a meeting point, relaxation area and party venue. Even if a house is marginally small, a deck can comfortably accommodate a significant number of people. This means that it makes it possible to host gatherings despite the limiting size of the house itself. An attached deck allows people to step out of the house directly onto the deck. People who host elderly individuals or relatives in their homes discover that decks provide an ideal place for them to relax and get a breath of fresh air.
If a sunroom is positioned wrongly, people will not be able to enjoy the benefits of the outdoor environment. The money required to build a high quality sunroom is an investment that may not extensively heighten the resale value of a home. A sunroom may be a good addition for a home owner but other potential buyers may not be interested in its presence. It may be an area that a person enjoys while he or she lives in the house but may only marginally affect the value of the house.
Well constructed decks, on the other hand, are fixtures that enhance the aesthetic appearance of homes. They are easier to construct and offer more diversity than sunrooms. A deck can be easily accessed from the house and creatively designed as an attractive addition to the yard. It can also transform an uneven yard into a work of art.
Offering Long Island Quality Deck Designs and Services:
What Our Clients Say
About Decks Unique
The design of the deck is beautiful; the materials are of the highest quality, and the construction if flawless [...]
We were very impressed with the quality of the workmanship and the contractors were quick and very clean [...]