Skip to Main Content
Farmingdale Custom Deck Builders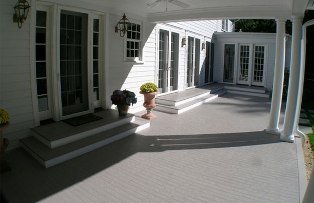 If your home's landscape leaves you wanting an area where you can comfortable enjoy spending time outdoors, a deck may be the perfect option for you. Your Farmingdale area home will be much better suited for your time with nature and time spent with guests.
A new deck is waiting for you from Decks Unique, Inc. Our company of professional Farmingdale deck builders can build you an awesome new custom deck of your choice or any other structure for your hardscape that includes:
Gazebos
Pergolas
Wood Awnings
Cabanas
Custom Decks
Wooden Porches
Whether you'd like a new wrap around porch, deck, cabana, or other structure to enjoy in your yard, you'll be adding value to your home along with plenty of special times with the family and friends. Porches and decks go a long way to providing you outdoor living space that you're going to love spending time on.
Custom Deck Building In Farmingdale
Our deck building carpenters are experienced professionals who can build your custom deck to meet your specific needs. Your home or home's landscape may require specific processes or custom structure for building as well. We'll take everything into consideration and build your deck right.
You'll have a solid structure that if taken care of right, will last you for many, many years to come. In fact, pressurized treated wood is often rated to last a lifetime without needing to be replaced when it is treated right, so keeping your new deck or other wooden structures cleared of debris, well sealed, and boards or materials replaced as necessary will only keep it in great shape for years to come. We also have other building materials made of composites that literally can last a lifetime.
Quality, Beautiful Porches For Farmingdale Homes
There's nothing like a covered porch to soak up a little evening weather. If your home is missing a structure that lets you and your family spend some great time outdoors while still covered and protected from falling tree leaves, insects, and rain, it's time to get your new porch started.
Your porch will have an awesome decking that will last through years of enjoyment. Our deck builders know just how to build your porch so it's protected well and sealed from the affects of nature. Pretty soon, Fall will be in our area and the temperatures will drop from the summertime heat. Wouldn't you like to be enjoying a cool breeze while enjoying your favorite beverages on your porch? Let's get started now and we'll be ready for some great times this year! Plus, with holidays coming up, you'll have a lot more space to entertain your guests and family!
There's no better way to get the porch, deck, or other hardscape structures than to choose our Long Island Deck Builders at Decks Unique, Inc. For the best in Farmingdale decks, call our number below!
Offering Long Island Quality Deck Designs and Services:
What Our Clients Say
About Decks Unique
The design of the deck is beautiful; the materials are of the highest quality, and the construction if flawless [...]
We were very impressed with the quality of the workmanship and the contractors were quick and very clean [...]