Skip to Main Content
East Farmingdale Custom Deck Contractor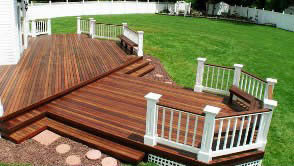 If you've been thinking about making some customizations to your East Farmingdale home, there's no more enjoyable custom option that to have a deck or porch built for your outdoor entertainment needs. So enjoyable, a deck gives you all the opportunity you need to spend quality time out in nature without having to be too close to it (if you know what we mean!)
A new custom deck built for your home's specific needs will do wonders for your quality time alone, as well as provide you with additional space to entertain during holidays or parties. Your new deck can be constructed with any custom options as well that can enhance your landscape and your outdoor experience, night or day.
Take a look around your East Farmingdale home. Would a deck bring about a great change for your quality of life? If so, it's definitely worth thinking about. Decks are wonderful, and patios even better. Covered patios offer you the opportunity to get out of the rain and give you plenty of shade, which is important in our area of the country where it gets so hot and humid.
Other areas of your yard or home's exterior could use a little help also with some shade structures including:
Gazebos
Porches
Cabanas
Pergolas
Wood Awnings
Custom Decks
Custom Deck Building In East Farmingdale
Your new deck is just waiting for you -What are you waiting for? Let's get started now and before you know it, you'll be spending lots of time outdoors on your new deck! We can custom build a great new deck for you no matter what type you're looking for.
No matter the type of East Farmingdale custom deck you're interested in, we'll give you plenty of options to choose from including durable material like hardwoods or composites that can last you a lifetime. The sky's the limit when you choose our East Farmingdale contractors at Decks Unique, Inc.!
Quality, Beautiful Porches For East Farmingdale Home
You've seen homes with wrap around porches probably all your life, and every time you see one you wish you could have one built for your home. This is the year to stop wishing and get it planned for building. We'd love to come out and take a look at your home's structure and landscape and let you know what we think it would take to get your new porch built.
Whether you're wanting to go all out with a covered wraparound porch or would like something simple but elegant for your East Farmingdale home, we can get it done for you! You'll have a great new covered porch where you'll love passing the hours away reading that good book and sipping your favorite drink. Let's get started on your dream porch!
Offering Long Island Quality Deck Designs and Services:
What Our Clients Say
About Decks Unique
The design of the deck is beautiful; the materials are of the highest quality, and the construction if flawless [...]
We were very impressed with the quality of the workmanship and the contractors were quick and very clean [...]