Skip to Main Content
What You Should Consider Before You Build a Deck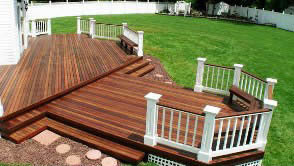 Adding a deck to your Long Island home is a big undertaking, but decks are worthwhile investments because they extend living spaces and offer places to relax and enjoy the outdoors. You should plan your deck thoroughly before your contractor with experience building decks begins deck construction.
Consider Your Deck's . . .
Function - Just like modern sunrooms, decks can serve many purposes depending on homeowners' personal tastes and preferences. As you plan your deck's design and size, ask yourself how you'll use your deck. Consider incorporating water features such as a hot tub or pool, and determine if the deck will be used as a space for dining, entertaining, or gardening.
Location - Before you begin deck construction, you'll want to consider the size of the lot, the location's climate and weather, the amount of sunlight and shade, the level of privacy, the view from inside the home, and the lot's proximity to the house.
Design and Size - Your preferences, budget, and location will affect the design and size of your deck. The size of your lot is an extremely important factor because it dictates what you'll be able to do with your deck and the available space. You can look to your home's architectural style for inspiration regarding the design of your deck because you'll want the deck to be cohesive with the rest of your house and property. Popular deck designs include curved decks, corner decks, and layered decks.
Materials - Selecting a material for your deck can be difficult because you have to carefully consider each materials' price, durability, longevity, and maintenance requirements. Popular deck materials include tropical hardwoods, aluminum, cedar, pressure-treated woods, and redwood.
Price - You can build a deck regardless of how small your budget may be. Of course, a small budget means that you'll have to keep the design simple and choose affordable materials. As you add features and increase the size of your deck, its price will increase. You should shop around to find a modern sunroomsand decks contractor that has both a reasonable rate and high-quality workmanship.
If you want to add a deck to your Long Island home but don't know how to begin, start researching the costs of materials and construction to create a budget. Once you have an idea of how much you can spend on a deck, reach out to trusted professionals at Decks Unique, a company with experience building decks.
If you wish to learn more about decks, contact your sunroom specialists at Decks Unique at 631-266-3004 | 516-822-4008.
What Our Clients Say
About Decks Unique
The design of the deck is beautiful; the materials are of the highest quality, and the construction if flawless [...]
We were very impressed with the quality of the workmanship and the contractors were quick and very clean [...]