Skip to Main Content
What You Should Know about Bohemia Outdoor Decks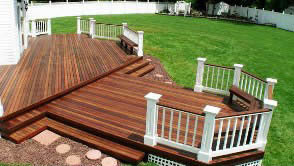 Outdoor decks in Bohemia give homes a light and carefree look, and they make Bohemia houses look bigger too. A house that looks good on the outside is a house that would make passersby take a second look, impress guests, as well as make one feel good about their humble abode. You're probably wondering just how nice it would be for your home to have an outdoor deck, but you have literally no idea where to start. You have background and believe that you have the skills, but taking on this project doesn't really seem a great and easy idea. You want that outdoor deck and nobody could stop you.

How Would You Do It?
Well, first of all, you need to make sure that you get a professional Bohemia deck builder to do it. Never take on the deck building project yourself. No matter how easy it looks like, building an outdoor deck would never be easy. You would have to pay for these services, and you could easily spend thousands of dollars to completely finish your outdoor deck. However, paying your thousands of dollars to a professional contractor would pay off when problems start to arise with your decks, a good decade or two later. Having a professional builder design and build your outdoor deck would always be more cost-efficient, as you'd be sure about the quality of custom built outdoor decks built by these professional Bohemia deck builders.

Decks vs. Patios
Why do people want outdoor decks? Aside from the fact that they are easy and beautiful on the eyes, are there other reasons why people spend thousands of dollars for them? Here are some advantages of outdoor decks:
On the battle between patios and decks, most people would opt for decks. Patios, though they are made for people to enjoy the view around the house, are covered and are generally less open than decks. If you want to enjoy the outdoors and the good weather, then an outdoor deck would be best for you.
While patios work as some place to hang out and a place that you would want to be when you're alone, decks work room additions, in the sense that it could be used as a place to entertain your guests under a good weather. If you're uncomfortable of letting people inside your home, you could use outdoor decksto have your guests.
Parties can't very well happen in patios. Partying in a deck, however, is something that is right out of a novel. Even a small deck can hold a higher number of people than a patio, and the openness of the deck is more appropriate for parties and other events.
You could do whatever type of deck you want as long as you pay for the services of a professional Bohemia deck building contractor. For those who would want the outsides of their homes to look as beautiful as the insides, Bohemia outdoor decks truly is a wonderful idea, as the advantages of having them reach far more than just the improvement of a home's outside appearance.
What Our Clients Say
About Decks Unique
The design of the deck is beautiful; the materials are of the highest quality, and the construction if flawless [...]
We were very impressed with the quality of the workmanship and the contractors were quick and very clean [...]