Skip to Main Content
Pergolas Can Transform Your Yard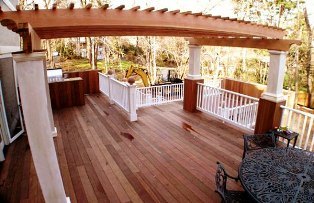 A well-planned pergola can add usable outdoor space to a backyard or patio. Here we show a few ways a custom pergola can enhance the exterior of your Long Island home.
Accent your garden. A pergola is composed of a series of columns that support open cross-beams--the perfect habitat for climbing plants and vines.
Define an outdoor living room. Not only does it provide open cover, but it instantly adds a welcoming atmosphere and European charm to your outdoor dining room, cocktail destination or casual hangout.
Connect sections of your yard. Most pergolas have four columns for a room-like structure, you can add columns to create an extended covered walkway. Hung with wisteria and other climbing flowers, a pergola can become the prime location for a relaxing stroll.
Make some shade. A pergola provides partial shade, filtering harsh glare while still allowing enough sunlight to reach your plants.
Add romance to your home. It's no wonder pergolas are a common site for marriage proposals. Place a bench beneath a free-standing pergola to create a private nook for gazing at the sunset or stars.
What Our Clients Say
About Decks Unique
The design of the deck is beautiful; the materials are of the highest quality, and the construction if flawless [...]
We were very impressed with the quality of the workmanship and the contractors were quick and very clean [...]