Skip to Main Content
Thinking About Installing Trex® Decking in Long Island?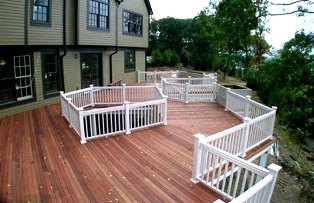 If you are looking for a luxury composite deck product that looks gorgeous, consider Trex® decking from Decks Unique. As a synthetic product, the deck looks and feels like a luxury tropical hardwood deck that any homeowner would go cuckoo over.
Composite decking is highly durable and doesn't loose the color like wood would. It's a hassle-free, easy to maintain option over real wood decks. Many choose composite decks because they are so easy to maintain and outperform wood if the materials are quality made.
With Trex®, you get the best of the best high-performance composite materials. Trex® decking installation for your Long Island home will bring you years of beauty, performance, and value.
Trex® Decking For Stain, Scratch, Mold, & Fade Resistance
One reason homeowners in New Jersey choose to install Trex decking is the ability of the material to stand up to all sorts of abuse. It resists fading from the sun's UV rays, staining, scratching, spills, and wet climate problems like mold and mildew.
Do Trex® Decks Really Look Like Real Wood?
The Trex® Transcend decking series comes in the most finish options which look and feel like real wood. There are a number of premium tropical hardwoods, classic wood styles and even semi-transparent stain finishes to choose from.
Because of the texturing during the composite material manufacturing, the decking feels like real wood under bare feet. Yet there will never be any splintering, sanding, or refinishing to worry about.
Green Decking Materials
If you are interested in a green deck installation, you'll be happy to know that Trex® decks are very earth friendly. The material is made from 95% recycled wood and plastic film. The company uses earth-friendly manufacturing process as well by reclaiming factory waste and not using harmful chemicals.
Trex® Decking Installation For Long Island
As with any composite decking material, the installation needs to be done by professionals with experience. If you live in the Long Island area, call the custom deck installation experts at Decks Unique, Inc. We install Trex® decking as well as many other deck types to fit your budget, style, and preferences.
What Our Clients Say
About Decks Unique
The design of the deck is beautiful; the materials are of the highest quality, and the construction if flawless [...]
We were very impressed with the quality of the workmanship and the contractors were quick and very clean [...]