Skip to Main Content
Decks Unique Installs Trex Decking in Long Island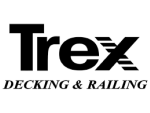 When you're having a new deck installed at your home, Trex Decking is a great material to choose for the construction. Trex Decking is the world's leading manufacturer of composite deck material, a high quality material made from recycled woods that is very low-maintenance. Trex decking may cost more upfront than solid wood, but the cost of maintenance and repairs will be incredibly low, which will more than make up for the price difference in the long run.
Your Trex Decking will also allow you to spend more time enjoying your deck and less time repairing it. Our professionals will work with you to design your home's deck, and we'll construct it properly and professionally. Trex Decking is the leading composite deck material, and our professional Long Island deck builders are the best in the area, so you can't go wrong with Decks Unique.
What is Trex Decking?
Trex Decking is a composite deck material made from 95% recycled materials which include sawdust and reclaimed woods, as well as plastics from household items like shopping bags, dryer bags, or packaging. In this way, Trex Decking helps to maximize the use of many products that otherwise would end up in a landfill. It also offers you several direct benefits as a consumer.
The latest generation of Trex is designed with a wrap-around shell that protects the composite decking material from the elements. This means that you won't see any fading of your Long Island home's deck, it will never be infested by termites, and it won't rot or warp over time. Trex deck boards have a deep wood grain and are available in over a dozen different colors.
The Benefits of Treck Deck Boards Include:
Splinter Free
Fade & Stain Resistant
Won't Warp, Rot, Crack, or Split
Mold & Mildew Resistant
Termite Resistant
Composite Decking: High Performance and Low Maintenance
Trex composite decking is a practical option designed for the value-conscious customer loosing for a lifetime of low maintenance from their decking products. All of the products that we install from Trex are built to last with a protective shell, and Trex offers products to suit any budget:
Each of these products is designed to offer your Long Island home's deck a number of great benefits with excellent performance, reliability, and appearance. The product lines vary in terms of price, style, color, and protection.
Our professionals can help you choose the perfect Trex decking products for your new deck. Once you've selected the materials, we'll work with you design your new design, then we'll construct it promptly and professionally.
What Our Clients Say
About Decks Unique
The design of the deck is beautiful; the materials are of the highest quality, and the construction if flawless [...]
We were very impressed with the quality of the workmanship and the contractors were quick and very clean [...]